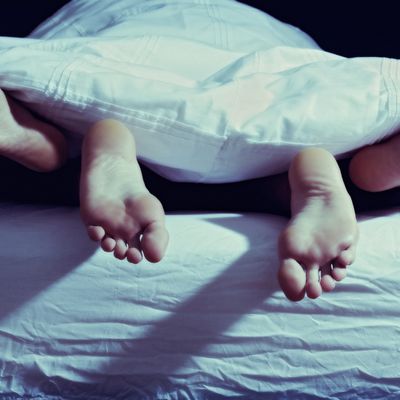 Photo: Getty Images/iStockphoto
The U.K. has been under lockdown since late March, and currently has the fourth-highest number of reported cases of COVID-19 in the world. Previously, residents were only allowed to leave their homes for essential trips, including work or buying food, though the restrictions were loosened in early May. However, a new law that went into effect on June 1 cracks down on people breaking lockdown, including those who are leaving their households to have sex.
The British media is referring to the law as a "sex ban," and, yes, sex would be illegal per its guidelines: The bill bans all indoor "gatherings," which are defined as "when two or more people are present together in the same place in order to engage in any form of social interaction with each other, or to undertake any other activity with each other." The law does not apply to members of the same household.
Under the new law, it's technically illegal  to spend time indoors with anyone — including family, friends, and sexual partners — if you don't live with them. (With a few exceptions, overnight stays are also prohibited, and outdoor sex is already punishable under a previous act.)
Mashable emailed the U.K.'s Department of Health and Social Care to ask for clarification about whether it is "now illegal for a person to go to another person's house to have sex," noting that the legislation does not explicitly mention the word "sex." According to a spokesperson for the department, "Individuals who participate in a prohibited gathering will be in breach of the regulations, and the police will use their common sense and discretion in all cases."
While the prime minister's office has said that police don't have the right to enter private homes unless "they believe serious criminality is taking place," those found in violation of the law will be issued fines.