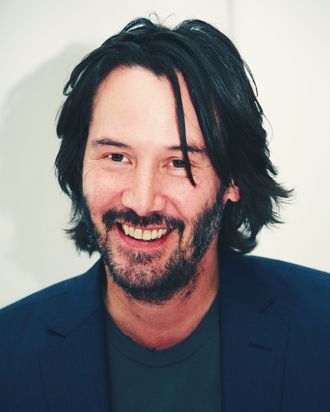 Photo: Vera Anderson/WireImage/Getty Images
Keanu Reeves is offering a 15-minute Zoom date to the highest bidder. "A Little One-on-One with Keanu" is the grand prize for an auction being held by Camp Rainbow Gold, a charity that provides fun, novel experiences to children with cancer and their families.
It's a rare opportunity to get some face time with the 55-year-old actor, who has no social media presence and is generally very private. Indeed, he is one of a handful of major celebrities that have blessedly refrained from showing off their giant mansions, clapping into thin air, or participating in any "Imagine" sing-alongs over the past several months. Reeves has instead been sharing inspiring messages with high-school graduates, and, I like to think, complimenting his cool girlfriend's artwork.
Reeves's Zoom date was originally lowballed at $10,000, but the highest bid currently stands at $16,800 (all bids, so far, have been anonymous.) The auction will run until next Monday, and all proceeds will go to the foundation.
But if you, like me, don't currently have thousands of dollars to spare, I recommend you find some cold comfort in this Keanu Reeves scene in Always Be My Maybe: