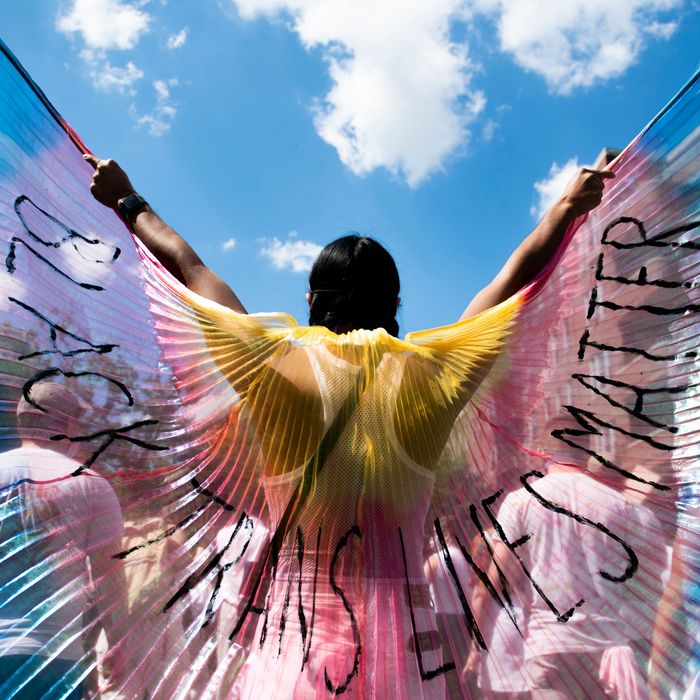 Yesterday, an estimated 15,000 people gathered in front of Brooklyn Museum for Brooklyn Liberation — one of the largest marches for Black trans lives in history. Held during a Pride Month that has coincided with a new global movement against racism, the gathering demanded justice for two recent victims of anti-Black, anti-trans violence, Riah Milton and Dominique "Rem'mie" Fells, and came in the wake of federal rollbacks on transgender health-care protections. The Black trans community is facing what the American Medical Association has called "an epidemic of violence": Milton's and Fells's names are added to a depressingly long list of lives lost, including Tony McDade, Layleen Xtravaganza Cubilette-Polanco, Nina Pop, and too many more.
The protests were partially organized by a seed of an idea from drag performer West Dakota, who was inspired — after consulting with her drag mother Merrie Cherry — by a 1917 protest by the NAACP in which 10,000 people gathered in all white to stand up against anti-Black violence. The rest of the organizers included the Okra Project, Marsha P. Johnson Institute, For the Gworls, Gays and Lesbians Living in a Transgender Society (G.L.I.T.S.), and Black Trans Femmes in the Arts, as well as activist Eliel Cruz, InStyle special projects editor Peyton Dix, and former Out deputy editor Fran Tirado.
The featured speeches were both poignant and empowering. Okra Project founder Ianne Fields Stewart declared that it was the day that transphobia would finally stop taking "the lives, loves, and joys" of Black trans people. Writer and activist Raquel Willis demanded Black trans leadership in organizations from corporations to nonprofits, leading a chant that called for the attendees to "believe in our power" and "Black trans power." Ceyenne Doroshow, founder and executive director of the trans-rights group G.L.I.T.S., announced victoriously that the group had crowdfunded $1 million to purchase real estate to house Black trans people released from Rikers Island prison. And the sister of Layleen Polanco, who died in solitary confinement at Rikers, expressed outrage and a newfound sense of hope upon seeing the thousands who gathered to demand justice for Polanco's unnecessary death.
Although the rally was somber at times as everyone remembered the deaths of their trans siblings, the energy turned to an outpouring of community love and Black trans joy during the (mostly) silent march, where the route started at Brooklyn Museum and ended at Fort Greene Park. Along the way, the crowd proudly chanted, "This is what community looks like," and people vogued, a dance form that's always been a type of resistance.
New York's LGBTQ+ community wasn't alone: An estimated 40,000 people marched at protests nationwide. And just one day later, the Supreme Court officially made it illegal to fire someone in America because of their sexual orientation or gender identity. There's still a lot of work to be done, but as the summer stretches on, Brooklyn Liberation gave the community hope to harness the strength to continue fighting.