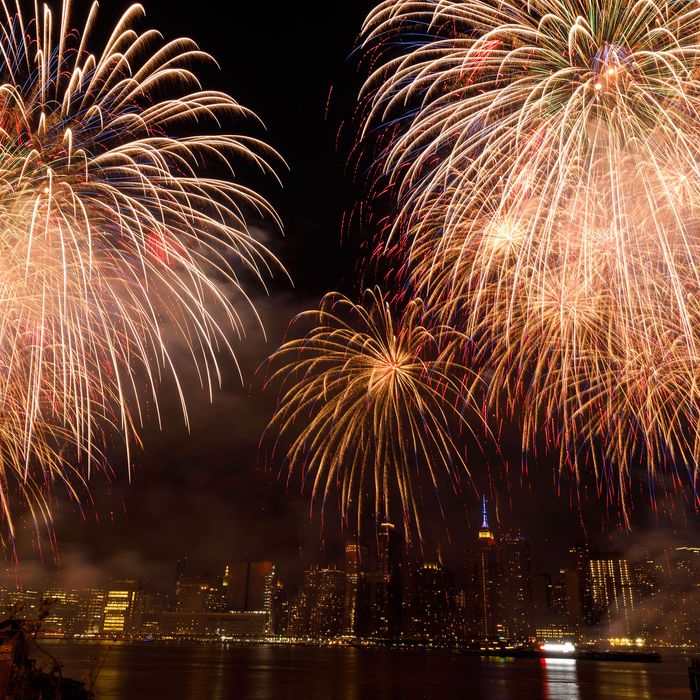 Photo: Jackson Lee/Getty Images
Tonight is the night the city of New York and Macy's will begin their extravagant fireworks displays in undisclosed locations across the five boroughs, not to be confused with the fireworks you've been hearing every night for the past several weeks on random streets throughout your neighborhood.
Mayor de Blasio, who's been touting the oncoming of a Fourth of July fireworks spectacle since April, announced the multiday mystery concept last week. "These past few months have been some of the most difficult in our city's history, and New Yorkers are looking for a break," de Blasio said. "This 4th of July Celebration with Macy's will give all New Yorkers a safe and exciting way to enjoy the holiday together, even when we are apart." Macy's said in a recent press release that it has "chosen to delight New Yorkers with unannounced displays across the five boroughs this year."
Now, instead of the typical concentrated pyrotechnics over the East River that everyone is free to ignore, the event will be more like an obligatory noise festival during the work week. The oncoming glut of fireworks has strong "meet for pizza in the conference room" vibes in that it's something people in positions of power think their employees-slash-constituents will love in any quantity at any time. This is simply not the case.
The series of "brief but mighty 5-minute displays," which begin the night of June 29, will last for six evenings and culminate in a July 4 grande finale featuring thousands of shells fired up to 1,000 feet in the air every minute, as well as musical accompaniment that's "a mix of pop and patriotic anthems celebrating New York City's resilience during the COVID-19 pandemic." The event will be headlined by John Legend with appearances by Alicia Keys and Mayo Clinic surgeon Dr. Elvis.
The flashy corporate display of municipal firepower comes as authorities continues to arrest civilians for possession of illegal fireworks, as part of the city's fireworks task force, which has been operational for about a week in response to a recent uptick in standard-of-living complaints. Fireworks are illegal in New York but not in some nearby states, like Pennsylvania, where the New York Times reports sales are surging.
As a colleague of mine pointed out, why doesn't the city just cut out the middleman and pay the locals who have been setting off their own fireworks to put on the show? Then at last I'd sleep sound.