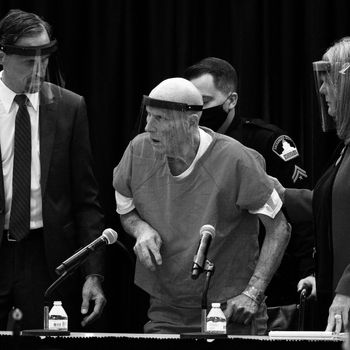 Joseph DeAngelo at his hearing at Cal State Sacramento.
Photo: Rich Pedroncelli/AP/Shutterstock
Joseph DeAngelo, the 74-year-old former police officer suspected of being the Golden State Killer, agreed to plead guilty to 13 counts of first-degree murder at a court appearance on Monday. DeAngelo, who terrorized California in the 1970s and 1980s, is believed to have committed at least 13 murders and 50 rapes in ten counties across the state. He is expected to be charged with life in prison without parole.
Police arrested DeAngelo in April 2018, after identifying him through DNA testing. Investigators submitted DNA from the killer's crime scenes to popular genealogy websites (similar to 23andMe and Ancestry.com), and through relatives who had submitted samples to the sites, they were able to identify DeAngelo and match his full DNA profile with DNA from the scenes.
DeAngelo is believed to have attacked around 106 men, women, and children from 1973 to 1986. Over the years, he became known in the press as the Golden State Killer, as well as the East Area Rapist, Original Night Stalker, the Diamond Knot Killer.
"The scope of Joseph DeAngelos's crime spree is simply staggering," said Sacramento County assistant chief deputy district attorney Thien Ho.
The hearing on Monday took place in the Union Ballroom of the Sacramento State University campus, a venue deemed big enough to accommodate social-distancing measures. The university is the same one from which DeAngelo received a criminal-justice degree in 1972, before going on to work as a police officer until 1979, when he was caught shoplifting.
At the hearing, DeAngelo and the lawyers wore face shields. Per CNN, Sacramento County deputy district attorney Amy Holliday said that "the current state of the COVID-19 pandemic has contributed" to prosecutors' decision to reach a plea deal, explaining that court closures and other complications relating to the pandemic would only delay the case further.
In addition to the charges included in the plea agreement — 13 murders and 13 charges of kidnapping for purposes of robbery — DeAngelo is expected to admit guilt in at least 62 other crimes for which the statute of limitations has long since expired, including numerous cases of rape and abduction.
The late crime writer Michelle McNamara is widely credited with sparking renewed interest in the case, which had gone cold for years until the FBI reopened it in 2016. McNamara chronicled her investigation in her best-selling book I'll Be Gone in the Dark, which was published posthumously in 2018. The book was then turned into an HBO series, which premiered last week.