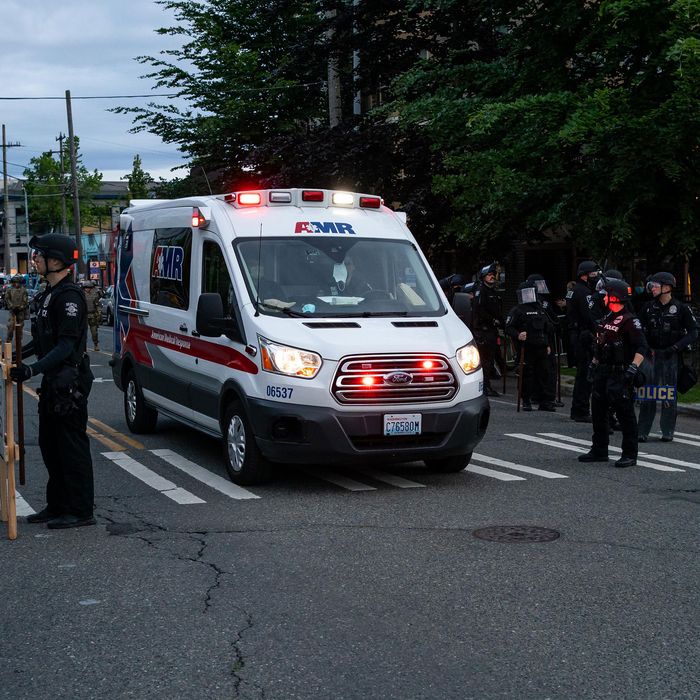 Photo: David Ryder/Getty Images
On Sunday, a protest at Seattle's Capitol Hill against racist police brutality was violently disrupted when an armed man drove his car through the crowd. The Seattle Times reports that the driver shot a 27-year-old black man, referred to only as Daniel, who was trying to stop the vehicle. The victim was taken to Harborview Medical Center, where he is in stable condition.
The Stranger reports that the driver crashed through a police barricade and headed down the street toward a second barricade cordoning off a crowd of protesters. Video of the incident, obtained by photojournalist Alex Garland for the Seattle Times, shows a group of protesters chasing a black Honda Civic as it speeds on toward the larger crowd. One protester gets in reach of the vehicle and grabs at the driver's side window; then a shot is heard and the protester falls to the ground. The driver then exits the vehicle holding a gun, makes his way through the crowd, walks right up to a line of unbothered riot police, and surrenders. The gunman was taken into custody.
B.J. Hayes, who witnessed the incident from the street, told the Times that as the gunman drove his car through the demonstration, he seemed to plow straight through the crowd. "I totally thought I was going to see a bunch of bodies flying through the air," Hayes said.
Videos posted to social media show protesters and volunteer medics tending to the victim on his way to the ambulance. One protester applied a tourniquet to Daniel's arm. Another Times video shows that as he made his way to the ambulance, accompanied by medics, Daniel said, "I heard the gunshot go off in my arm. My whole thing was to protect those people down there."
Later that evening, protests continued, with demonstrators chanting and circumventing police barricades. In response, police used flash-bangs, pepper spray, and tear gas on the crowd, the Times reports. Police claimed some protesters were throwing rocks and bottles. The police's show of force violated the city's 30-day ban on tear gas, which the city's mayor, Jenny Durkan, announced on Friday.