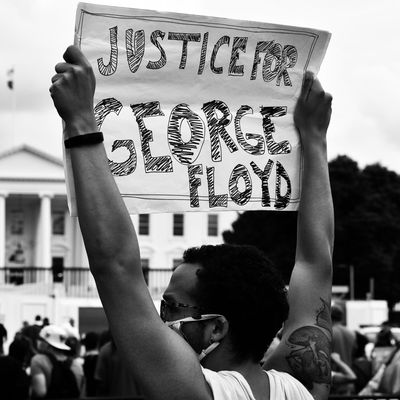 On May 25, a white Minneapolis police officer named Derek Chauvin knelt on George Floyd's neck until his body went limp.
Photo: Nicholas Kamm/AFP via Getty Images
Over the past few days, thousands of protesters have congregated across the country to demand an end to racist policing. As public outrage reached a tipping point, demonstrators took to the streets to demand justice for George Floyd, who was killed last week when a Minneapolis police officer knelt on his neck until his body went limp; Breonna Taylor, who was shot and killed by police officers in her own home in Louisville in March; Ahmaud Arbery, who was murdered by two white men in a pickup truck while jogging in his Georgia neighborhood in February; and other victims of police brutality and racially biased law enforcement.
According to social-media posts from protesters, many of the gatherings began peacefully, until police escalated them by firing rubber bullets and tear gas. The Associated Press reports that over the past few days, at least 4,100 protesters have been arrested, and links to donate to bail funds to help release protesters have been circulating widely. But before you donate, it's worth looking closely to make sure that the organization still needs support — and that it's a legitimate organization in the first place.
Here are a few things to keep in mind to make sure you're donating effectively.
Make sure the organization is still accepting donations.
Before you send money to a bail fund or nonprofit you've seen circulating, double-check the organization is still in need of donations. Some organizations, like the Minnesota Freedom Fund and the Brooklyn Community Bail Fund, have received an overwhelming amount of monetary support, and as a result have now requested that potential donors direct their funds to lesser-known organizations still in need of assistance. Here's our list of other organizations and nonprofits that are currently accepting donations to support the struggle against police brutality.
Watch out for scammers.
As links to donate to bail funds have been widely circulated on social-media platforms, scammers posing as bail funds have popped up as well. For example, the Minnesota Freedom Fund put out a statement regarding a fraudulent Venmo account bearing its name.
Before you donate to an organization, check its website or official social-media channels to see how it's accepting donations. And if the organization is taking donations through platforms like Venmo and PayPal, make sure you've got the correct spelling of the organization's username.
In addition to donating, check out our list for other ways you can support the fight to end racist policing, including providing protesters in your area with portable snacks and water bottles, or pressing your local officials on their plans for ending police brutality.