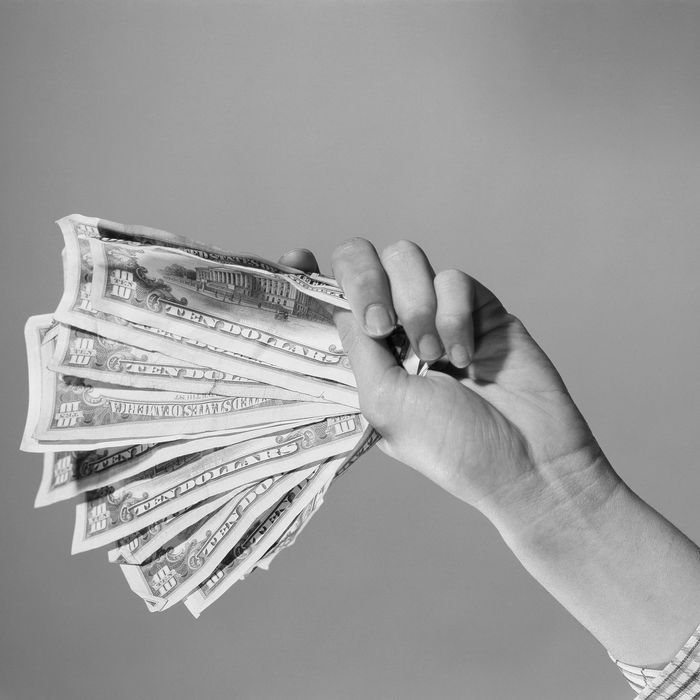 Photo: Lambert/Getty Images
It speaks volumes about this moment — when a crippling recession has put millions out of work since February — that people are still donating unprecedented sums of money to fight racist policing. "I've never seen an infusion of this many donors, all at once," says Pilar Weiss, the director of the Community Justice Exchange, which manages the National Bail Fund Network. "There are funds that maybe had 100 donors in the month of March, and then had 150,000 donors in the past ten days." Her organization currently estimates that over 3.5 million people have donated to community bail funds in the past week and a half, despite the country seeing its highest unemployment rate since the Great Depression.
If you're one of these donors, hi. Welcome to a big and frenzied club. I know I'm not alone in feeling overwhelmed as I scan Instagram, reading about where other people have contributed and why, fretting about whether I should have given to this organization or that one. This social pressure certainly isn't bad — in fact, it's vital for the kind of mobilization that's happening right now. But when everything feels so urgent, it's tough to decide where your money should go, especially if there isn't much to spare (and so many organizations where it could go — here are some good places to start).
It can also be difficult for organizers to manage a sudden influx of cash, especially since history shows that the donations will taper off at some point. It's known as the gym-in-January effect: A catalyzing event makes people spring into action with the best of intentions, but unless they make a sustainable, big-picture commitment, their attention span won't last.
So, how do you make your donations more useful, and ensure that your money goes as far as possible? Here are some tips from organizers:
1. Automate small recurring donations.
It might sound counterintuitive, but in general, it's much better to give smaller amounts over a sustained period of time than it is to give a larger gift just once. "Donors who are signed up for a smaller monthly recurring contribution give more, on average, than someone who makes a onetime donation," says a spokesperson for ActBlue, a platform for grassroots fundraising for progressive causes. "Recurring donations can be especially helpful in moments when a cause is in the news, so that in the future, even when the cause may be receiving less attention, the donor is still committed to giving."
And those small-dollar gifts do add up. The average ActBlue donation in 2019 was $33.13, but the organization cumulatively raised over a billion dollars that same year. A more personal example: When I was 24 and finally getting a real paycheck, I started giving Planned Parenthood $25 a month. It may not seem like much, but now that I've been doing it for over ten years, I've contributed over $3,000 — much more than I would be able to give in a single donation.
What's more, predictable donations help organizations budget better, make bigger long-term plans, and execute them. "Building a monthly sustainer program is one of the best ways to enhance value for the organization's mission and the donor," says Renée Cutting, the chief development officer for the NAACP's Legal Defense Fund.
2. Don't attach strings.
It's understandable that you want your money to go directly toward the things you care about most. But when donors are prescriptive with their dollars, it actually makes it harder for organizers to do their jobs. "Most organizations are looking for gifts that are unrestricted," says Jennifer Ching, the executive director of the North Star Fund, which gives grants to social-justice organizations. "If you give money and say, 'This is specifically for this one project you're doing,' that adds a whole level of administrative work, and your dollars actually go shorter."
This is especially the case right now, as a lot of new, small organizations are trying to scale themselves and be nimble. "I hope that people have some grace with their donations, and give with the acceptance that this will be a process," says Weiss. "There has to be some understanding that you're supporting a movement, and you're supporting work that's fluid because it's responding to a movement."
3. Enlist other people.
"Maybe you can only give $5, but if you can also convince your parents and your siblings and your friends to also give $5, you have magnified your gift ten times over," says Ching. "And you'll probably have important conversations in the process." It's never not awkward to ask people to give money, but this is where social media is helpful — I've seen a lot of friends and celebrities do matching campaigns on Twitter and Instagram. And this is the time to push the envelope, adds Ching. "Obviously, the economy is in a devastating place, particularly for low-wage workers. And so, for those who have been able to retain their jobs, it's particularly important to give."
4. Don't be discouraged if you can't give much, and feel free to spread it around.
The common advice for donors is to pick one or two organizations and "go deep" with them — make the biggest donations you can instead of spraying them around. This isn't a bad idea, especially for your own sanity and ability to keep track of where your money goes. But spreading yourself thinner has its merits, too. Participation at any level — even just a few bucks a month — can help make organizations eligible for certain grants. Many foundations want their grantees to prove that they've accumulated grassroots support, in which case it's the number of donors that counts, not how much those donors are giving. So if it seems like your $2 recurring gift isn't worth it, remember that it could help an organization become eligible for thousands more from a larger funder.
5. Do your homework.
Before you donate, educate yourself on the organization's mission. "Look at the organization's website and social media platforms. Not only can you see what the organizations are saying, but what their peers and donors are saying about them," says Cutting. "Research sites such as GuideStar, Charity Navigator, Charity Watch, and GiveWell also show how organizations use their fundraising dollars." Those sites are also searchable based on the causes you want to support, so you can compare your options.
You should also make sure your money is going through proper channels. As links to donate have circulated on social media recently, some scammers have joined the mix. Check the organization's website to confirm that you're giving money to the right place. While you're at it, see if the organization actually needs your money — some bail funds, in particular, have been so overwhelmed with donations that they're directing people toward other organizations that are more in need.