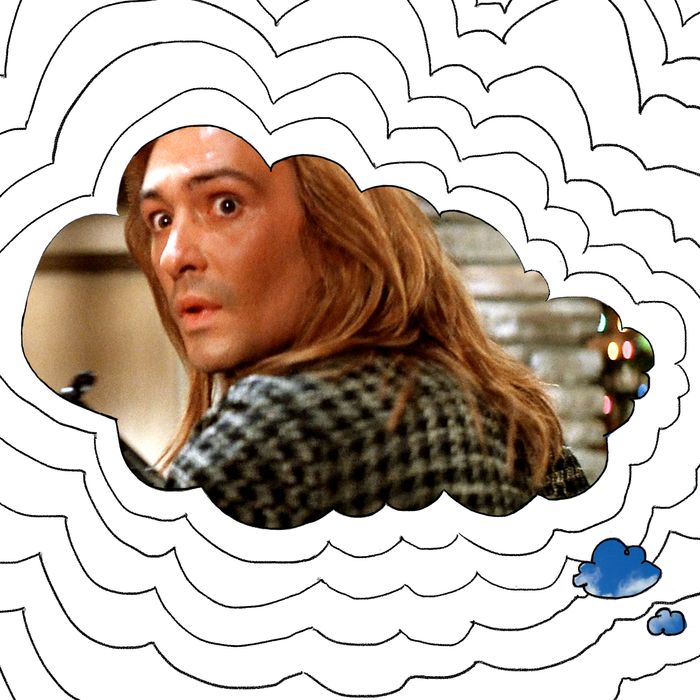 I Think About This a Lot is a series dedicated to private memes: images, videos, and other random trivia we are doomed to play forever on loop in our minds.
When you think of Die Hard, the 1988 classic, what comes to mind? The fact that it's possibly the best action movie ever made, or that it's a Christmas movie in disguise? The way Bruce Willis singlehandedly takes down a group of European terrorists led by Alan Rickman? Or Rickman's questionable yet somehow wildly seductive German accent? I'm guessing, however, that "the most iconic hair moment in cinema history" isn't on the list.
Until embarrassingly recently, I had somehow avoided ever watching the movie, and had no desire to do so. It's not that I'm against action movies. On the contrary, I enjoy watching two hours of explosions just as much as the next person. Perhaps I just needed 30 years to prepare myself for one of the best movies ever made, one that my fiancé never failed to remind me was one of his favorites. When I finally suggested we watch it, he replied with the kind of sarcasm that made me wonder what I'd been doing with my life up until this point. It was now or never.
It's considered the peak of the '80s action genre, so I had set exceptionally high expectations. Were they met? Sure. Die Hard is an entertaining film. The one-liners are snappy and memorable, the carnage, in abundance. What I was not prepared for, however, was being so captivated by one of the villain's henchmen that I would need to watch the movie over and over again just to catch another glimpse of him. Henchmen are so often completely forgettable, and many die unnamed, but while he only has five lines of dialogue, Fritz and his magnificent blowout will remain burned into my brain.
The movie begins promisingly enough. New York cop John McClane (Bruce Willis) arrives in Los Angeles with the hopes of reuniting with his estranged wife, who moved to L.A. for her career. While he awkwardly circulates at her office Christmas party, immaculately dressed terrorists headed up by Hans Gruber (Rickman) cut the phone lines, take the guests hostage, execute some executives, and work on stealing $640 million in bonds. While the LAPD fumbles around outside, our reluctant and barefoot hero McClane sets in motion a plan to save his wife and her co-workers all on his own. But it's when I first caught sight of Fritz that I knew I was in for a real treat.
While not yet as popular as big-name action stars at the time — like Schwarzenegger and Stallone — Willis possesses a "never say die" attitude, an intense shoulder scar, and a tattooed bicep. Also, he's pretty handy with a firearm. But in contrast to the bloodied, tank-top-wearing McClane, Gruber's men look like their headshots were handpicked from a Scandinavian modeling agency. Fritz (Hans Buhringer) appears as a living, breathing bronze statue with a 1,000-yard stare, delicately chiseled features, and a breathtaking head of hair.
I first spot it when he makes his grand entrance into Nakatomi Plaza, strutting behind his boss alongside his elegant comrades. But his tresses really take center stage while he's rounding up hostages and it catches on the bland fluorescent lighting. Oh my word, the shine! The bounce! Those highlights! Much like the commercial for Adorn Soft Hold hairspray from 1980, Fritz's crown of liquid chocolate pleads: "Come on, touch it." Not a flyaway in sight, either. Amazingly, his locks keep an astounding level of composure, even when he discovers the first of his buddies taken down by McClane, and later, when he engages in the first of several gunfights.
This wasn't easy to achieve. When I emailed Die Hard's on-set hairstylist, Paul Abascal, he said exactly what I'd hoped he'd say, that Fritz's hair required "the most maintenance" during filming: "I changed his hair color so there was retouching to be done and timing that was tricky," he says. (I must admit I was a little heartbroken to learn Fritz's hair wasn't 100 percent natural, but apparently nobody, not even Fritz, is perfect.) I can only imagine Willis practicing his hand-to-hand combat and fight choreography while Buhringer sat in hair and makeup with foils in, quietly flipping through back issues of Gentlemen's Quarterly and making a mental note of what outfits he will be taking with him for summer in Capri. What I wouldn't give to have a hairstylist permanently on hand in my everyday life.
As a teenager, I battled uncooperative locks. Frizz, cowlicks, and those annoyingly wispy hairs on the edge of my face. I ironed it, chemically straightened it, even took scissors to my baby fuzz out of sheer frustration for my gawkiness. Perhaps it's why this hazelnut-haired Adonis stands out so much to me now — he has the hair I could've only dreamed about in middle school and frankly still aspire to in my adulthood, natural or not.
Fritz is among the last of the bad guys to die at the hands of McClane, shot repeatedly in the chest through his silky houndstooth jacket in the final 20 minutes (I told you these guys were superbly dressed). Should Fritz have substituted a bulletproof vest for the houndstooth? Undoubtedly. Would he have been a more effective terrorist had he worn a ponytail? Perhaps, but how else would director John McTiernan have captured it in all its glorious buoyancy? At least now, I know whose photo to bring to the hair salon next.