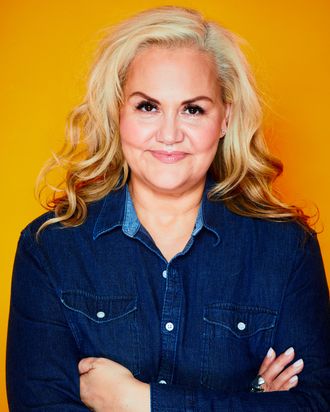 In the beauty industry, they call it the "Caroline effect." Skin-care influencer Caroline Hirons is so powerful that she can bring a product back from near death. Legend has it that in 2013, Clinique was about to discontinue its Take the Day Off Balm. But after Hirons gave a wholehearted recommendation of it on her site, the boost acted like defibrillator paddles and saved the product from entering the product graveyard. (Clinique even provided an official statement about the incident.) Hirons has done the same for other beloved products, among them Biologique P-50 and Pixi Glow Tonic.
On the beauty boards and on YouTube, Hirons comes across as a wisecracking straight-talker who isn't afraid to cut through the jargon and deliver the truth, scattered with a few F-bombs. Her first book — out this week — is called SkinCARE: The Ultimate No-Nonsense Guide. It answers basic questions like how much product you should use, with helpful cheat sheets devoted to eye cream and other skin-care categories. There's also a section called "Get Into the Sea" filled with products Hirons considers a complete waste of space and time. Among them: face wipes (Hirons's public enemy No. 1), sheet masks ("wipes with holes cut out for eyes"), and foaming cleansers ("No part of your body should squeak").
The Cut caught up with Hirons to talk about beauty routines during COVID-19, how she thinks Black Lives Matter will affect the beauty industry, and whether skin care is, ultimately, kind of a scam.
How has the pandemic affected the way you've thought about skin care and beauty?
It hasn't changed anything for me. For other people, I think it's made them sit up and take care of their skin a bit more. I've heard that many people's skin is changing. Most people have gone one of two ways. They're either dry, dehydrated, flaky, or they're breaking out.
I am just doing what I always do. If people are avoiding wipes and doing something properly, then that's good. People who are active in the skin care community have been loving it. It's a great time to soup up the actives, retinoids, without having to worry about downtime.
A few years ago, an article went viral suggesting that skin care was "a scam." What did you think of the piece and the premise?
I saw that. I was not happy. I read that and thought, She's either blessed with great genes, is the most cynical person on earth, or both. If anything, it got me a few more followers because I became a safe place for people who not only need skin care but enjoy using it.
I've always said that people should feel like the healthiest version of themselves. I hate the term anti-aging. Surely that's a bonus to life, getting older. You need to talk to someone you trust about skin care. Everyone comes at it with a different angle at a different time of their life. There's not one product that will make you a skin-care believer — it's much more nuanced than that. If you're jaded about skin care, what was your previous bad experience? And just like any industry, there's good and bad. What's up with your skin genetically? Are you going through menopause or puberty? Everyone has a different story.
When I meet someone I say, "Tell me what you're using and what you want from this." It's not about my agenda. My agenda is to help them get the skin they want. If they say, "I want everything firmed up and don't want to look a day over 30," then I say, "Well, you may need a needle." Considering we all have the same skin, it's all different.
What motivates you to have a skin-care routine, personally? Is it because it's your job?
I don't do it because it's my job. It's been ingrained in me since I was a teen. I've been doing it almost 40 years. This job happened because I took care of my skin and went down that road. I don't need motivation to do it. It's an integral part of my everyday self-care.
Why do you see skin care as self-care?
I think of vanity and self-care as different things. It's not vain if you take care of yourself. It's fundamental. You're not vain when you eat dinner. Washing your hair and face and rear end is not vanity. It's self-care. Vanity comes into it if you are obsessive about things about yourself that you want to change. It ties into self-acceptance — when people grow up hating certain parts of their body or themselves.
Why not take care of your skin? If you need encouragement to proceed with self-care, there's a bigger issue besides that you don't feel like cleansing. Your skin and hygiene are some of the first things you neglect when you're not well. For example, I have quite a few readers in the North Corridor who have Lyme disease. They tell me that they don't have the energy, and they can't do anything. They ask me, "What's the bare minimum I can do?"
Do you see skin care as health?
There's a certain element of health. But it's no different from my two cats licking themselves. It's self-care; it's related to their health. They're all kind of intertwined. Is brushing your teeth vain? It's just grooming, and humans have been doing it for centuries. Before there were toothbrushes and toothpaste, there were sticks. Men get away with calling it grooming, but when it's women, there's negativity.
I've been doing Instagram Lives all during lockdown. I've done it with gray roots in a bun. My lashes fell off in week two. My nails fell off who knows when. Beauty is prone to a lot of judgment because people like to judge women. Some reports seem to suggest that it's the sole responsibility of the beauty industry to reduce plastic, as if plastic bottles and straws don't exist. Again, because it's women.
Face wipes, however, are a whole other argument. They're created for laziness. They're destroying the planet. What you won't get from me is making women feel guilty for taking care of themselves.
What effect do you think Black Lives Matter will have on the beauty industry?
I'm 50, so I've seen uprisings. Things then quickly went back to "normal." The fact that L'Oréal apologized publicly to Munroe Bergdorf is great and long overdue. Over here in the U.K., Boots was called out by a Black woman who noticed that all the Caucasian hair care was on a shelf, and all the Black hair care was security-tagged. Little things like that chip away — it suggests that you're a thief or you can't be trusted because of your skin color. I'm hoping we're turning a corner we don't have to visit again. I hope it doesn't once again just become the way we operate because the beauty industry is run by middle-aged white men.
My daughter's generation will see hopefully more change. They won't have to go through what I went through coming up the ranks. Like when you tell people you're pregnant and they ask you, "Are you keeping it?" — emphasis on it. Well, no Brian, if I wasn't keeping it, would I be telling you? Now I look back and think, Oh God, we put up with so much crap.
In the long term, the vision has to be that we support more independent businesses, and Black-owned businesses. These businesses also need financial aid so that we can lift them out of the trials that white people have put them in. We need to think about how we can fix this. Once COVID-19 has ended and we have some sense of normality, it will be key to see who is still left standing and has honored what they've said they're going to do.
When you recommend a product, is it based on the merits of the product only? Or do you take other things into account, like the company's values and their political stances?
It had always been product first. So if the product is great, then I think about the brand. There are a couple of brands I don't talk about because I have personal history with them and I won't give them the oxygen. The main thing my readers ask about is animal testing and then whether a product is vegan.
In my autumn and winter skin-care kits, we will be doing a shout-out to smaller Black-owned businesses. We may have to help them financially, as a lot of these brands may not be used to making the quantity needed for these kits. We're looking at ways we can support business while still doing ours, and extending it into, yes, they have to be ethical. If L'Oréal hadn't apologized to Munroe, it would have been a different situation.
It depends on the politics, and it's nuanced. One of the Lauders has donated millions to Trump. If you were to say, "Right, we are boycotting Lauder," you're also boycotting the biggest employer of Black people in our industry. No one employs more nonwhite people than M.A.C. If you boycott Lauder, the knockdown effect is not supporting Black makeup artists.
Lauder does a lot of things very well. Let's face it, they are a massively privileged family. The way they counter it is with charity donations and breast-cancer awareness, and the people I know in management and head-office roles there are very happy. They do employ a lot of people who aren't white. It all depends on what's important to you. Every person will have to vote with their own dollar.