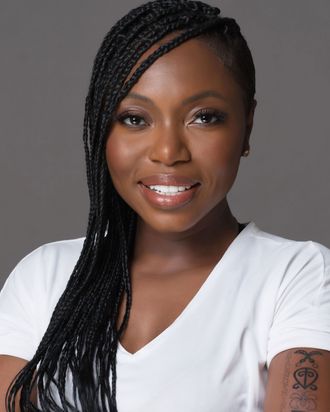 Photo: Courtesy of the Subject
On June 3, Sharon Chuter asked for real change. An executive who has been in the beauty industry for over a decade, Chuter posted a video to her Instagram the day after Blackout Tuesday, asking for brands to go further than their "PR stunts."
Chuter created the grassroots campaign Pull Up or Shut Up, calling for big beauty brands to publicly release the breakdown of Black employees at the corporate and executive levels. "You can't tell us Black Lives Matter publicly when you don't show us that Black lives matter within your own homes and organizations," she said.
Within 72 hours, without the boost of any celebrities or influencers, over 30 companies had pulled up, among them Sephora, Ulta, Tatcha, L'Oréal, Beauty Bakerie, and Kylie Cosmetics. Even companies without any Black people in leadership roles revealed their numbers. Chuter, who has worked with brands like Revlon, L'Oréal, and Benefit and founded the line Uoma Beauty, is now helming a true movement, as people are calling on big companies outside of beauty, like Uber and Facebook, to speak to their own employee demographics.
The Cut talked to Chuter to learn more about how customers hold the power, concrete ways brands can do better, and why she believes hiring quotas work.
How did the movement for Pull Up or Shut Up start?
I've been talking publicly about representation for a while, but the catalyst was the George Floyd murder. I felt like it was the first time the world was hearing me. I saw brands popping out with their fancy PR and then with the donation wars. But we need to make sure that this time there is a direct change to action, and that it's tangible. Let's stop doing this show and actually support. Let's dig into these issues.
Only transparency and accountability can drive change. We need to get to the tree of white supremacy and cut off all the branches. This is my branch. I know what goes on here. Only consumers can drive accountability.
Do you think consumers have more power to drive change than companies?
They do. In the industry, every single thing that the customers want, we give it to them — and we should. If you ask, you get it. We saw it with cruelty-free beauty. It used to be that we were told you had to kill bunnies to test lipsticks. If we can fight for the rights of animals, let's fight for people too. Don't get me wrong, I love animals. It's just interesting and funny that the community will get behind animal activism before they get behind Black activism.
How did you come up with the name Pull Up or Shut Up?
I pulled together this whole thing in less than 48 hours. Someone said that the name was quite aggressive. I said, "I'm aggressive." It was organic. There is the organization called Pull Up For Change, which is much calmer and nicer. That's why we created the distinction. Having an organization of the same name would be aggressive.
How did so many companies sign on so quickly? 
This was all grassroots. There are no celebrities talking about this. I sent this campaign out and let the consumers do the work. I didn't ask a single company for numbers. I didn't broker anything with them. Ulta carries me and I never said, "Are you legit with me or not? I'm going to leave." But it turns out they were legit with me, so I love y'all. This is the exercise. You pull up for real or don't. Some were hoping no one would pull up, but they did.
When the huge conglomerates like L'Oréal pulled up within 48 hours, that was a big move. They don't like to do things like this. So once they did, I knew that it was real. The only brand who hasn't pulled up is LVMH (minus Sephora) . They don't operate as a cohesive group, like the others.
And now there's a community telling me what to do next. They're saying that in six months, we want an update. We want to know if they will do better. Some are asking for a plug-in for desktops so that when they're browsing, they can see if brands support Black people. Others are asking for a sticker on the box — a symbol to show they are diverse, like they have for [the vegan product label] Leaping Bunny. It shows how much people want to know. You have to pull up. You have to do this. This was created to be a shopping guide, not a boycott guide.
What do you think of the actual numbers companies have revealed?
They were better than I thought they were going to be. But I know these numbers have to be the best-case scenario, the most optimistic version, and manipulated.
But that's not the point — I don't pay attention to the actual numbers. It's about the action. My big targets are the giants, which own multiple brands. A percentage increase there is very significant. Going beyond beauty, we want to see Uber and Facebook. We want to see huge companies in America pull up. I am here because I want these companies to commit to solutions, and to speak to executives who are saying, "I want to pick your brain." You can have these meetings internally, but they're going to be polite and not tell you the truth. They're going to ignore the microaggressions, because they still want things to be nice and keep their jobs.
I remember not wanting to be labeled a troublemaker or angry [at my old jobs]. But now I don't work for you. I have no skin in the game.
What's your general advice to a brand wanting to do better? 
The first step is to call historically Black universities and look for talent. Do this today, not tomorrow. Don't go to Harvard Business School and ask for only your Black students. Go to Howard, Morehouse, and Spelman and create active internship programs.
Also, go to industry organizations where Black people congregate together to heal. I've had so many Black professionals tell me, "I started doing my résumé. For the first time, I feel optimistic in getting a job." They're thinking, Maybe I'll have a shot at that promotion.
Then you need to have proper training — not some corporate bullshit video that you watch. Every corporation should teach every board member about slavery, segregation, and systemic racism and tackle that head-on. No mincing words. Give clear examples. Even now, if you Google professional hairstyles, it's all women in ponytails. If you Google unprofessional hairstyles, it's all women with Afros. Make sure your team understands. You also must have tangible start targets. So someone like Viacom should say they will double their numbers and commit to a report, and give us an update in six months.
What do you say to people who object to what you're suggesting and label it as a quota?
We don't want quotas. But sometimes you need to have those things, or else you have marginalized people. You know you want to hire someone based only on whether they can do a good job, but we also know that bias exists. Your brain sees what you want to see.
Everyone said the same thing with quotas for women. Would we have a woman CEO at Ulta now if we hadn't? Would she have gotten that job 20 years ago? Within five years, women are moving into leadership roles. Are they not kicking ass? Did they not get there because of quotas?
That is unbeatable proof that they were being ignored just because they were women. It forces people to look where they aren't looking. When you don't look, you don't find. People will always complain or say things like, "This is an attack on white people. People should be hired on qualifications."
No one is saying that you shouldn't hire based on competency. But after the second interview, your candidate is qualified for that job. The criteria to narrow it down often comes down to Who do I like the most? What do I have in common with this person? We know that's huge in hiring. How can you have rapport if you have completely opposite experiences in life? Maybe you like hot yoga, lawn bowls, and La Croix — my reality is completely different from yours. We can't be talking about leisure and zero gravity yoga. That is privilege. How am I going to get along with you when I don't understand your experiences? When you don't understand my food or anything about me? That's why training is essential and compulsory and a good start.
Right now, qualifications are not enough. You're allegedly hiring on merit and only 3.2 percent of Black people are in leadership. You're telling us that we aren't good enough, then. That's insulting. People would like to believe that all Black people are not smart or qualified. That's the hard fact of racism in America.