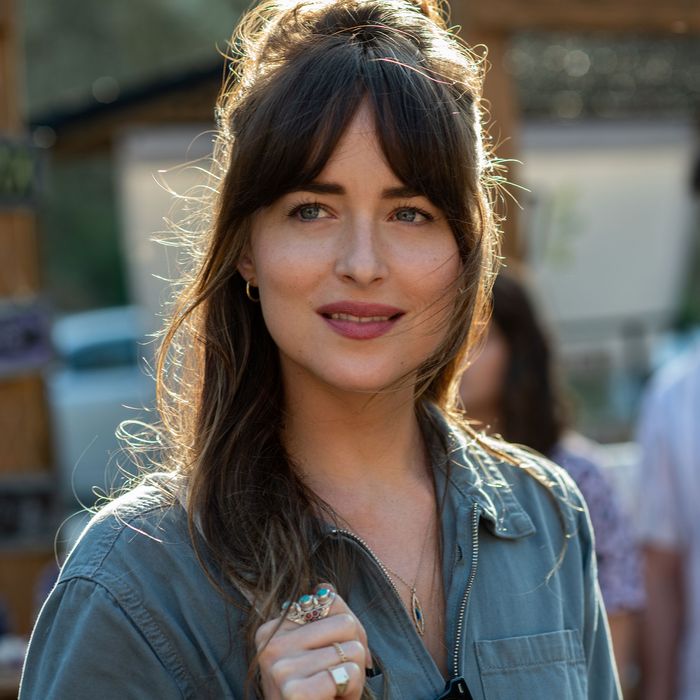 Photo: Courtesy of Focus Features
The High Note is a sunny, silly, feel-good summer movie with lots of pretty people and (very good) musical numbers. Directed by Nisha Ganatra (Late Night), it stars Tracee Ellis Ross as a creatively stunted superstar named Grace Davis, whose sound and aesthetic resemble Ross's real-life mother, Diana Ross. Enter Maggie, played by Dakota Johnson and her incredible bangs. She's a personal assistant, and between buying Grace's green juice and driving her around L.A., she's nursing her own ambitions to be a music producer. As Grace's frostiness toward her thaws, Maggie is revealed to be just what Grace needs to shake things up.
The story is buoyed by cameos from Ice Cube and a mostly topless Diplo, as well as a love interest in Kelvin Harrison Jr. But mostly, I was struck by the omnipresence of a particular accessory: the cluster of rings worn by nearly every character. I'm talking up to five thick, stacked bands — not the flimsy gold loops from Catbird New Yorkers favor. Why so many rings? Is it a music-person thing? I decided to find out.
I began my investigation by perusing the Instagram account of an old colleague who's now a music supervisor in L.A. I found some light ring action, but only spotted one chunky band (and never three at a time.) So I called up my friend Uddhav Mehra, an L.A.-based producer and musician at 1057 Records.
He started by clarifying that there are different kinds of producers: "You can be a producer who doesn't play any instruments — they work on the software, or you could be a producer that brings people to the studio to record music." If you play an instrument, wearing lots of rings would be an impediment. But if you don't, you're pretty much free to wear rings — so while Maggie does play some piano, her rings check out (same with Grace, who is, after all, a singer.)
But what about all of the scenes with Kelvin Harrison Jr. playing guitar in brass knuckles?
"Whether I'm playing guitar, violin, or bass, rings stop me from being able to play," Mehra says, adding that he'd have to take rings off before playing. And when it comes to accessories in the music scene, he says he sees much more in the way of armbands and beaded bracelets than rings anyway.
So, were the rings just a gratuitous decision by The High Note costume crew? Jenny Eagen, the genius behind Chris Evans's perfect white sweater in Knives Out, designed the film's costumes. She says the choice to give many of the characters rings was less about accuracy, and more about using accessories as a sort of symbolic tool.
"I think [the rings] speak to their creativity. Jewelry is creative and artistic, and everyone in this film is in a creative profession," she explains. "For Dakota, some of her rings are turquoise and coral" — earthy stones that make her seem grounded. "Grace's are beautiful and gold and fabulous, but classy, and not over the top." In both cases, the jewelry reflects their personalities — the down-to-earth Maggie, and the unattainable elegance of Grace.
And while being a musician and wearing a ton of rings seems to be mostly a creative liberty on The High Note's part, it's one I don't mind, especially if the wearer is also dreamily, impractically, strumming their guitar at me: