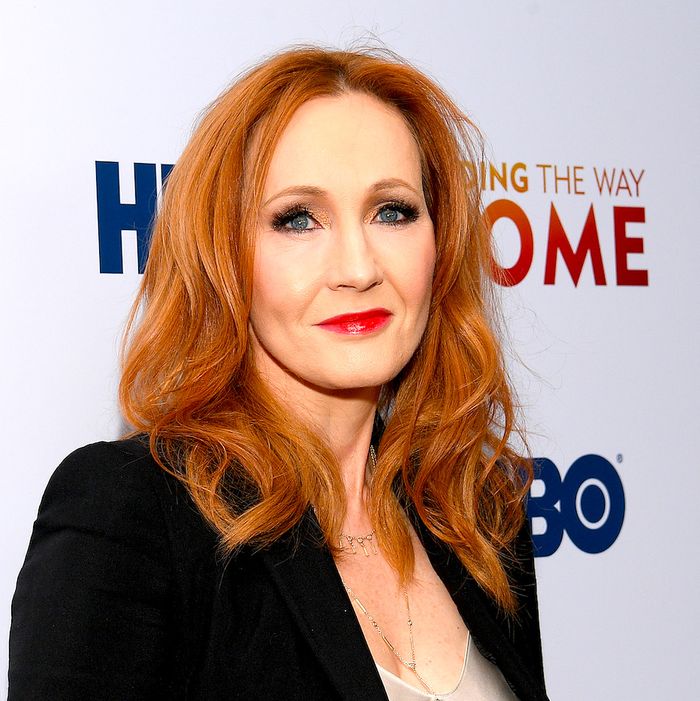 J.K. Rowling.
Photo: Dia Dipasupil/Getty Images
On Saturday, J.K. Rowling hopped on Twitter to air some thoughts on sex essentialism, pretty much out of the blue. Sharing an article addressing period poverty amid the coronavirus pandemic, the Harry Potter author questioned the phrase "people who menstruate."
"I'm sure there used to be a word for those people," she tweeted to her 14.5 million followers. "Someone help me out. Wumben? Wimpund? Woomud?"
This did not go over well, particularly in light of similar comments Rowling made late last year. "J.K. Rowling continues to align herself with an ideology which willfully distorts facts about gender identity and people who are trans," GLAAD tweeted, as backlash to Rowling's tweet mounted on Saturday. "In 2020, there is no excuse for targeting trans people."
"We stand with trans youth," the organization added, "especially those Harry Potter fans hurt by her inaccurate and cruel tweets."
But Rowling did not stop there, and the controversy has continued to grow.
What, exactly, did J.K. Rowling say?
The article that Rowling tweeted, an opinion piece entitled "Creating a more equal post-COVID-19 world for people who menstruate" and published last month on Devex, emphasized the strain that lockdown has placed on already-vulnerable "girls, women, and gender non-binary persons [who] menstruate." Many people who left comments on Rowling's initial tweet read it as transphobic because of her suggestion that menstruation is somehow a fundamental quality of womanhood, but as criticism grew, she stood by the sentiment.
"If sex isn't real, the lived reality of women globally is erased," she tweeted in a separate thread. "I know and love trans people, but erasing the concept of sex removes the ability of many to meaningfully discuss their lives. It isn't hate to speak the truth." She continued:
The idea that women like me, who've been empathetic to trans people for decades, feeling kinship because they're vulnerable in the same way as women — i.e., to male violence — 'hate' trans people because they think sex is real and has lived consequences — is a nonsense.




I respect every trans person's right to live any way that feels authentic and comfortable to them. I'd march with you if you were discriminated against on the basis of being trans. At the same time, my life has been shaped by being female. I do not believe it's hateful to say so.
It's not the first time Rowling has voiced this kind of opinion.
In December, Rowling expressed a similar idea in support of Maya Forstater, a researcher who lost her job at a think tank over "offensive and exclusionary" language she used on Twitter — statements like "men cannot change into women." Tagging her tweet #IStandWithMaya and #ThisIsNotADrill, Rowling wrote: "Dress however you please. Call yourself whatever you like. Sleep with any consenting adult who'll have you. Live your best life in peace and security. But force women out of their jobs for stating that sex is real?"
And before that, Rowling was criticized after liking a tweet that referred to trans women as "men in dresses," which her reps reportedly brushed off as a "middle-aged moment."
Rowling faces accusations of transphobia.
If you look at the response to Rowling's comments, you will see that the acronym TERF comes up often. TERF — which stands for "trans-exclusionary radical feminist" — refers to the view that trans women aren't "real" women, because "womanhood" is somehow essentially linked to one's biological sex. The view originated in certain strains of radical feminism in the 1970s, and the term TERF has been in usage since the mid-2000s. It's often deployed against self-proclaimed feminists who insist that trans women should be treated differently than cis women, even though most people labeled as TERFS nowadays tend to be liberal, not radical.
Which is why Rowling's sustained emphasis on sex has troubled her followers. Following Rowling's December tweet, Charlotte Clymer (a trans activist and, at the time, the Human Rights Campaign's director of Rapid Response Communications) replied to say that "the World Health Organization — among countless other medical authorities — validate trans people in their authentic gender identity."
"It is quite clear you don't understand the first thing about the trans community or the science at play," she wrote, calling Rowling's statement heartbreaking.
As many people have pointed out in comments on Rowling's most recent tweets, plenty of cisgender women don't menstruate, but their gender is rarely questioned because of it. "I know you know this because you have been told over and over again, but transgender men can menstruate. Non-binary people menstruate. I, a 37-year-old woman with a uterus, have not menstruated in a decade," one person wrote. "Women are not defined by their periods."
Singer Mary Lambert also chastised Rowling for using her "power and influence" to "push a trans exclusionary agenda" that makes people's "lives infinitely more difficult." And indeed, transgender people face heightened discrimination in the workplace, in health care, in housing; they also face an escalated risk of violence. Days into Pride month — weeks after Nina Pop, a trans woman in Missouri, was fatally stabbed; weeks after Tony McDade, a trans man, was shot and killed by Florida law enforcement; amid ongoing protests against police brutality, of which trans people are all-too-frequent victims — Rowling's tweets feel particularly ill-timed. As Lambert observed: "Of all the hills to die on, and for what reason?"
Other celebrities have weighed in, too.
Daniel Radcliffe, who played Harry Potter in the film franchise, apologized via the Trevor Project, a crisis intervention organization for LGBTQ youth, to "all the people who now feel that their experience of the books has been tarnished or diminished" by Rowling's opinions. In a statement, Radcliffe emphasized that — while his words did not represent "infighting" between him and Rowling — "just as a human being," he felt "compelled to say something."
"Transgender women are women. Any statement to the contrary erases the identity and dignity of transgender people and goes against all advice given by professional health care associations who have far more expertise on this subject matter than either Jo or I," Radcliffe wrote. "It's clear that we need to do more to support transgender and nonbinary people, not invalidate their identities, and not cause further harm."
"I am deeply sorry for the pain these comments have caused," he added. "If these books taught you that love is the strongest force in the universe, capable of overcoming anything; if they taught you that strength is found in diversity, and that dogmatic ideas of pureness lead to the oppression of vulnerable groups; if you believe that a particular character is trans, nonbinary, or gender fluid, or that they are gay or bisexual; if you found anything in these stories that resonated with you and helped you at any time in your life — then that is between you and the book that you read, and it is sacred. And in my opinion nobody can touch that."
Radcliffe is not the only actor to have responded to Rowling's tweets; indeed, he's not even the only Harry Potter actor to have acknowledged her comments. Katie Leung, who played Cho Chang, one of (if not the) only Asian characters in the series, seemed poised to address Rowling's choice of names in a Twitter thread. "So, you want my thoughts on Cho Chang?" she wrote. "Okay, here goes…" And then she listed off a number of organizations working to promote the safety and well-being of black trans people. Most recently, Eddie Redmayne — who stars in Rowling's other Wizarding World franchise, Fantastic Beasts and Where to Find Them — distanced himself from Rowling: "As someone who has worked with both J.K. Rowling and members of the trans community, I wanted to make it absolutely clear where I stand," he told Variety. "I disagree with Jo's comments. Trans women are women, trans men are men, and non-binary identities are valid."
Celebrities outside the Pottersphere responded as well. "Shut up and goodnight," Sarah Paulson tweeted.
"Trans women are women," Jonathan Van Ness wrote. "Trans Black people & trans non-Black people are discriminated against every single day. They're dying. We're fighting for Black people & trans people and you're doing this?"
"How did she manage to have a victim complex about all of this?" Mara Wilson added.
Has Rowling apologized?
No. And in yet another tweet, she classified the term "TERF" as an example of "woman hate," so it seems unlikely that an apology is on the way.
This article has been updated.