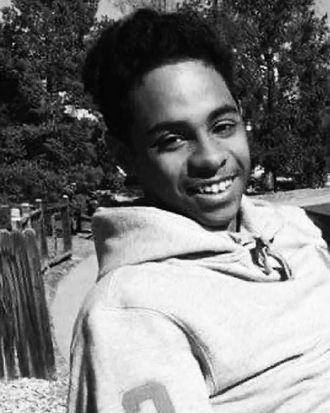 Photo: @shannonrwatts/Twitter
James Scurlock, a 22-year-old black man, was shot and killed outside a bar in Omaha, Nebraska, on Saturday night, while participating in a protest against police brutality sparked by the recent police killings of George Floyd and Breonna Taylor. According to local news outlets, the man who shot him, a white local bar owner named Jake Gardner, was brought in for questioning then released. On Monday, law enforcement announced that Gardner would not be charged in the killing.
BuzzFeed News reports that, according to local news outlets, Scurlock allegedly broke a bar window during the protest on Saturday — though many on social media dispute this — and that Gardner used racial slurs before firing. Scurlock was transported to the Nebraska Medical Center where he was pronounced dead.
Douglas County Attorney Don Kleine said on Monday that video footage of the incident and witness reports indicate that Gardner shot Scurlock in self-defense. At a press conference, he walked reporters through the footage. According to NBC affiliate WOWT, he said that "Scurlock was seen tackling the man from behind while he was trying to stand. The man told police Scurlock had him in a choke hold and witnesses said they heard the man say 'Get off me,' several times." Klein also said that Gardner "was interviewed with lawyers present. He said the first shot was a warning shot. He said Scurlock jumped on him and he was scared Scurlock was going to take his gun. He fired in self-defense. He was scared he would lose his life or severe bodily injury."
Gardener is owner of two popular bars — the Hive and the Gatsby — located near the site of the shooting. The Daily Beast reported that in prior media stories Gardner has "described himself as a libertarian, a former Marine who was deployed to Iraq and Haiti, and a volunteer for the Trump campaign in 2016." Gardner and his businesses came under fire in the press in 2016 after he wrote a Facebook post that disparaged transgender women.
On Sunday, Scurlock's father demanded justice for his son, telling reporters, "Last night I lost my son, my wife lost a son, my kids lost a brother. His daughter lost a father. All because he decided to protest against racism. There's a lot of speculation and rumors about how this happened. I don't really care, to be honest. My family wants closure and peace." He went on, "What we want is for this to go to court and get a full prosecution. We want this to go with justice and go peacefully."
Hundreds of people were in the streets of downtown Omaha on Saturday night, joining protests against police killings around the country. On Sunday, they held a vigil for Scurlock.
This post has been updated.