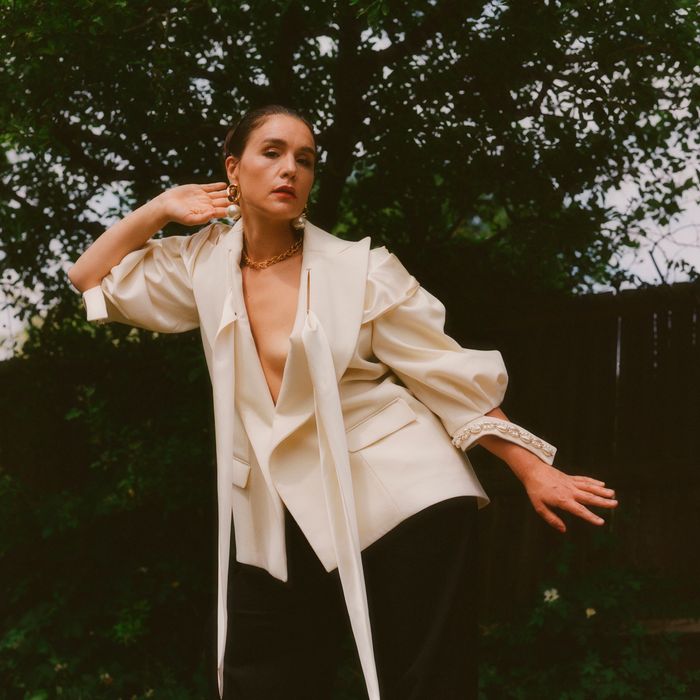 Photo: Ana Cuba/The New York Times/Redux
Jessie Ware, the English singer-songwriter, is known for gorgeously rendered ballads that might leave you sobbing in the fetal position on your bedroom floor, like "Pieces" from her 2014 album Tough Love, or her cover of Bobby Caldwell's "What You Won't Do for Love." But her new album, What's Your Pleasure — out today — is something different: Ware got back to her dance-music roots and has released a disco groove album right when the world needed it, with nary a ballad in sight.
Beyond her music, Ware has gained a cult following with her podcast, Table Manners, which she co-hosts with her mother, Lennie Ware. (Recent guests include John Legend, who Ware says was "incredibly sweet" but that she may have sworn too much in front of.) Ware and her mother recently released the cookbook version of Table Manners, which is a humorous and effortless way to navigate the kitchen.
Ware talked to the Cut about her musical inspirations, escapism, and drinking too many margaritas.
How does it feel releasing an album right now? 
I don't know if this is just sheer ignorance, but I feel really good. And I feel like the reception to the record so far is really good. I was never gonna delay the record. It didn't make sense for me to delay it, especially when I made a disco groove record. I just care that my music's out there, and I care that people can listen to it — and, hopefully, it provides an escape.
I'm a fan of your music, and this is so much more disco dancy than the others. Why did you go in that direction?
I think it was a reaction to doing an incredibly autobiographical record last time. I started out in dance music, that's where I got my voice heard. It was a return to that. I think I really needed it. I really wanted to do the live capacity as well, so then there's the irony that I'm probably never going to be able to tour this record. But I wanted that element of the tempo, and I felt like my fans really would enjoy that. It seemed like it would be really fun to be able to provide them with something that wasn't a ballad.
I was a little surprised that there wasn't even one devastating ballad from you that I would cry to. 
Well, it kind of hints at that at the beginning, and then that's about as miserable as it gets. I've always thought making happy music is the hardest task. And this is not necessarily happy music, but it makes you want to fucking dance or kiss somebody or imagine kissing somebody.
What musical inspirations were in your mind for the album?
It was everyone from Minnie Riperton to Mary Jane Girls, Louis Taylor, Lisa Stansfield, we went everywhere. When James Ford [musician and producer] and I were making the record, I was like, What about this tune? We do a lot of back-and-forth, playing groove tunes and disco tunes. I learned a lot, and he introduced me to a lot. With "What's Your Pleasure," the title track, when we were writing it, I could imagine Kylie Minogue singing this, and then it's got a bit of Blondie in there, too. There's so much going on. It felt limitless.
Are you going to do anything to celebrate when the album comes out? 
I tried to celebrate and have a night out, but in — my friend was doing a DJ set and my husband free-poured tequila, and he hid it within a delicious margarita. The hangover just wasn't fucking worth it. I will definitely do a massive celebration, but it may not be with margaritas. I really want to mark it. I'm so proud of this record, and I think it's going to connect with people.
How do you think people are going to connect with it? What are you hoping that people get from the album when it comes out?
Pleasure and escapism and sex. They may not be able to have sex, but when there's a will, there's a way.