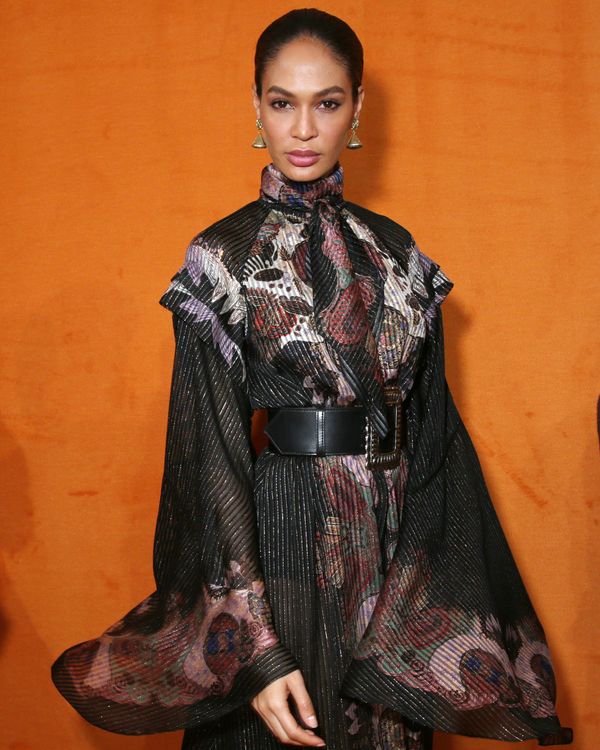 Amid widespread protests demanding justice for black victims of police brutality, Puerto Rican supermodel Joan Smalls is the latest to speak out against discrimination in the fashion industry.
This morning, Smalls took to Instagram to call out brands, publications, and agencies that have kept silent or made empty statements in support of the Black Lives Matter movement, despite regularly profiting off black and brown bodies and culture and participating in a cycle that perpetuates racism. In the video, she accuses the fashion industry of making a show of diversity and inclusivity only once it was considered "trendy" — and only after social media started holding them accountable. She recalls some of her own experiences with racism in the industry, from the erasure of her Latinx heritage in being regarded as the "token Black girl" to being told that her "hair was an issue" and hearing that "a black girl on the cover doesn't sell." She stresses that it's time to give people of color "a real seat at the table."
"Nobody wants to see another post saying how you understand how everyone should be treated equally, because that's a given," Small says. "What are you going to do to create change within your company? People want to see actual action and not only a post." Speaking to the Cut, Smalls elaborated on the changes she wants to see: "Give more opportunities to people of all different backgrounds. They should be the ones in those meetings, in the conversations, and making those decisions," she says. "On top of that, give back to these communities."
In addition to urging the fashion industry to give back monetarily and implement policies within companies to further racial inclusivity, Smalls also announced that she will be donating 50 percent of her income for the rest of the year to support Black Lives Matter organizations.
"The fact that people are talking now, and everything's coming to light is incredible, because people were afraid to speak up before," Smalls told the Cut. "It's important to keep on pushing and keep that drive. Don't allow them to take a part of you away." Watch her entire statement below.