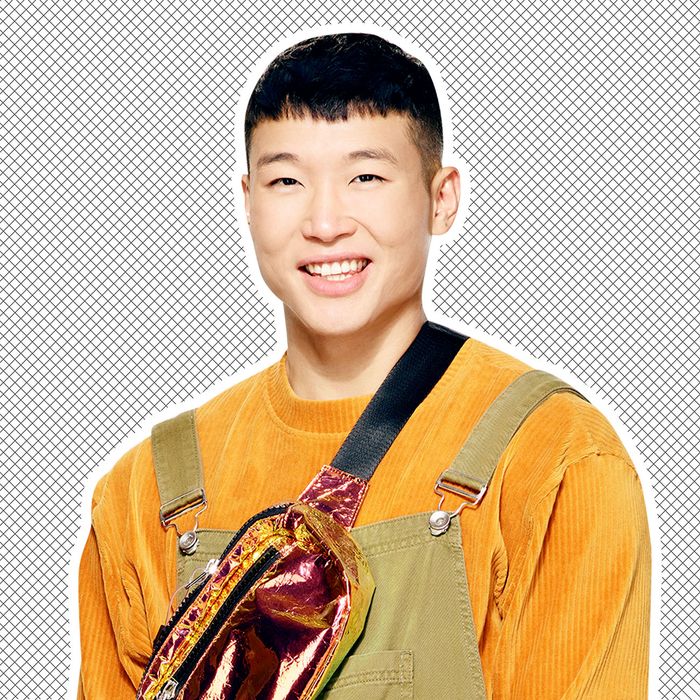 Pride Essentials asks our favorite LGBTQ+ artists to share the influences that have made them who they are today. 
Joel Kim Booster is a comedian and writer whose work often riffs on his sex life and conservative upbringing, and has appeared on Conan, Comedy Central, Netflix, and more. Kim Booster was adopted from South Korea and raised in a very conservative, white family in Chicago. When his parents found out he was gay — which he's joked about being aware of before he knew he was Asian — he moved out. His comedy career kicked off in 2014, and he's been on the rise since, releasing his stand-up special, Model Minority, for Comedy Central in 2017. He's since starred in NBC's Sunnyside, and appeared on shows like Shrill and Search Party, and has written for Big Mouth, The Other Two, and more. He's also at work developing Trip, a Fire Island-set rom-com inspired by Pride and Prejudice. Below, Kim Booster shares the texts, films, and books that shaped his identity growing up.
The Wedding Banquet and Mambo Italiano
I worked at a video rental place when I was in high school, so movies were my primary source of capital Q Queer Culture when I was freshly out. Two movies sort of stick in my mind as formative: The Wedding Banquet, which was the very first movie I ever saw that centered the experience of a gay Asian man. We had exactly one copy, and I was the one person primarily responsible for renting it. Another movie I was absolutely obsessed with that I haven't seen in years is Mambo Italiano, a pretty basic gay romcom. It was light and stupid like romcoms of that era were all meant to be, but made during a time when most movies about gay men had to be about trauma or tragedy. It was a relief to find a movie that made the struggle of coming out seem more like My Big Fat Greek Wedding than the Laramie Project.
 Will and Grace
For good or ill, Will and Grace [was formative]. Particularly Jack. I think in many ways, the show presented these two versions of gayness and made some implicit judgements on the merits of both. But if I can mount the mildest of defenses: Jack was loud about all the things I'd been taught to hide. My femininity, my sexual desires, my thirst for attention. He made all those things the center of his personality. I'm sure the show wasn't thinking that deeply about the character, but I saw Jack as more than just a caricature or clown. I remember thinking like, "Oh, dope, this guy is the only cool one in the bunch."
 The Stonewall Reader
The one book I tell everyone to read around pride is The Stonewall Reader, an anthology of texts written before, during, and just after the Stonewall riots, by the people who were around and involved. It's a really incredible historical tapestry that provides so much important context that you can't get from just one historian's POV. Learning about our history through books like And the Band Played On [about the AIDS epidemic] and the [San Francisco] pop history book Season of the Witch have shaped my queer identity as an adult more than anything else.
Comic Books
Like a lot of gay latchkey kids, comic books and their associated media were huge touchstones for me growing up. I felt a really deep connection to the subtextual (and sometimes just straight up textual) queer narrative of the X-Men, even before there were any out queer characters populating its pages. Anime was an early source of what I now understand to be queerness. Even filtered through the translations and censors of American TV, you couldn't obscure the queerness of characters like Sailor Uranus and Neptune of Sailor Moon, the homoeroticism of Dragon Ball Z or the raunchy camp of Tenchi Muyo!.
Tajma Hall
I can't say she directly mentored me, but when I think about people who were formative influences in developing my queer identity, my mind immediately goes to the late, great Tajma Hall. She was the first drag queen I ever saw perform live, and her legendary show at Hydrate in Chicago was a weekly staple when I was fresh out of college, extremely poor, and still vaguely uncomfortable in my own skin. Not to sound like a total cornball, but Tajma's show somehow bridged this gap between nightlife and church. Sitting in the back of that bar every Wednesday night, I started to feel like I was part of a real living, breathing queer community for the first time. It was transformative and inspiring and funny and centering during a time when I felt very lost.
If you buy something through our links, New York may earn an affiliate commission.