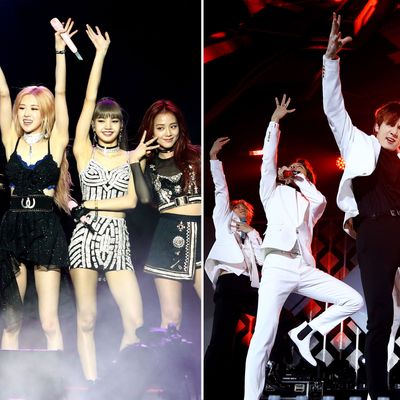 If you have ever been on Twitter, you have most likely encountered them: zealous fans of K-pop, formally known as "K-pop stans." They're one of the most formidable forces on the platform, capable of trending their band of choice at a moment's notice — and quick to aggressively mobilize in their defense. And now they've come together for a higher purpose: trolling white supremacists and interfering with police surveillance of protesters.
The radicalization of the stans seems to have begun on May 31, when the Dallas police department tweeted a request for users to submit videos of "illegal protest activity" on Twitter or their own iWatch app. "DOWNLOAD THE APP AND SEND ALL YOUR FANCAMS!!!" one user suggested, per BuzzFeed News. ("Fancams" are short videos, usually of K-pop stars performing, that stans are notorious for posting in replies to mostly unrelated tweets.) "SEND THEM ALL!!! MAKE THEIR JOBS AS HARD AS POSSIBLE!!! GET THEM FRUSTRATED!!! MAKE THEM TAKE DOWN THE APP!!!"
The response was immediate: Hundreds of people responded to the Dallas PD tweet, or posted screenshots of themselves spamming the app. "Oh I have a video, I hope this helps," one user, @LovelyDoya, tweeted, along with footage of ONEUS flawlessly executing crisp dance moves to "Level Up," while wearing perfect guyliner. Within 24 hours, the app was out of commission — Dallas's police department tweeted the next day: "Due to technical difficulties, iWatch Dallas app will be down temporarily."
With their power unleashed, the stans turned their attention elsewhere. They mobilized against police departments in Kirkland, Washington, and Grand Rapids, Michigan, which had similarly asked users to post photos and videos of protestors "rioting or looting." And by Wednesday, June 3, they had completely overwhelmed the #WhiteLivesMatter hashtag, started in opposition to the Black Lives Matter movement, with a deluge of impeccably dancing idols, effectively burying its racist messaging. "Instead of being a racist become a NCTzen and stream 'Punch!'" a representative tweet, from a fan of the group NCT, reads.
"Kpop fans are from all different races, so we try to support each other," said user @Pinks4blinks, a BLINK (fan of BLACKPINK). "When we found out that 'White Lives Matter' was trending, we came together to drown out all the bad things. I have never been so proud to be a K-pop fan."
It makes sense that the stans could organize with such impressive speed: As fan culture has moved online, the nature of fandom has changed with it. Ardent fans of anything tend to exhibit both a hive mind mentality and preternatural understanding of how the internet works. They are ruthlessly efficient — no one can game an algorithm like a stan determined to get YouTube views up or break streaming records. They're also adept boycotters and counter-programmers. "I saw it with the promotion of the album, and even when [BTS fans] boycotted certain platforms for not doing their part," said Richelle Alleyne, a topline vocalist on BTS's track "My Time." And this isn't even the first time they've been linked to anti-police activism — in 2019, a report from the Chilean government specifically listed K-pop fans as an "international influence" that publicly criticized and questioned their police force.
It also helps that rival factions of K-pop Twitter are coming together in this fight. The, EXO-Ls (the EXO fandom) and ARMY (the BTS fandom) are two of the most active in the world — Forbes has a chart showing that both of their engagement on Twitter makes Swifties and Beliebers look like blips — and sometimes adversarial towards one another. But various memes now show the competing fandoms dancing side-by-side. "This is how the most 2 strongest K-pop fandoms (along with others) are working together," tweeted user @alinasalvator_.
K-pop idols themselves have become more vocal in speaking out against social justice issues. Twenty-two of them took to social media to support prosecution of Korea's Nth Room case, a scandal involving the sexual exploitation of underage girls. A number of them, including BTS, CL, Jay Park, Tiger JK, Tiffany Young, and Momoland also supported Black Lives Matter on their platforms. As such, the stans feel their idols would approve of how they're using their own platforms. "Even though stan twitter can come with its downsides, we tend to touch on serious matters like these if needed. Activism and using your platform to spread awareness isn't new in K-pop stan twitter," said @komatsulili, who identifies herself as a fan of BLACKPINK's Lisa. "I know [Lisa] would be so proud of what we are doing."
The idea that K-pop fans can be unleashed, like some sort of kraken, against racist messaging and police surveillance has quickly become a Twitter joke — but also, sort of a legitimate strategy, too. "KPOP FANCAM HIVE: New request for you!!" tweeted the writer Talia Lavin, alongside a screenshot of a "notoriously racist" police department asking for photos and videos of a May 31 protest. Like Batman summoned by the bat signal — in this case, the hashtags #BTS, #LOONA, and #JUNGKOOK_BEST_BOY, a dozen users appeared in the replies. "You know what to do," one wrote. "FLOOD THEM WITH FANCAMSS!!!" We owe it to the fans.