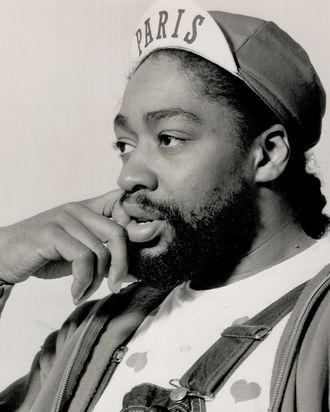 Fashion designer Patrick Kelly, whom the Kelly Initiative is named after.
Photo: Toronto Star via Getty Images
On Monday, around 250 Black fashion professionals sent a letter to the Council of Fashion Designers of America (CFDA), accusing the organization of allowing "exploitative cultures of prejudice, tokenism, and employment discrimination to thrive." Titled The Kelly Initiative, it called for further action to help ensure industry transparency, accountability, and inclusivity at all levels.
Signatures — which are still being collected and can now be submitted by non-Black allies, as well — include those of designers like Martine Rose and Victor Glemaud, stylists like Shiona Turini, plus media professionals from magazines ranging from i-D to Vogue. As noted by The Business of Fashion, the names of prominent Black CFDA board members, including Virgil Abloh, Kerby Jean-Raymond, Aurora James, and others, were not among them. Each have had their own response to the current moment. James, for example, started the 15 Percent Pledge, which asks brands and retailers to pledge 15 percent of their shelf space to Black-owned businesses. And on Wednesday, Jean-Raymond revealed in an interview with Highsnobiety that he and other CFDA members, including Abloh, drafted their own list of actionable demands for a board meeting on June 2 but that the organization ultimately chose not to put them forth.
There are a number of initiatives out there, but they seem to share a common goal. The Kelly Initiative is named in honor of the Black designer Patrick Kelly, who was the first American to be admitted into the Chambre Syndicale du Prêt-à-Porter in 1988. It was organized by editor Jason Campbell, creative director Henrietta Gallina, and writer Kibwe Chase-Marshall (Campbell and Gallina recently wrote an op-ed for BoF titled "Fashion Is Part of the Race Problem") and calls for the CFDA to adopt a four-point plan that specifically pushes for the "active inclusion of Black talent across wide-ranging strata and sectors of fashion."
First, The Kelly Initiative petitions for the CFDA to conduct an industry census, gathering data on the racial demographics of companies from top to bottom. It then asks that these numbers be collected and published annually. Companies that agree to participate will be asked to conduct bias-mitigation training for hiring managers and sign a pledge committing to creating equitable inroads for Black talent. The letter goes on to ask that fashion's headhunting and recruitment firms also sign this pledge and agree to be audited by a third party.
Finally, The Kelly Initiative will annually curate The Kelly List, a selection of 50 Black professionals exemplifying "top-tier talent" across the industry. In return, it asks that these honorees sign a pledge of commitment to supporting Black talent in their future endeavors.
On June 4, the CFDA published a letter proposing its own plans to "create systemic change" within the fashion industry, which included an in-house employment program for Black talent, a mentorship and internship program, and the creation of a Diversity and Inclusion training program for its members. In a statement to BoF last week, the CFDA said that it was committed to these initiatives and reiterated this to the Cut on Tuesday, as well.
In its own letter, The Kelly Initiative called these initiatives "hasty" and "insufficient," adding that the CFDA should be behaving as more of a "watchdog." But others felt differently about the CFDA's role. The organization itself, which was founded in 1962 and is currently made up of almost 480 American brands, defines its mission broadly as being "to strengthen the impact of American fashion in the global economy." It acts as a gatekeeper in the sense that it controls the New York Fashion Week calendar and anoints talent with the CFDA Awards every year. The CFDA Foundation also raises funds to support designers, most recently with A Common Thread in response to the pandemic. But "watchdog" is not a word the organization has used to describe itself in the past. "They are not an employment agency, they don't tell people what to do," activist and CFDA board member Bethann Hardison told BoF.
The Kelly Initiative letter concluded by insisting that the CFDA convene a digital video conference on or by Friday, June 19, which is Juneteenth, to discuss the "immediate implementation of the Kelly Initiative" with its three founders. As of Tuesday night, the CFDA had not yet reached out.
"From tailoring bodices to merchandising e-boutiques, from convening brand-summits to boldly helming boardrooms, never again will it be questioned; WE MATTER. #BlackLivesMatter," the letter ended.