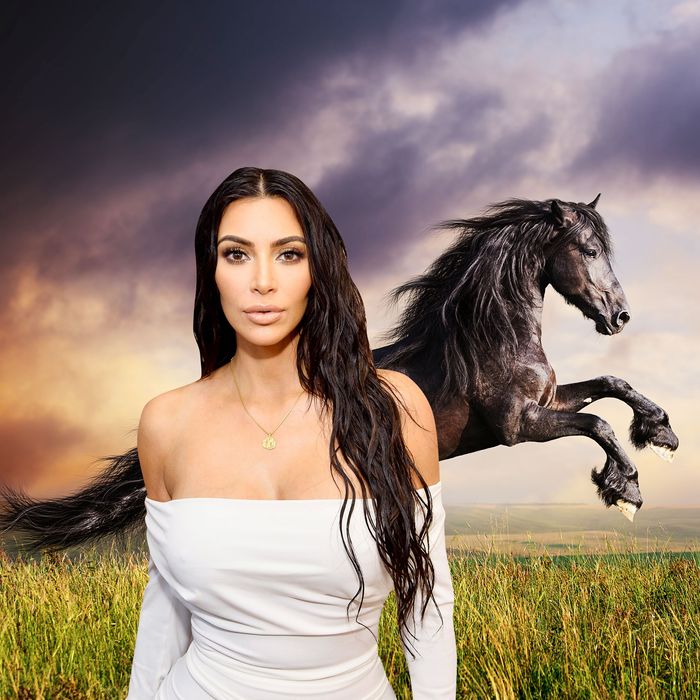 Kim Kardashian West and a Friesian horse, probably not one of the 14.
Photo: Getty Images/iStockphoto
What's the best way to tell people about your 14 gorgeous Friesian horses?
Maybe you'd throw a party — invite your loved ones and hang up signs that say "Welcome home to my 14 gorgeous Friesian horses." Maybe you'd be really casual about it — over dinner one night with friends, you'd look at your phone and say, "Oh, excuse me, I'm just checking to see if my 14 gorgeous Friesian horses have arrived." Perhaps, if it was this week specifically, you would say: "Did you hear that best-selling Da Vinci Code author Dan Brown's ex-wife is alleging in a lawsuit that, while they were married, he secretly siphoned off vast amounts of money to lavish gifts upon a Dutch Friesian horse trainer with whom he was supposedly having an affair? I have 14 gorgeous Friesian horses myself." Then again, if it was this week specifically, perhaps you think about how the country is currently buckling under the pressure of multiple overlapping crises that have left hundreds of thousands of people sick and unemployed, and you would say to yourself, "I will save the news about my 14 gorgeous Friesian horses for another time."
While the question of how to to tell people that you've acquired 14 gorgeous Friesian horses — a breed of horse from the Netherlands that is known for its glossy black coat, thick mane and tail, and feathered hooves — is one most of us will never face, it is apparently one with which Kim Kardashian West has been confronted with for some time. This week, she decided to share the news on Twitter, though she did not mention the Dan Brown lawsuit, nor, it seems, did she pause to consider how it would look to boast about one's stable full of glamorous horses during the worst period of unemployment in the United States since the Great Depression.
"Meet North's Freesian horse," Kardashian West wrote alongside pictures of her daughter, North, 7, greeting an enormous black horse at her recent birthday party on the $14 million ranch the family bought in Wyoming last year. "We have 14 gorgeous Freesians on the ranch," Kardashian West continued.
The post was not well-received on Twitter, where many called it tone-deaf and implored the mogul to read the room.
Also on Monday, Kim's husband, Kanye West, posted a tweet congratulating his wife on officially becoming a billionaire.
Anyway, back to the Friesians. Kardashian West didn't actually post any pictures of them being ridden — she shared pictures of her and North riding other, non-Friesian horses instead. She also didn't share any information about their names, or where they come from, or what she plans to do with them. Will the Friesians take part in dressage competitions? Will they be bred? Why 14? Surely three to five gorgeous Friesians is plenty for one family.
The Cut has reached out to the Friesian Horse Association North America for comment, and will update this post as we learn more. In the meantime, enjoy this video of "10 frisky Friesian horses," and imagine that this is probably what it looks like in the Kardashian West barn.