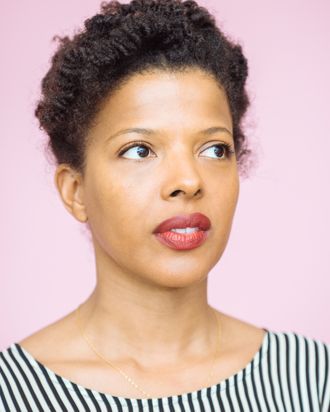 Klancy Miller
Photo: Katie McCurdy/Courtesy of Klancy Miller
For too many years, writer and pastry chef Klancy Miller sensed something missing from mainstream food media: stories that centered Black women. So she decided it was time to tell those stories herself. That was the idea of For the Culture, a forthcoming biannual print magazine celebrating Black women in food and wine — with contributions from only Black women. (Miller got the first issue funded earlier this year, but with a bake sale and a Patreon is still looking for funds for future issues. Due to COVID-19, the first issue is delayed until the fall.)
Miller spoke to the Cut about For the Culture, her cookbook Cooking Solo (which is going into a new printing), and the recent unraveling of mainstream food media.
For the Culture looks so cool. How did you come up with the idea? 
A couple of years ago, a food publication asked me if I would guest edit a Black issue. In retrospect, I find that idea troubling, but at the time I was intrigued — Black people and people of color are given so little space that when you are offered something, it's like, Ooh!
That opportunity fizzled, but in the process, I had started reaching out to a lot of Black women in food, and each person I spoke to would refer me to somebody else. There are so many Black women doing so much in food. Indigenous people were here first, but after indigenous people, Black people shaped this country — and Black women are absolutely the architects of cuisine in this country and throughout the world. And our stories really don't get as much attention.
I just wanted to create a platform that would be an experiment in that. What would it look like if we looked at food through the gaze of Black women? What would it look like if Black women are the storytellers, the writers, the photographers, the recipe developers? For the Culture is an attempt to answer those questions.
Clearly, there's still a long way to go in terms of diversity in food media, particularly when it comes to centering Black women's stories. But have you felt like you've seen things start to change in recent years? 
Following the election in 2016, some changes started to happen. I had a cookbook out when that happened, and that helped open some doors for me in that moment. So I do think I have seen changes. But I think one of the things we're all observing — specifically at Bon Appétit — is that some of these changes we saw were the definition of tokenization. That might be a change, but that's not the change I want to see, you know?
Specifically looking at that publication, seeing the lack of growth opportunities for Black people and people of color (and the blatant racism) — there's a lot of transformation that has to take place in traditional media outlets.
But at the same time, people are being empowered by examples of independent magazines, like Whetstone Magazine or GRLSQUASH or Cherry Bombe — people charting their own course and creating their own publications.
I want to see real transformation happen at these mainstream publications. We thought it was happening, but we can tell now that those changes we saw weren't significant enough. There needs to be people of color and Black people in positions of power.
What's the role of independent publications here? Do you think they could help break things out of that structure?
The publications I mentioned — and I include For the Culture in that even though it's forthcoming — offer an alternative. For certain traditional publications, the whitewashing is baked in because of the power structure and the hierarchy. And what can potentially happen for independent publications is a lack of that, simply because they're newer and smaller. There isn't the same hierarchy. I think it's really important to have alternatives, but I also think the work still has to be done within traditional mainstream media outlets to address whitewashing and include equity and fairness and equal pay — all the things that we have been reminded don't exist at a lot of traditional media outlets. It's important to have the alternatives and the mainstream fixing itself.
You've mentioned "whitewashing" a few times. What do you want people to know about how harmful that can be in terms of food culture? 
We saw and have continued to see tragic examples of the most violent forms of white supremacy acted out in the murders of George Floyd, Breonna Taylor, Ahmaud Arbery, and Tony McDade — and the list goes on. But there are other, less fatal forms of white supremacy in place, and they get manifested in systems of power.
And the media system is a system of power. It's not just pretty food; it's not just good recipes. It's also hierarchies, and the hierarchies are also reflective of racism and white supremacy. You can look at pretty much any major food outlet, whether it's a magazine or a newspaper food section, and I promise you, the head editor is probably a white male. Why are we not putting people of color and Black people in charge?
With Bon Appétit, I think the thing that's really important to observe is that for at least a couple of years, it looked like Bon Appétit was actually becoming more diverse, more inclusive, in terms of its stories. But it was a little bit of a performance. I think it's important for people to be aware of the fact that there's such a thing as a performative inclusive environment. People should question who's actually getting paid. Who are the decision-makers at these entities? Are they getting paid fairly? Are people who are doing the work getting promoted to decision-making positions?
We're in the middle of an uprising right now. How do you see that playing out in food media?
We're in a moment where there is the potential for meaningful transformation, but it's gonna require a lot of action. If the right steps are taken, if the right actions are taken, if the right corrections are made toward fairness, equity, actual inclusion, including Black people and people of color in powerful and decision-making positions, I think that could be majorly transformative for a lot of publications.
But I was thinking about Jenna Wortham's tweet about the phrase "the glass cliff," which alludes to a moment of crisis in an organization and a person — often a woman or perhaps a person of color — is brought in to manage the crisis or to respond to it. In terms of Bon Appétit, there will be a massive mess to clean up. I would like to see more inclusion and equity related to Black people and people of color, but it's also — it's important, but it's also not necessarily enviable work. And there's a lot of work to do. I think people need to take that seriously.
Speaking of work: You mentioned that there's a bake sale to help fund For the Culture. What can you tell us about that?
That is something I'm super excited about. It has been organized by Jenelle (a.k.a. @doitforthebites) and Keia (a.k.a. @keiaishungry). They are based in Charlotte, North Carolina, and they have organized more than 20 bakers to sell their goods online to donate the proceeds to the magazine. And the cool thing is, three of these bakers also ship nationwide. That's really amazing because it means that people in any state can order their goods. That started June 1 and it goes through July 5.
It reminds me of a woman who I wrote about last year, Georgia Gilmore. She was an amazing figure during the Montgomery Bus Boycott — she baked goods and cooked food and sold them. Everything that she was able to raise through selling the food she made, she would put back into the Montgomery Bus Boycott. Money was needed to keep that bus boycott going for 382 days. It really is an example of the power of food, and the power of food to support the community. Not to equate what Jenelle and Keia are doing to the Montgomery Bus Boycott, but I feel like it's a really great example of community building.
For the Culture focuses a lot on the community aspects of food, but your cookbook, Cooking Solo, is focused on cooking for yourself. But I think that does fit in with that idea of mutual care and aid. Because if you can't care for yourself, how are you going to keep caring and fighting for your community? 
I don't know if you felt this, but going to the protest that I went to — it was really cathartic and it felt good, but it can be exhausting. We are in an emotionally exhausting time. So it's very important to take time to refill your cup and to take care of yourself. One of the main themes of my cookbook is that cooking for yourself is a way to nurture yourself and nourish yourself. The moment that we're in is a marathon, and we do have to be able to take moments to care for ourselves. And sometimes those are moments of solitude, and they can involve cooking or whatever your rituals are.
I also think caring for yourself is caring for your community. We are extensions and members of our communities. So we have to look out for each other. But we absolutely have to have moments of quiet with ourselves, and make things for ourselves to enjoy and to refuel and restore.