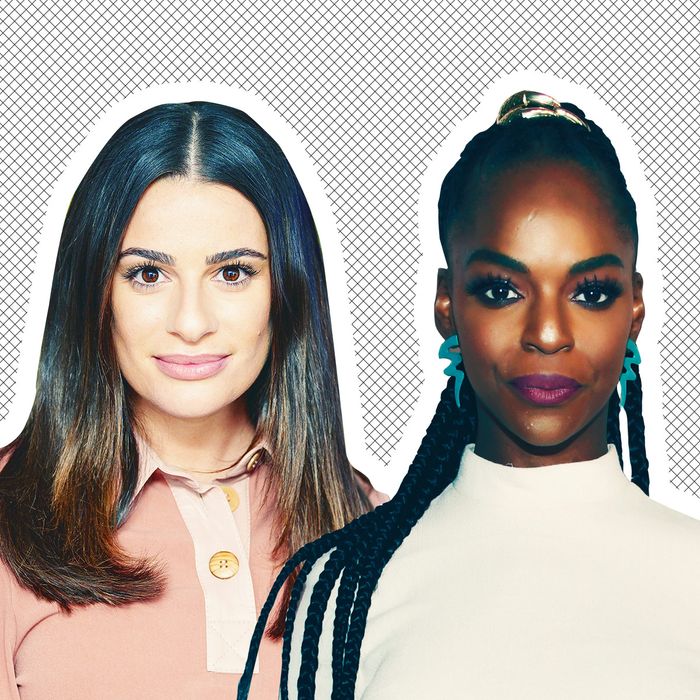 Lea Michele and Samantha Marie Ware.
Photo: Getty Images
After posting a tweet in support of the Black Lives Matter movement, former Glee star Lea Michele was accused of racist and bullying behavior on set by several of her black former colleagues, including a claim that she once threatened to defecate in a co-star's wig.
"George Floyd did not deserve this. This was not an isolated incident and it must end. #BlackLivesMatter," Michele tweeted on Friday, referring to the recent death of George Floyd, a black man whose brutal assault by a Minneapolis police officer was captured on video and led to protests around the country.
On Monday, Michele's former Glee co-star Samantha Marie Ware retweeted Michele's post, writing that while she was on set for Glee — Ware's first job in television — Michele made her life "a living hell" and told their co-workers that, if she ever got the opportunity, she would shit in Ware's wig, "AMONGST OTHER TRAUMATIC MICROAGRESSIONS THAT MADE ME QUESTION A CAREER IN HOLLYWOOD."
As the Daily Beast notes, other black actors soon joined in to share their experiences of being bullied by Michele. "GIRL YOU WOULDNT LET ME SIT AT THE TABLE WITH THE OTHER CAST MEMBERS CAUSE 'I DIDNT BELONG THERE'" tweeted Dabier Snell, who appeared in a 2014 episode of Glee. "FUCK YOU LEA."
And Glee star Amber Patrice Riley had this to say on the matter.
On Tuesday, the meal-kit company HelloFresh said in a tweet that it was terminating its partnership with Michele, who last posted an ad for the company on her Instagram two weeks ago.
"HelloFresh does not condone racism nor discrimination of any kind," the company wrote in response to a tweet calling for it to cut ties with Michele. "We are disheartened and disappointed to learn of the recent claims concerning Lea Michele. We take this very seriously, and have ended our partnership with Lea Michele, effective immediately."
The next day, in a lengthy Notes-app apology statement posted to her Instagram, Michele wrote: "When I tweeted the other day, it was meant to be a show of support for our friends and neighbors and communities of color during this really difficult time, but the responses I received to what I posted have made me also focus specifically on how my own behavior towards fellow cast members was perceived by them."
She went on to say that while she does not remember "ever making this specific statement" (about defecating in Ware's wig), and that she has never judged people by their backgrounds or the color of their skin, "what matters is that I clearly acted in ways which hurt other people."
This post has been updated.