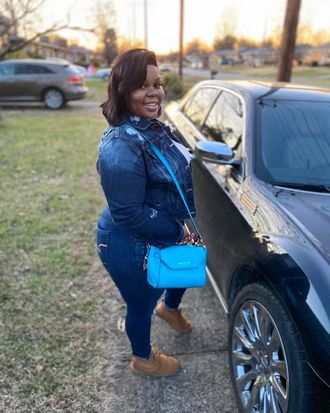 Photo: Courtesy of Tamika Palmer
After midnight on March 13, three police officers burst into Breonna Taylor's apartment as she lay sleeping beside her boyfriend, Kenneth Walker. Walker heard a loud bang at the door but said the cops didn't announce themselves, according to a lawsuit filed by her family, even though Taylor repeatedly asked at the top of her lungs "Who is it?" He thought someone was trying to break in and fired one bullet from his legally owned gun. In return, the cops sprayed the apartment with more than 20 bullets, eight of which hit Taylor.
While officers claim they did knock and identify themselves — a version of events that Taylor's neighbors dispute — the fact remains that they were not legally required to do so in Louisville because of their warrant. Now, however, that's changed: On Thursday night, the city of Louisville passed "Breonna's Law," banning no-knock warrants like the one the officers used to barrel through Taylor's apartment doors.
Breonna's Law is the first concrete change to come from a tragic death that Louisville's police department has not shown accountability for in any meaningful way. Three months after the officers shot Taylor, they have not faced any criminal charges or been fired from their jobs, despite the fact that one of them has also been accused of sexual assault. The incident report following Taylor's death was woefully inaccurate, stating there had been no forced entry or injuries involved in the raid.
Breonna's Law is the first piece of justice for the 26-year-old EMT and aspiring nurse, who had dedicated her life to taking care of people.
"Now with the passage of Breonna's law, she'll be saving lives forever," said Benjamin Crump, an attorney for the family.
Tamika Palmer, Taylor's mother, "wanted to make sure Breonna's death was not in vain," said Lonita Baker, another lawyer involved in the case. "No mother should have to wake up to the call she woke up to."
No-knock warrants became popular during the war on drugs, ostensibly so suspects couldn't flush evidence down their toilets when police showed up at their door. Officers suspected Taylor was receiving packages from a drug dealer, who had already been arrested by the time they showed up at her apartment, but they didn't find any evidence.
Supreme Court rulings require officers to knock and announce themselves, except in circumstances where they think knocking would comprise evidence or endanger their lives. But like many police tactics, such as the use of tear gas or rubber bullets, these unannounced raids are abused by officers and rarely end with drug lords being arrested. In some cases, they result in innocent people shot dead or seriously injured. At least 81 civilians and 13 police officers were killed in raids between 2010 and 2016, according to a New York Times investigation.
In one horrifying story, a police officer accidentally lobbed a grenade into a playpen, burning and blistering a 19-month-old. These warrants also disproportionately affect black people, who are targeted by 42 percent of no-knock raids.
"There are two justice systems in America," said Crump. "One for Black America, and one for white Americans."
Despite the danger, only two states, Oregon and Florida, have banned no-knock warrants, and judges issue thousands of them each a year, a number that has risen sharply since the 1980s. On Thursday, Kentucky senator Rand Paul introduced a federal law that would stop these raids nationwide after speaking with Taylor's family, and Baker hopes more states follow suit. She added that cities should immediately work to adopt similar policies at the local level.
"Kentucky showed a courageous response in leadership," said Crump. "Breonna's Law in Louisville will be Breonna's Law all over America."