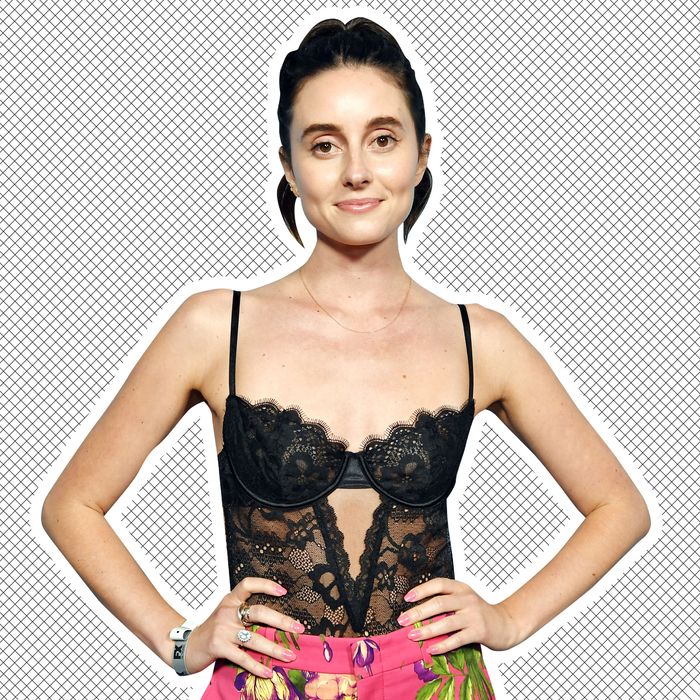 Pride Essentials asks our favorite LGBTQ+ artists to share the influences that have made them who they are today. 
Mary Beth Barone, a Manhattan-based comedian, writer, and actor, has had a busy few years. She was named one of Comedy Central's Up Next in 2019, performed at last year's New York Comedy Festival, and has appeared on everything from Viceland to PureWow. She is also known for being anything but risk-averse, dropping out of college in her early 20s, working without a manager as her career took off, and making jokes about everything from her class privilege to fuckboys. Below, Barone shares the films, music, and mentors that have helped shape her identity.
Call Me by Your Name and Blue Is the Warmest Color
A lot of the movies I saw as a kid showed heterosexual female characters through the male gaze, which I suppose wasn't "for me." A lot of what I've been interested in and the stories that have gripped me are also about forbidden love. And I didn't even realize at the time that many of those are inherently queer stories. I'm pretty lucky that I didn't face a lot of adversity in coming out — I met a girl I was attracted to and she was gay and then we dated each other. So it was very, you know, easy. And I know that's coming from a place of privilege. Looking back on what I've watched in the last few years, it really helped me become more comfortable. Movies like Party Monster, Call Me by Your Name … obviously Blue Is the Warmest Color, you know, is a bit controversial with how they shot it and how the actors felt in that movie. But I remember seeing that and just feeling like I could identify so much with Adele. She was truly coming into her own — and, I mean, she was a teenager and I was obviously in my 20s when I saw that movie. But a lot of elements of that movie and Call Me by Your Name felt very resonant, because I had older siblings and I felt like I always had crushes on older people that were often unrequited.
Feel Good
As far as TV shows go, one that I really enjoyed that I saw this year is Feel Good on Netflix. I guess Mae Martin [the show's creator and lead actor] doesn't put a label on things, but it's about a female comic who falls in love with a girl who is straight, and they kind of explore that relationship — one of them dating a woman for the first time. So their romance does have a few more bumps in the road than what I've experienced thus far, but I thought it was really interesting and really entertaining and really funny and poignant.
I Kissed a Girl and Girls
I think as far as the music goes, of course, we have Hayley Kiyoko; Kim Petras; Frank Ocean; Shura, she's an artist that I never knew of before, and then someone introduced me to her and I think she's wonderful; and King Princess. There's a lot of contradictions in the queer community — one of them being that we want all stories to be represented. But then if a certain faction of [stories don't] represent [the full scope of the LGBTQ+] experience, sometimes there's a backlash. So two songs that I really like are I Kissed a Girl by Katy Perry and that song Girls that came out maybe two summers ago and was by Rita Ora, Charli XCX, Cardi B, and Bebe Rexha. People were upset about that song because they felt that it was queerbaiting in a way. But with a lot of women who end up bi or gay — and maybe I shouldn't say a lot — but in my experience, it was flirting with friends and making out with them in a playful way that kind of opened the door to my bisexuality.
The Awakening
Thinking back to books I read and that really resonated with me, I would say The Awakening by Kate Chopin. That book is about a woman who's a mother and she's married and she's just really restless. And then she ends up walking into the ocean and drowning herself, which obviously isn't an upbeat narrative. I think the restlessness and mundaneness of her life and just feeling really complacent really resonated with me, as someone who grew up in Connecticut and felt like I could have easily taken one path in my life — even back then, I had no idea what I was going to end up doing. And she searches outside her marriage for fulfillment and to feel a sense of purpose.
Her LGBTQ+ Friends (Like Actor Benito Skinner)
So I have a joke about how no one was surprised when I started dating women, because I hang out with gay people almost exclusively. I'm really lucky that in my life growing up and in my adulthood as a comedian, I have had amazing gay friends who have been supportive of me — not only in my career, but in exploring my sexuality. And I think being around them and seeing how comfortable they are with themselves really emboldened me to be able to do that. So in the city, I host these gay mixers — or at least I used to — where I have all my gay friends eat and mingle and form friendships. People who have been really instrumental are obviously [comedian] Benito Skinner on a creative level. He's just become one of my closest friends, and I think watching him speak about coming out in his 20s and going through college closeted and really addressing those issues in a comedic way is really inspiring. And then, I used to live with a gay couple, Jake Morris and Matt Yanovich, and they really saw me go through this journey in my mid- to late-20s. Their implicit support of me, in addition to therapy and kind of just growing up and being more self-assured, has been invaluable in my life.