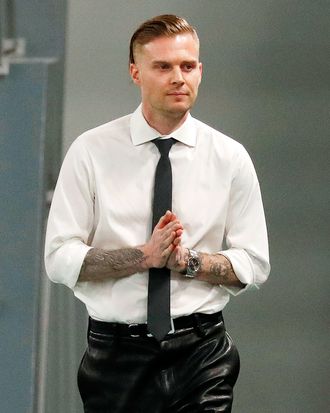 Matthew Williams.
Photo: Estrop/Getty Images
On Monday morning, the house of Givenchy got a new top dog.
His name is Matthew Williams, and if you're a follower of menswear, or a fan of "hardware," like fancy buckles, you may have heard of him. He's a 34-year-old self-taught California native who got his start in music, designing for Kanye West and later Lady Gaga. In 2010, he founded the Been Trill collective along with Heron Preston and Virgil Abloh, and in 2015, he started his own label, 1017 ALYX 9SM (known more simply as Alyx — ah-LEEX — after his older daughter). It began with womenswear but has grown to become one of the most exciting labels to show during Paris Fashion Week: Men's.
Williams has also recently collaborated with Moncler Genius and with his friend Kim Jones at Dior Men, but this is his first time at the helm of an LVMH-owned brand. (Alyx was a finalist for the LVMH Prize in 2016, which gives prize money and mentorship to emerging labels that submit and compete for its notice — and gives LVMH execs an opportunity to survey the design landscape.)
As creative director of Givenchy, Williams will replace designer Clare Waight Keller, who stepped down in April after just two and a half years. The two have very different aesthetics. Waight Keller's soft, elegant tailoring drew inspiration from Mr. Givenchy himself, and appealed to women like Meghan Markle, who notably wore a gown by the designer to her wedding with Prince Harry. Williams, meanwhile, has a sharper, shinier, more futuristic edge. The large aluminum buckles he puts on just about everything, which resemble those on a parachute harness, were recently named-dropped by Drake in his song, "Tootsie Slide." In general, his work is perhaps closer to that of Riccardo Tisci, who was creative director of the brand before Waight Keller, and is now at Burberry.
Like those who came before him, Williams will be responsible for all creative aspects of the brand, including both women's and men's design. (The fate of Givenchy's historic couture business is unclear, but that would be a first for Williams.) He's already got a female-identifying following, with customers like Bella Hadid embracing his sleek, mostly black, Matrix-esque designs. But his appointment arguably signals a desire from LVMH to grow the Givenchy's menswear business in particular. When I texted a longtime Matthew Williams fan on Monday about the news, he wrote back, "Idk anything about Givency [sic]," revealing that he didn't even know how to spell it. To which I responded: "Exactly."
In a press release, Williams described his new job as a "lifelong dream" fulfilled. "The Maison's unique position and timeless aura make it an undeniable icon and I am looking forward to working together with its ateliers and teams, to move it into a new era, based on modernity and inclusivity," he wrote.
Williams's first day at Givenchy is June 16, and if the pandemic permits, he's slated to make his debut in Paris this October. Will Meghan Markle get onboard? Maybe. But the real question seems to be if Williams can woo guys like Prince Harry, too.