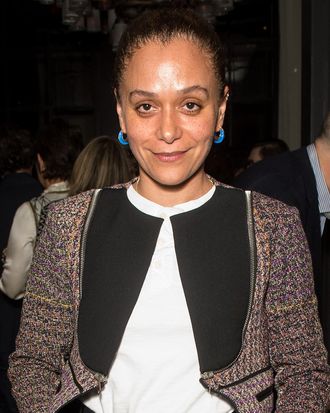 Samira Nasr.
Photo: Andrew Morales/Shutterstock
After several months of speculation, Harper's Bazaar has a new editor-in-chief. Samira Nasr, currently the executive fashion director of Vanity Fair, will assume the role in July. Nasr, who was born in Montreal and is of Trinidadian and Lebanese descent, is the first person of color to edit the magazine. She joined Vanity Fair in 2018 and had previously served as fashion director of fellow Hearst title Elle.
"It is a tremendous privilege to be entrusted with moving this legacy brand into a new era — one that is colorful, inclusive, and celebrates the beauty of fashion on every platform — while carrying on the tradition of innovative art direction and great style that the Bazaar audience loves so much," Nasr said in a statement. "The most beautiful part of working in magazines is the teamwork and creating a community. I can't wait to get started."
With her appointment, one of the oldest and most historic fashion magazines — Bazaar dates back to the 1860s — gets a new name at the top of the masthead after nearly two decades. Glenda Bailey, Nasr's predecessor in the role, brought a plummy levity to the magazine (she introduced Marge Simpson to Linda Evangelista in an illustrated fashion spread, and fed Rihanna glamorously to a shark), in contrast to its larger, more imperious chief rival, Vogue. Bailey, who was named editor-in-chief of Bazaar in 2001, stepped down at the beginning of the year to become a global consultant for Bazaar's 29 international editions.
Bazaar is smaller than many of its competitors, but its name carries weight. It has featured the work of some of fashion's greatest artists — Richard Avedon's name had been synonymous with the magazine's for decades, his biographer Norma Stevens wrote, though Avedon eventually moved to Vogue — and has been steered by some of its greatest editors, including the revered Carmel Snow, who edited from the 1930s through the postwar years and hired a young Diana Vreeland, and Liz Tilberis, who oversaw its reinvention with Fabien Baron in the 1990s.
Nasr leaves Condé Nast, whose portfolio includes not only Vanity Fair and Vogue, but also GQ, The New Yorker, and Bon Appétit, just as the media company is dealing with fallout from the resignation of Bon Appétit editor-in-chief Adam Rapoport amid allegations about the lack of opportunities and pay parity for people of color at the magazine. On its main account this week, the company tweeted that it is "dedicated to creating a diverse, inclusive, and equitable workplace" with a zero-tolerance policy on discrimination and "go[es] to great lengths to ensure that employees are paid fairly, in accordance with their roles and experience, across the entire company."
In an Instagram video introducing herself and announcing her new position, Nasr promised to "give all voices a platform and tell stories that would never have been told." (She acknowledged in particular activists, organizers, and those fighting for equality, and affirmed her support for Black Lives Matter.) "We're supposed to be this colorful industry of creative misfits that come together, yet somehow we're not that inclusive always," she told the New York Times in 2017. "I don't think we necessarily as an industry represent the world as it is. My world is very colorful and I don't really see it in fashion or on the runways."