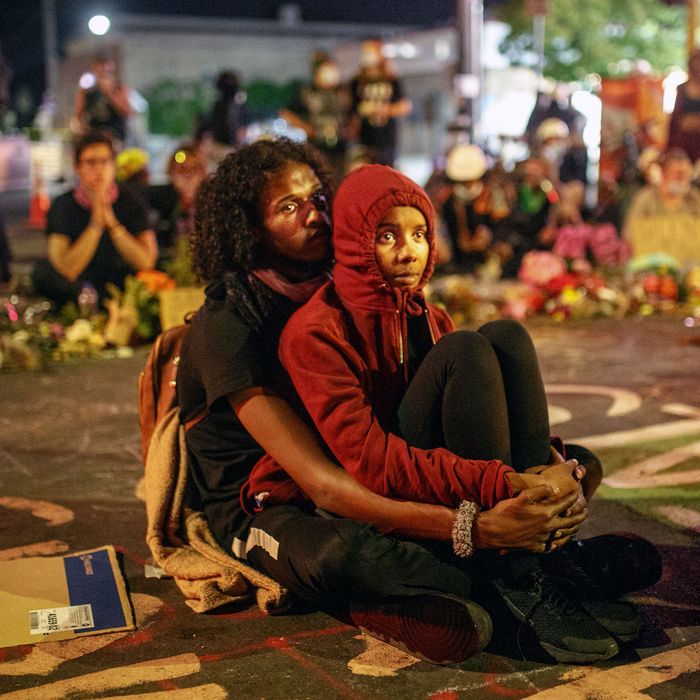 Photo: KEREM YUCEL/AFP via Getty Images
Daisy hasn't worked at either of her part-time jobs in Minneapolis since mid-March. Before then, she worked shifts at a chicken finger fast-food restaurant and as a school bus aide. Both were put on pause by the coronavirus. In May, the 20-year-old was still staying at home, making dance videos with her sister, and working on her writing and drawing, waiting to see what summer would look like.
That was two weeks ago; now Daisy is busy. Since May 26, she's been putting in long hours, marching day and night in the protests against the death of George Floyd — protests that have spread from her hometown to New York, Rio, Athens, and Auckland. When she and thousands of other young people first got in the streets, outraged by footage of Minneapolis police officer Derek Chauvin kneeling on Floyd's neck until he died, and exhausted by their own experiences of racial bias and harassment by the MPD, they had no idea that people in cities around the world would rise up with them, demanding accountability from their own police departments. "When I saw countries in Europe and even Syria fighting with us," Daisy says, "I knew this was huge." After ten straight days of attending protests, choking on tear gas and, at one point, rushing her best friend to the hospital after she was hit in the neck by a rubber bullet, she is taking a few days off.
Sućdi, a 24-year-old social-work student, also had her summer plans canceled by the coronavirus; now she, too, is spending her days protesting and organizing. "Seeing people in France and Germany protesting for Black Lives Matter is amazing," she says. "It's so surreal thinking about how all this started on Lake Street." As a black woman, she has had interactions with Minneapolis police that have left her feeling unsafe and shaken; she says she's been pulled over frequently, and it's often terrifying. She had been out for protests against police brutality before, after the death of Philando Castile five years ago, but "this does feel different." "People are marching in the middle of a pandemic," she emphasizes. "I do have hope that things are going to be different. I don't know to what degree. But I have hope. It's literally the only thing we have."
Before May 26, Essence, 20, also studying social work, was studying hard in her remote summer-semester classes and updating her vlog. When she first headed out to protests, she had only been to one before: a honk-in event by car to demand prisoners be released from county jails amid the coronavirus. It was nothing like what she's experienced in the last two weeks. On the first day of protests, she recounts, "I went across the street to get milk with a friend from Target, because we knew they were going to use tear gas. We came out to see a war zone. That Target is gone. The Autozone is gone. It happened within a matter of days."
Since then, she's helped start a Minneapolis food drive with friends. In between runs to the suburbs for groceries, she squeezes in homework, before heading home past the National Guard before curfew. "Life is soooo weird," she describes over text. To see how the protests have traveled is exciting but sad. "All this change is happening because the police killed George."
"It blows my mind to know that it all started here," says Keenan, a barista who lives in Northeast Minneapolis. "But it is imperative that we all do not drop the ball on this." These young protestors can recite the names of multiple black city residents who died at the hands of police throughout their adolescence — when Castile was shot during a traffic stop, in front of his partner and 4-month-old daughter, many of them were still in high school. In the past two weeks, they've already seen a few tangible gains: On June 3, the charges against Chauvin were raised to second-degree murder and the other three officers who stood by as Floyd died were arrested, there is a growing list of institutions that have cut ties with the police department, and on Sunday the Minneapolis City Council announced their intention to dismantle it. "All the commotion has opened a door," Essence says. "It feels like I'm in the middle of the civil-rights movement. I tell my mom that, and she just says, 'You are.'"