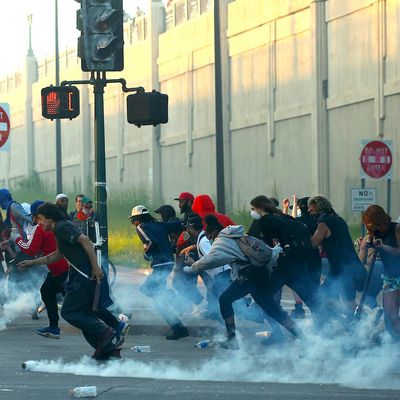 Protesters in Minneapolis run from tear gas canisters.
Photo: Scott Olson/Getty Images
The Minneapolis Police Department now faces two lawsuits over its alleged use of excessive force at protests. One comes from a woman who says she was pepper-sprayed while participating in a peaceful protest; the other comes from a reporter who says he was both threatened with a gun and shot with a rubber bullet while covering the demonstrations.
On Tuesday, freelance journalist Jared Goyette and the ACLU filed a lawsuit with the U.S. District Court for Minnesota against the City of Minneapolis, as well as leaders within the MPD, the Minnesota State Patrol, and the state Department of Public Safety. The complaint alleges that law enforcement targeted reporters at protests over the death of George Floyd, hampering the First Amendment right to free speech and a free press.
"Over the past week, the Minneapolis Police and the Minnesota State Patrol have tear-gassed, pepper-sprayed, shot in the face with rubber bullets, arrested without cause, and threatened journalists at gunpoint, all after these journalists identified themselves and were otherwise clearly engaged in their reporting duties," the lawsuit states. "The past week has been marked by an extraordinary escalation of unlawful force deliberately targeting reporters."
Goyette says that, on May 27, he was on assignment for the Washington Post and "trying to document" what had happened to a young man who, Goyette said, "seemed critically injured." (A photo from the incident suggests as much.) The lawsuit notes that Goyette was standing on his own, with an easily visible notepad and monopod, when an officer's "less-lethal ballistic" — a rubber bullet — hit him in the face.
Days later, Goyette posted a video to Twitter in which he can be heard shouting "press" at police as they drew their guns.
The lawsuit outlines a number of eerily similar incidents. It points to freelance photographer and writer Linda Tirado, who says she was permanently blinded in one eye after an officer shot her with a rubber bullet; Vice journalist Michael Adams, who says he was pepper-sprayed after showing officers his credentials; CNN reporter Omar Jimenez, who was arrested during a live broadcast; and many others. Indeed, Goyette's Twitter feed showcases countless allegations from members of the media who say the police singled them out, knowing they were there to cover the demonstrations. The ACLU filed its lawsuit on behalf of journalists injured while reporting on events in Minnesota.
Separately, on Wednesday, Annette Williams — a black woman who says she was "peacefully protesting police tactics against communities of color" with her daughter on Thursday — filed a civil complaint against the MPD and the City of Minneapolis. In it, she alleges that she was standing on the sidewalk when a line of police vehicles drove by, one of the drivers indiscriminately spraying "a chemical respiratory irritant" at the crowd from the car's open window. A Star Tribune columnist posted footage of the incident to Twitter:
Afterward, Williams says, she and the other protesters had "to remove their face masks worn to protect against the transmission of COVID-19," and began "to cough uncontrollably." Not only did the pepper spray discourage "protesters from exercising their constitutionally protected right to free speech," the lawsuit says, Williams has also "suffered from chest pain and labored breathing interfering with her daily activities" since. The filing also mentions other alleged instances of overuse of force by the MPD, including "gassing the protesters, shooting them with non-lethal projectiles, and using percussion grenades to injure protesters such that they … disperse." Her class-action lawsuit is filed on behalf of "all peaceful protesters who have been injured" as a result of the MPD's tactics at demonstrations.
Over the weekend and into this week, peaceful protests in Minneapolis and in cities across the country escalated violently when, protesters say, law enforcement met crowds with tear gas, rubber bullets, and batons. Many of these incidents were documented on social media.
"Journalists aren't the only victims," Goyette said in a statement. "Actions like this make protesters, people trying to advocate for change, more vulnerable because journalists provide a witness and police are aware of that … Everyone needs to know people are watching."