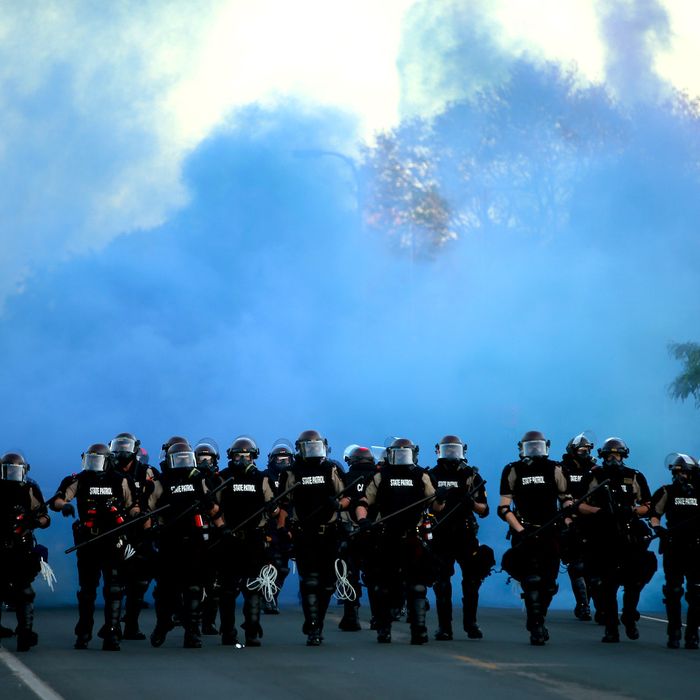 Police in Minneapolis, Minnesota.
Photo: Scott Olson/Getty Images
The Minneapolis Public School board is canceling its contract with the city's police department, following a unanimous vote on Tuesday. It had previously budgeted $1.1 million to employ school resource officers (SROs), according to Mpls.St.Paul Magazine, a program that students and organizers have been challenging for years.
But it was ultimately the killing of George Floyd, and the widespread protests that followed, that catalyzed the decision to sever the agreement: On May 25, MPD officer Derek Chauvin knelt on Floyd's neck for nearly nine minutes, ignoring Floyd's pleas that he could not breathe. His death has now been ruled a homicide.
"I value people and education and life," school board chairwoman Kim Ellison told the Star Tribune. "Now I'm convinced, based on the actions of the Minneapolis Police Department, that we don't have the same values."
On Tuesday, the Minnesota Department of Human Rights filed a discrimination charge against the MPD, launching a probe "to determine if the department has utilized systemic discriminatory practices towards people of color," Governor Tim Walz said. Chauvin himself was the subject of numerous police conduct complaints (and 18 internal affairs complaints, according to CNN) before he was fired, while another of the officers on the scene — Tou Thao — was named in an excessive force lawsuit in 2017.
As Mpls.St.Paul reports, student groups and youth activists have long pushed for the removal of SROs from schools. Indeed, in 2016, when a police officer fatally shot Philando Castile in a Minneapolis suburb, a student group called Our Turn began advocating for the MPS board to oust law enforcement from the educational landscape. Last week, its members wrote a letter demanding the board terminate the police contract. "MPS should no longer be willing to be linked to the criminalization and killing of black and brown bodies," the letter read. "We demand justice for all those impacted — including the students of color in your district."
"To see George Floyd on the pavement, already restrained, that was something that was undeniable," Kenneth Eban, Our Turn's senior manager of organizing for the Twin Cities, told BuzzFeed. "But in a way, that was sad and unfortunate, because students have been saying this for years. It feels unconscionable, that you couldn't just listen to the people who were most deeply impacted by what's happening."
Still, as BuzzFeed reports, the Minneapolis public-school system is among the first — if not the first — to cut law enforcement funding from its budget, as calls for cities to defund the police grow across the country.