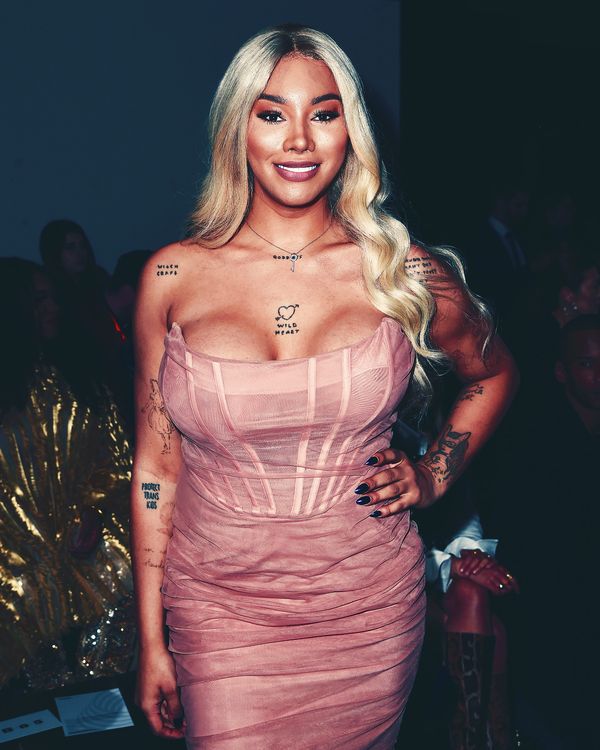 Photo: Eamonn McCormack/BFC/Getty Images for BFC
Three years after being dropped from L'Oréal Paris U.K. for speaking out against racism, transgender activist and model Munroe Bergdorf has received an apology from the brand. In 2017, Bergdorf posted a lengthy Facebook post following white supremacist violence in Charlottesville, Virginia, condemning systemic racism and privilege.
Certain clips of her now-deleted post went viral, among them: "Most of ya'll don't even realise or refuse to acknowledge that your existence, privilege and success as a race is built on the backs, blood and death of people of colour. Your entire existence is drenched in racism. From micro-aggressions to terrorism, you built the blueprint for this shit." A few days later, L'Oréal Paris U.K. dropped her from the brand, calling her comments "at odds" with their values of "diversity and tolerance towards all people irrespective of their race, background, gender and religion." Bergdorf shared that after the fallout, she received death and rape threats, and extreme harassment online.
Last week, Bergdorf took to Twitter to call out the brand after it posted a branded message in solidarity with the Black Lives Matter movement. "I had to fend for myself being torn apart by the world's press because YOU didn't want to talk about racism. You do NOT get to do this. This is NOT okay, not even in the slightest."
This morning, Bergdorf announced that L'Oréal Paris U.K. reached out to make amends and to have an "open and constructive conversation." In a Twitter statement, Bergdorf said that new president Delphine Viguier "expressed regret" over how the situation was handled. The brand will also be donating about $28,000 each to Mermaids, a U.K.-based charity supporting transgender youth, and U.K. Black Pride, an LGBTQ organization supporting people of African, Asian, Caribbean, Middle Eastern, and Latin American descent. In addition, Bergdorf will be joining the brand's newly formed U.K. diversity and inclusion board.
"I thought that it would be the perfect opportunity to practise what I preach and take up that seat at the table to be the representation that we deserve as a community. I believe in accountability and progress, not cancellation and grudges," she wrote. "Over the past three years I have realised my responsibility as an activist is to help unite unite us as people, regardless of our identity. We are all in an exciting time of change. I hope this reconciliation is proof that we can all find a way to put aside our differences and work together to push for a more progressive, fair and equal world."