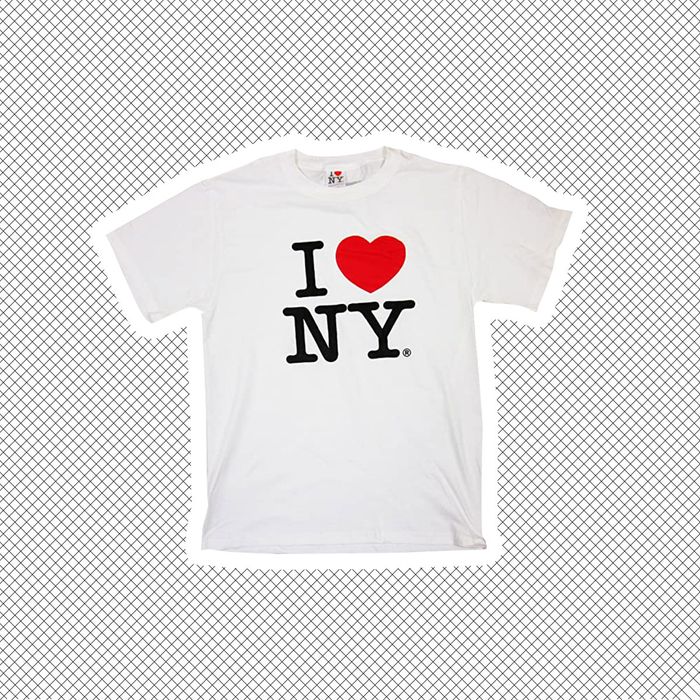 There may not be any sports teams to root for during the pandemic, but many New Yorkers are still expressing a kind of rally-cry enthusiasm for hyperlocal franchises, buying and wearing merch from neighborhood spots like bars and restaurants. It's been a way to show some pride and support the community — even from afar.
Anna Silman, senior writer at the Cut, told me that since she hasn't been shopping for outside clothes, she's instead been buying items with "some element of love or personal connection," like a T-shirt from Nom Wah and a baseball cap from Cervo's — restaurants near her apartment that she visited often before the shutdown — plus a sweatshirt that her friend embroidered with the name and likeness of her new foster cat, Pizza.
Merch has always been popular, but it's become more fashionable in recent years as artists like Kanye West put their own spin on it, and labels like Vetements adopted the style. Wearing a concert T-shirt — or even something much more niche, like an Odeon baseball cap — was a way to telegraph something specific about who you are and what you're into. But when the shutdown came, many of us found our values shifting toward causes both local and political. Buying merch to support a struggling neighborhood business felt more altruistic. Of course, this is only one small way to help, but it's arguably a better use of your dollar than shopping from a Big Bad Brand — and it looks more palatable if you ever leave the house.
It's also just a good excuse to keep collecting novelty T-shirts, and there are suddenly a lot more to be had. Merch Aid, a nonprofit co-founded by three creatives at the advertising agency R/GA, has been pairing graphic designers with small businesses since the shutdown to create and sell T-shirts, tote bags, and prints. "It was really important to us to not just focus on super-trendy places, but also places that didn't have the infrastructure to necessarily build a big online presence or social following," said producer Alexa McClanahan. Their first collection benefited the Village Tailor & Cleaners, for example, and Punjabi Deli in the East Village. They've raised over $180,000 so far, and pivoted to working with Black designers to benefit Black-led organizations in early June.
Not surprisingly, Merch Aid is finding that T-shirts sell better than prints and tote bags. The familiar high of snagging something from a limited drop might have something to do with it. "We've had a couple of times where we're restocking merch at 9 a.m., and it's 9:01 a.m. and hasn't refreshed yet, and we're getting DMs from people like, 'Where is it?!'" said McClanahan. "The idea of getting something that is unique has resonated well."
Another enticing element of all this merch is that it's actually really good. We saw this when Nicolas Heller, also known as @newyorknico, hosted a New York graphic T-shirt contest in May, and the competition was overwhelmingly steep. Maybe designers have more time now to get creative. Maybe they feel inspired to rise to a challenge. Or maybe there were just a ton of already-great existing slogans out there to work with. Either way, the quality of the merch produced during the pandemic has been hard to ignore.
"It's not even an ethical choice," said my friend Matt, who bought a T-shirt from Fanelli's in Soho recently — a spot we'd go to after work regularly. "Some of this stuff is just really well designed, and people want to wear it because it looks really good."
Some more crafty business owners are designing and making merch themselves. A Brooklyn vintage dealer who goes by Gizmo Vintage Honey has been hand-painting T-shirts with bumblebees and the name of her brand, LULU, in frenetic bright green. She started making and selling them a few years ago, and returned to the project when she was confined to her home, cleverly calling them "quarantees."
"They kept me busy because no one was buying anything," she said. "People really love the fact that they're homemade — that separates them from everyone else — and they like that it's the logo they've been seeing for years. Now, they get to wear it on their bodies."
Gizmo Vintage Honey has sold about 100 "quarantees" so far, but was suddenly inundated with new customers and hundreds more Instagram followers when other vintage stores started tagging her in support of small Black businesses in early June. "I'm very glad for the support. I really am," she said. But at first, she couldn't believe it. "Like all of a sudden? Really? This has to be a trick," she continued. "Is Big Brother behind this? Is Trump behind this? Is there like one big credit card and they're telling Cathy, and Julie, and so-and-so to DM me and make a sale with me? It really is sad that I couldn't even believe in myself."
Sales for Gizmo Vintage Honey have tapered off since — a reminder that a onetime purchase may feel good and supportive in the moment, but is not enough to keep any business afloat for long. Still, a targeted T-shirt sale for a cause can have a real impact. The Bronx-based culinary collective Ghetto Gastro started selling T-shirts with the phrase "Food Is a Weapon" this summer, with proceeds going to various nonprofit organizations. The group raised $150,000 in just two days from T-shirt sales alone.
"In the communities that we're from that deal with systemic food apartheid, access to food and food itself has been used as a weapon of oppression," explained co-founder, Jon Gray. "We're signaling, and wanting to call out, that we're taking this weapon from the oppressor and turning it to them. For us, it's a form of protest, too. If you're on the front lines, it's a billboard."
Since that first shirt, they've released other designs on their website, all of which are currently sold out. "For the people who supported our shirt, it's less about supporting a restaurant, and more about being able to have an artifact that commemorates this time in a world where we're dismantling white supremacy, and these structures that have oppressed people," Gray said.
It's hard to know how we'll remember this period in our lives, but, to Gray's point, merch has always served primarily as ephemera. Many of us will likely emerge from the pandemic with a closet full of sweatpants and a bunch of new graphic T-shirts, some more meaningful than others. But will the habit of shopping locally and more consciously stay with us in the future?
"I think it will change my behavior down the line in terms of making me more aware of what I'm supporting," said my friend Matt. "But am I never going to want to go back to the way I used to dress? I don't think so." Just before the shutdown, he bought himself a suit for a wedding that's since been canceled. "You couldn't think of an article of clothing less useful to this period of time," he said. "But I want that suit so bad, and an excuse to wear it."