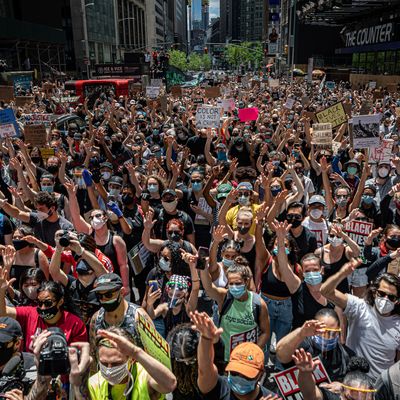 Photo: Michael Nigro/Pacific Press/LightRocket via Getty Images
Lawmakers in Albany passed legislation on Tuesday repealing 50-a, a notorious New York State statute that shields police personnel files — including misconduct records — from public scrutiny. The law, which was in effect for 44 years, has been a longtime target of activists who say it's protected violent and abusive cops, allowing them to remain in the NYPD and act with impunity. The repeal bill had languished for years; this week, though, it successfully passed through the State Senate and Assembly in about five hours.
Mass protest and unrest over the past two weeks, sparked by the death of George Floyd, sent hundreds of thousands of New Yorkers to their phones and email accounts demanding officials act on 50-a. (Activists and advocates have lobbied tirelessly for its repeal for decades.) The swiftness with which the legislation, which Governor Cuomo has vowed to sign, passed both chambers illustrated a miraculous thing: Change is really possible. A New York public defender I know forwarded me an email sent by a veteran colleague, who said they never thought they would live to see 50-a repealed. They said it was easier to imagine parting the Red Sea.
It has been remarkable to see New York convulsing with marches after experiencing it as a ghost town for three months. Coronavirus brought the city to a standstill abruptly and profoundly. Many of the changes to the city's landscape were devastating, and previously impossible to imagine: the shuttering of the lights of Broadway, the closure of public pools in summer, stopping the subway overnight for the first time in 115 years. But some of the actions our leaders were forced to take, because of unprecedented economic upheaval, were momentous. They showed that many progressive reforms, often deemed too radical or unpopular by even sympathetic people in power, were tenable and could even be carried out quickly; it was not a question of feasibility but of political will. The city could stop evicting people from their homes who couldn't make rent; they could stop shutting off power for people who couldn't afford bills; people could be let out of overcrowded prisons; hotels could be repurposed to shelter the unhoused; coronavirus testing could be provided for all who need it, free of charge. It provided a window into a more equitable and forgiving society — but one that could easily close as people rushed to get back to what was comfortable and normal. Because coronavirus is an emergency, there was a sense that we were taking brief cover from a passing storm.
Then, on May 29, New York burst open. Floyd's brutal death at the hands of Minneapolis police officer Derek Chauvin had tapped into not only the city's own history of police brutality against its Black and brown citizens but its rampant inequality, simmering anger that the coronavirus had claimed twice as many Black New Yorkers as it had white ones, the virus's deadliness exacerbated by deep inequities in access to health care. Thousands of people, in every borough, attended protests through long days and nights, facing down heavily armed police in riot gear who were recorded beating peaceful participants. People who had never considered they might interact with law enforcement close-up were arrested. People who had never called their representative's offices were calling every hour.
The repeal of 50-a, the strictest measure of its kind in the country, was only part of a modest package of police reforms that have been stalled for years in the state legislature. New York also passed a ban on choke holds, named for Eric Garner, who died in 2014 from a choke hold at the hands of a cop who had four complaints against him. Because of 50-a, the public only learned of these complaints because they leaked to the press. With thousands of people mobilized almost overnight to help activists put pressure on the government, our current moment is precious, with potential for much bigger changes. Angela Davis recently said that the events of the last two weeks "holds possibilities for change we have never before experienced in this country." Even the concept of defunding the police and redistributing resources to health care, housing, and child care, has started to take hold in the mainstream.
Since two Fridays ago, on any given night, I can hear from my living-room window the chants of thousands of protesters gathered at Brooklyn's Barclays Center or marching through nearby streets. Uprisings across 700 American cities and abroad have made us ecstatically aware that our lives are unpredictable — not just in a terrifying way, like a pandemic that can shake our foundations, but in a thrilling sense, in that we can make demands of the people in power and force them to meet those demands. Though New York technically "reopens" this week from its coronavirus stay-at-home order, it has already reopened, and maybe it will keep opening, and opening.