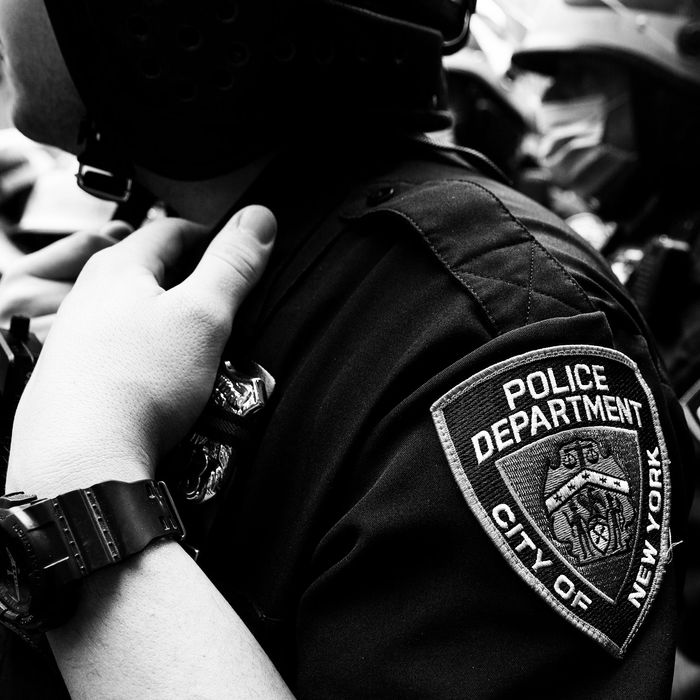 Photo: Adela Loconte/Shutterstock
A New York City police officer named Vincent D'Andraia, who was filmed knocking protester Dounya Zayer to the ground during a demonstration in Brooklyn against police brutality, is facing criminal charges. Brooklyn prosecutors announced Tuesday that D'Andraia has been charged with assault, criminal mischief, harassment, and menacing over the May 29 attack, which caused Zayer to suffer a concussion and a seizure.
Just before the attack, cell phone footage shows D'Andraia, 28, telling Zayer, 20, to get out of the street. In response she asks, "Why?" while continuing to back up. Then, Zayer says, D'Andraia smacked her phone out of her hands, after which footage shows D'Andraia calling Zayer a "stupid fucking bitch" as he shoves her; she goes flying across the street and hits her head on the pavement. Zayer was taken to a local hospital following the attack. Following the incident, D'Andraia was suspended without pay, and NYPD police commissioner Dermot Shea said on Friday that D'Andraia's supervisor is being transferred.
Brooklyn district attorney Eric Gonzalez said in a statement that he "cannot tolerate the use of excessive force against anyone exercising this Constitutionally guaranteed right [to non-violent protest]. This is especially true of those who are sworn to protect us and uphold the law."
The New York Times reports that D'Andraia is the first NYPD officer to be charged over his interactions with a protester since the demonstrations, sparked in part by the killing of George Floyd by Minneapolis police officer Derek Chauvin, began on May 25. In a recent interview with NBC New York, Zayer called D'Andraia a "coward," adding, "He should never be allowed to wear a badge and a gun again."
D'Andraia faces a maximum of one year imprisonment and a $1,000 fine if convicted.