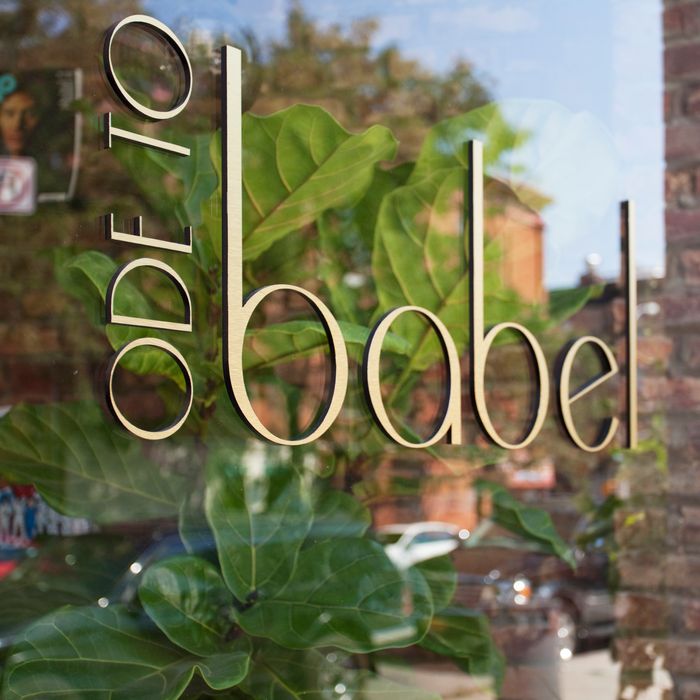 Photo: Courtesy of Ode to Babel
The Cut is asking readers to share what they're doing with their money — or the lack of it — in the midst of an unprecedented crisis. This week, we spoke to Marva Babel, her twin sister Myriam, and Ayana Lewis, the business partners behind the Crown Heights bar Ode to Babel. They talked about the struggle for black-owned businesses to get government aid, what it's like to get ignored by their bank, and how they're keeping it together in survival mode.
How was your business faring before the pandemic? 
Marva Babel: Myriam and I started the business close to five years ago, right after I had my daughter. I was working at a corporate job at the time, doing interior design for retail stores. When I was on maternity leave, I started to think much harder about what kind of example I wanted to be for my daughter. Our family is from this neighborhood, and it felt right to open a business in the community where we've been our entire lives. Ode to Babel evolved a bit as we listened to the various things that people were asking for, and now it's a social and community space where people gather, enjoy music, and hang out. It's been successful for us.
What was the process of closing down like for you?
Marva: Myriam also has a full-time job as a registered nurse, which was scary because she really understood the scope of how serious COVID really was before a lot of other people did. And we had to close at the same time that we had to start homeschooling our kids, so there were a lot of moving parts. I went through a very depressed phase at first, just sad and scared. But I had to snap out of it as quickly as possible, get into survival mode, and hoard any money we didn't have to spend. I made the phone calls to turn off any services that we didn't need immediately, and we had to lay off our staff so that they could apply for unemployment. We try to send them a little money whenever we can, to make sure their morale stays up. I applied for grants and loans. I couldn't sit in my emotions for too long, not because I wasn't acknowledging them, but because I had to take action to keep the business open.
I know that getting government aid was a nightmare for many people. How did it go for you?
Marva: We applied all the grants we could get our hands on, any loans that the government made available, the EIDL, the PPP. But as a black-owned business, we knew the chances of us getting much of anything were slim to none.
Ayana: We also got some financial support from the community. Pyer Moss, the clothing designer, launched a fund for small, minority-owned businesses, and they gave us a grant. They were the first to be there for a lot of businesses like ours, because they knew the small likelihood that other loans would come through for us.
Marva: A lot of our patrons encouraged us to start a GoFundMe page, which we were reluctant to do at first. We know that so many people are out of work and struggling, and we didn't want anyone to feel like we were asking for money. But we ultimately did it because people kept asking, and the support has made us feel really appreciated.
Did any aid come through for you, ever?
Marva: Yes, a little bit, and it took a lot of perseverance. We did not get anything from the first round of the PPP. In fact, Bank of America completely ignored us, even though we've been doing business with them for five years and have a relationship with them. I'm still waiting for a call back. It was hurtful. But another small business told me that they got funding from a community bank, so we tried that instead, and were able to get a small amount. And now it's gone. So we just do everything week to week and try to push through. Our landlord expected the full rent, and I've just been paying what I can. It's not the full amount, but I'm unapologetic about that.
Ayana: Altogether, the aid we received covered less than a third of what we would normally be paying in expenses per month. It was so little compared to what we really need. It was a very discouraging process.
Marva: I applied for an EIDL [Economic Injury Disaster Loan] and I didn't get it, because they said my personal credit wasn't good enough. But you know why my personal credit isn't good? Because I bootstrapped my whole business with my own money. As a minority woman, we don't get loans — it's statistically true. We don't get funding. We don't get angel investors. So that's why my credit is not good — but it's not completely terrible, either. When I got that email saying that they'd declined me because of my credit, it was devastating. It felt like they wanted me to fail. If we're applying for EIDLs and they see our credit is not great, maybe they should ask themselves why that is. Maybe they should ask themselves why we have all this student debt. Maybe they should ask themselves if there is something wrong with the system before they penalize me for trying to operate within it. Right now I'm in the process sending reconsideration pleas, and it's almost like I'm begging. But at the same time, I've been paying tons of sales tax for years. I've been doing all the things that a small business owner is supposed to do.
That's so frustrating. How have you been supporting yourselves?
Marva: We have a small reserve of savings that we've been living off, and using to support our business too. We hope that it gets us through this. We're fighters. We didn't grow up with much, so we know how to make a little go a long way.
Myriam: Also, I'm still working full time. So I'm the bridge right now, just holding it together with my income, sustaining me, Marva, the business, and our families. I've also been doing things like calling our personal mortgage lender and making agreements with our insurance companies. Some of them are still billing us, so we've had to be active in communicating that we don't have the income from our business to make payments.
I know you've also been doing to-go drinks. How is that going?
Marva: We've had to pivot a lot and come up with a whole new menu, because we want the cocktails to feel elevated, but they also have to travel well. We also had to keep costs down, obviously, because we didn't have revenue coming in, but we wanted our prices to be accessible because we know a lot of people aren't working. We put a lot of love into our packages — we made our own labels, created glass flasks, and of course we're continuing to use quality ingredients. I wouldn't be comfortable doing anything less. It's not so much about the money as it is about the engagement, making people feel good, making sure people know we're here, staying on their radar. At this juncture, I don't know how much longer we can go with it, because it's a lot of work and money and the margins are not great. But we've gotten a great response.
Ayana: A lot of businesses who tried this before us didn't have the greatest success in terms of sales. So we were strategic in building interest and limiting it to Saturdays at first, trying to keep it on brand, so that it felt like a treat. We also decided that we wanted to donate some part of our proceeds to other small businesses in our community who needed it. We try to give a dollar per sale. If we have a really slow day, we can't distribute as much, but if we have a better day, we try to make up for it. We'd love to be able to give more, but we're doing what we can.
Marva: We also made the very conscious choice to not use a delivery service, because they take a percentage of the profits and we can't afford to give that up. So we do it ourselves. On Saturdays I get in my car with two of my friends and we put on music and drive around and drop off everyone's cocktails. It takes about eight hours. Sometimes our customers are really surprised to see us at their doors. It's funny for us, too, because we're used to seeing them at the bar, dressed up, and then they open their door in their robe.
What are your biggest concerns for reopening?
Marva: Even after we're allowed to reopen, we're still probably going to be at 50 percent revenue or less, because of social distancing. And we may not have enough money to reopen immediately once we are allowed to. So if the city says, "Okay bars, you can open July 1st," we can't just open our doors. We have to clean the cobwebs out of our space, restock our little bar, revamp our poor plant, and get the pipes looked at. And we don't have the money. We also have bills that were pending before we had to close down — liquor bills, electrical bills, maintenance bills, a lot of overhead from the month. If we could get a legitimate small business grant or loan then it would make me feel like we could come back and win, not struggling to open with $40,000 of bills left over from before. If we've got to recover from those bills, at half capacity, and try to figure out how to deal with the new normal, it's going to be tough. We'll figure it out, but it's scary. It sits in our minds and we're talking about it daily. But we don't have a choice to lock up the shop. We can't.
What do you hope to see in the aftermath of this?
Marva: I think COVID forced people to pause and really internalize what people of color and black people feel daily. It's a fact that the black community was hit harder by COVID cases and business closures. And now that a lot more people are being vocal about Black Lives Matter, and supporting black businesses, I hope that goes beyond social media. I want investors to understand why it's important to consider black businesses. It's sad to know that you work on your investment deck just as hard as your counterparts, but you don't get the same investors or capital that they do. I hope that people open up their pocketbooks for us, and that banks and investors and larger brands support us too.