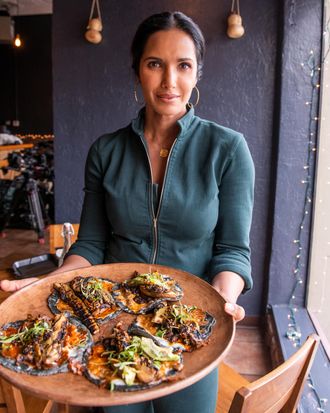 Photo: Dominic Valente/Hulu
Food media is going through a reckoning. Earlier this month, Adam Rapoport resigned as the editor-in-chief of Bon Appétit after a photo of him in brownface at a 2004 Halloween party began circulating. Soon, it became clear that the photo only scratched the surface of what current and former BA staffers have alleged was a racist and toxic work culture. Rachel Premack chronicled BA's problems for Business Insider, speaking with over a dozen staffers of color who alleged extreme pay disparity, microaggressions, and limited opportunities for people of color compared to their white counterparts.
The fallout at the magazine came on the heels of backlash against Alison Roman, a former BA staffer and New York Times food columnist, for her racially insensitive comments about Chrissy Teigen and Marie Kondo. The events have reignited a larger conversation about racial inequity and cultural appropriation in the food industry, including the way successful white chefs have found incredible success by proselytizing what they regard and present as "ethnic" or "exotic" foods. As Navneet Alang wrote for Eater last month: "We are living in the age of the global pantry, when a succession of food media-approved, often white figures have made an array of international ingredients approachable and even desirable to the North American mainstream — the same mainstream that, a decade ago, would have labeled these foods as obscure at best and off-putting at worst."
Padma Lakshmi's new Hulu show, Taste the Nation, offers a useful counterpoint. The show focuses specifically on immigrant and indigenous food and communities, exploring their places in American culture. A chef, author, host, and celebrated voice in the food industry, Lakshmi is exceptional in her own right, but she also offers — alongside the likes of Samin Nosrat and Nadiya Hussain — a refreshing antidote to the widespread whitewashing in food media and entertainment. And Taste the Nation makes one thing extremely clear: Whether we like it or not, food is political.
Episode one, for instance, focuses on Mexican food, and Lakshmi visits El Paso, Texas, near the Mexico-U.S. border. Patrol helicopters thrum in the background and she speaks with locals both about burritos — as well as the impact that Trump's immigration policies and border detentions have had on their town. In another episode, Lakshmi visits the Gullah Geechee in South Carolina, exploring how a history of enslavement influenced their modern food traditions; while making red rice, Michael Twitty, a Gullah Geechee descendent and culinary historian, explains how his West African ancestors were targeted by slave owners specifically for their expertise in rice growing. One especially fascinating episode explains how the Vietnam War made Las Vegas a stronghold for Thai cuisine; another shows how Indian immigrants shaped the food culture in Lakshmi's hometown of Jackson Heights, Queens.
Lakshmi doesn't shy away from difficult conversations, occasionally drawing on her own immigrant story — she immigrated from Madras (now Chennai), India when she was four — but mostly listening to others, which is what makes Taste the Nation one of the most prescient shows about food, immigration, and appropriation we have right now. We spoke with Lakshmi about why she made the show, what American food really culture is, and how Taste the Nation is, as she puts it, "about giving credit where credit is due."
With your background, you really could have made a 'food show' about anything. Why do you choose to focus on America, and why did you want to talk about food from immigrant communities? 
I wanted to find a way to answer all of the negativity and vilification about immigration and immigrants in this country that we've heard since the election in 2016, and counter that with something positive. There's a lot of rhetoric coming out of Washington and this administration vilifying immigrants that is ignorant, and negates all of the contributions that immigrants have made.
I think that the most exciting things happening in American food are actually coming out of immigrant communities. I wanted to show viewers that the immigrants who have come here for generations are what make this country and its culture what it is. That's not something to be threatened by, it's something to celebrate. I wanted to ask: Why is one person's humanity any less than another's? Who exactly gets to call themselves American, and who gets to decide what American food is? American food culture is a living organism that changes based on what Americans are willing to open their wallets for. Everything that's cool about this country is because somebody else brought it here.
Was there a community and food tradition that you were especially interested to learn about? 
I loved being in Las Vegas. I was fascinated by these Thai women: They had nothing, they met GIs in Asia, and they came here. I was fascinated by what a warm welcome they got from their future in-laws, and I wanted to highlight that. I wanted to show that America does have this long standing tradition of being really welcoming, which is the experience that my mother and I had when we came here in the '70s.
From the food perspective, we talk a lot about authenticity: What the 'right way' to make a certain dish is, and who gets to call it what. That's a lot of the discussion that's going on right now in the ether. But when you talk to these Thai women who are in their 70s, when they first came here, they couldn't find green papaya. And so they made their salads with green apples. Who's going to tell them that their salads are not traditional?
There's a robust debate happening now about cultural appropriation in the food industry. How do you see your show fitting into that conversation?
Professional food is such a male dominated space, when truthfully, most of the food in the world is prepared by women. And for those of us who are brown or people of color in food, we have seen for a long time, our ideas, our heritage, our ingredients be colonized, or just taken out of context and used in a white male chef's world. In his food, in his magazines, in his newspapers.
I'm not saying that we cannot dabble and borrow from different cultures. I do it all the time. But it would be so easy and effortless just to give credit where credit's due. Even if you're writing an article, you can add two sentences that say: "Here is Za'atar, common in the countries of the Levant. It's used by many different Arab communities, but I'm using it today in my roast chicken."
I would much rather go to the source to learn about something. That's what Taste the Nation is about. It's about giving credit where credit is due, and giving a platform to people who haven't been able to take the microphone for themselves.
I'm sick of seeing the same recipes by the same people. I'm tired of hearing the same interpretations of ethnic food. I'm curious about Laotian food. I'm curious about the nuances of different South American cuisine. Why wouldn't I want to read about Mexican food, or Thai food from the people who grew up with it? Those people are as American as the white people, usually male but not always, who control food media in this country.