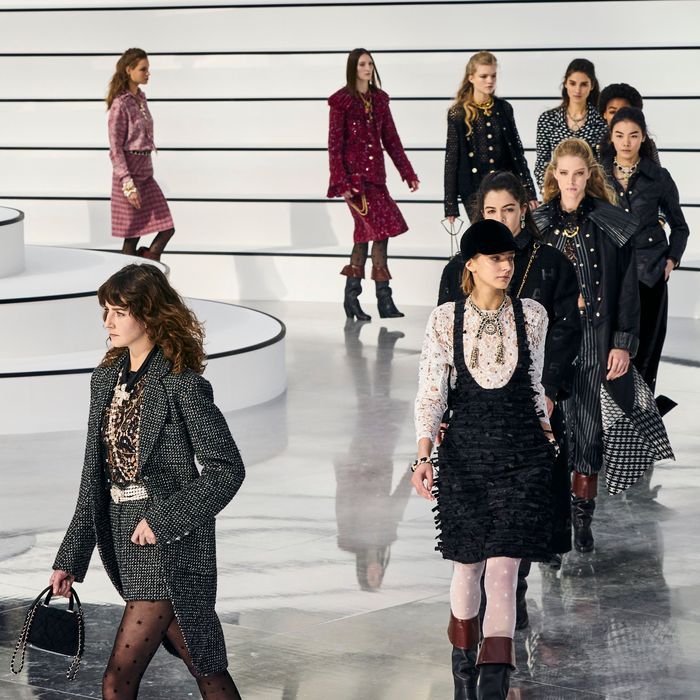 Photo: Shutterstock/Shutterstock
"Constant change is the breath of fashion," wrote the legendary street-style photographer Bill Cunningham in his posthumous memoir, Fashion Climbing. On the surface, this rings true. Every season, and often in between, designers work to offer fresh new ideas and trends. One day you're in, and the next day you're out, etc.
Riding around on his signature bicycle, Cunningham was uniquely positioned to see fashion in motion. New York City and its inhabitants give life to style every single day. But the fashion industry itself is entrenched in hundreds of years of stubborn tradition, and its gatekeepers have historically been resistant to systemic change. This was made clear once again on Wednesday morning, when the Fédération de la Haute Couture et de la Mode announced that, despite a global pandemic, the show will go on: Paris Fashion Week is scheduled to take place on September 28, 2020.
Shows that were scheduled to happen earlier this summer, including couture and men's, were either canceled, made digital, or postponed. As stores begin to reopen, though, brands are also thinking about future live events. Earlier this week, Dior announced that its cruise show will finally take place live on July 22 in Puglia, Italy, making it the first big fashion event since the shutdown. There will be no guests, but the brand hopes to have a socially distant crowd for its show in September. Burberry also announced that it will host a live runway show outdoors in Britain on September 17, with only models and staff physically present. And Fendi will stage a show at its Rome headquarters on September 22.
In a press conference on Monday, Dior designer Maria Grazia Chiuri and LVMH executive Pietro Beccari acknowledged the hesitation around hosting a show, and gave their reasons for doing so anyway. "For Maria Grazia and I, and I think we're not the only ones, luxury is emotions," Beccari began. "When it comes to fashion, nothing carries emotion [better] than a live fashion show." He then turned to the economy, citing a need to support everyone in the supply chain and those who make a show possible, from models to hairstylists. "We wanted to give them hope and a reason to restart," Beccari explained. Finally, Chiuri said she also felt a personal need to support artisans from the Puglia region, as that's where her family is from.
These are all points that most designers, and those who attend fashion shows, are unlikely to argue with. Instead, the change that many are pushing for has to do with the punishing Fashion Week schedule, and fashion's ever-accelerating pace. "Now we know that too furious was our doing, too insidious was our ride," wrote Gucci designer Alessandro Michele in an Instagram manifesto earlier this summer, in which he announced that the brand would abandon the traditional fashion calendar going forward. Dries Van Noten also called for similar change, and Saint Laurent announced that it will not show in September either.
Before the pandemic, it seemed to be widely believed that the fashion system was broken, but no one had the time, ability, or motivation to actually stop and fix it. Gucci's spinning-carousel runway show in February, which took place just days before the pandemic shut down Milan, was both a critique of the hamster wheel and an accidental warning. Now, in this historic moment of pause, I think it's been made clear that the system was, and to some extent still is, actually working quite well for these big brands like Dior and Chanel. In fact, it was arguably built to benefit them. So, why change? Instead of rethinking the system so that it works better for everyone, brands are just doubling down on what works best for them. To borrow the language of the movement happening beyond the runway, we're seeing reform, not an overhaul.
The question remains: If they book it, will we, the fashion media and consumers, continue to come?