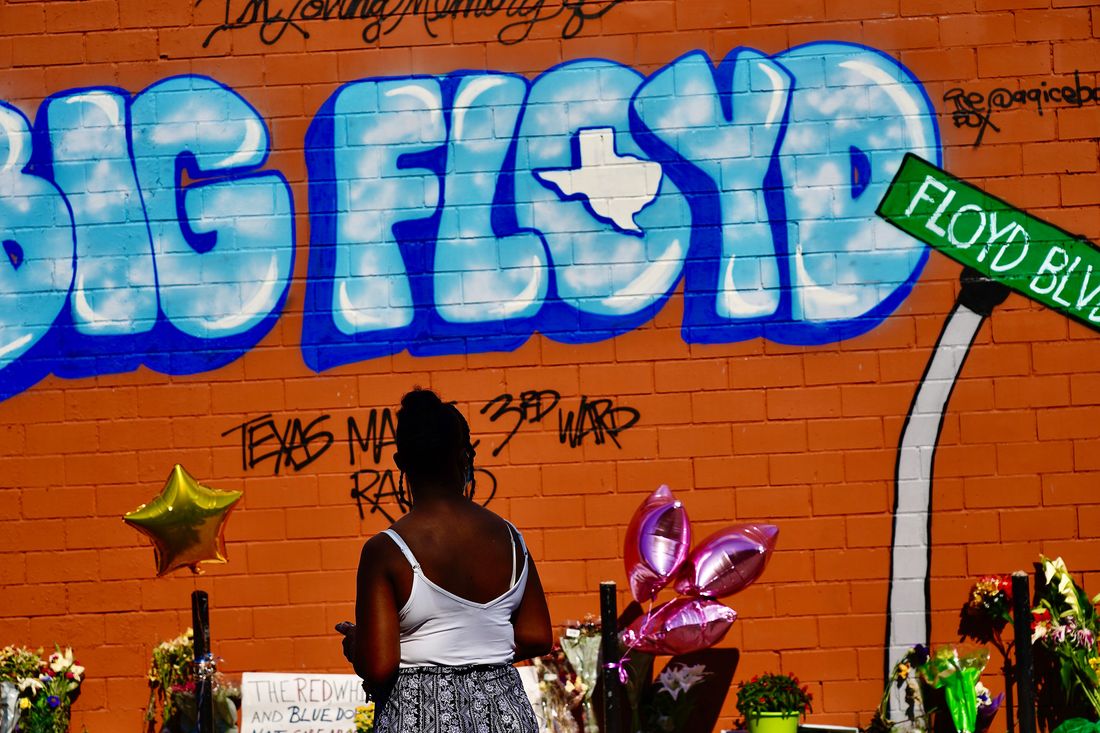 Photo: Eli Reed/Magnum Photos
It is a beautiful symmetry to have Eli Reed's photographs capture and canonize this American chapter and George Floyd's funeral. Reed is one of the best living photographers and is walking history himself; he is the first Black photographer to join Magnum Photos and is a member of Kamoinge, the Black photography collective that has in its DNA Roy DeCarava, a founding father of black-and-white fine photography.
The images are something, as they say down South, perhaps even more so because George Floyd is so present and absent from them. Where is he? It's just as well that Floyd be in absentia, in a sense, from a photo series about him. Find George Floyd, the human, the person who unsuspectingly became a symbol, the father, the man who called out for his mother as he lay dying. Reed's photos aren't the expected intimacy of a funeral's mise-en-scène with the casket and Floyd's family — like that of Medgar Evers and Martin Luther King — but it is hard to find a real reason why America would have deserved that kind of record for the ages anyway. In lieu of photographing Floyd, Reed's camera tenderly captures the minutiae of people, in the middle of a pandemic, social collapse, and a revolution, willing themselves to bear witness.
The iconography of George Floyd's death begins, in the modern sense, in the lynching postcards of the early 20th century. They are a perverse picture of Americana; they are souvenirs from the scenes of murders. Like the leather wallets and belts fashioned from human skin afterwards, these postcards were first and foremost evidence of many things — murder, the unhinged fantasies of White subconsciousness that have long been anchored in the idea of a Black chattel class and a belief in the unalienable right to act out that role play. That a reminder of that kind of unforgettable horror could even be necessary or even desired is an indication of what has long not been well with White America, and for quite some time; Lillian Smith, a Georgia native who framed White supremacy as a mental illness, wrote in Killers of the Dream, "These ceremonials in honor of white supremacy … slip from the conscious mind down deep into the muscles." James Baldwin put it more explicitly: "And they have brought humanity to the edge of oblivion: because they think they are White."
Video is not infinite, but it is the strongest contender in humankind's constant quest to conquer the infinite in real time. In its cruel loopability and limitless excess, what is immortality if not an excess of everything? Everything becomes excessive on video: the length, the audience, the distribution, the distortion, the filters. America has met its match. America has found a medium capable of showing her to herself without tiring and with the matched coldness and unrelenting brutality with which America has always treated Black people.
Perhaps this helps explain why the last moments of Black life on video have found an audience and momentum to catalyze protest and people in our contemporary times. That objectivity and excess of video have distilled the core of the moment in a way few mediums can: The combination of free-range prerogative and unhinged fantasies of White people has long been at the center of these murders and subjugations. The person and the body may be Black, but they are not the subject. It's what makes Emmett Till's body so difficult to look at; it is not him, it is not Mamie's child. It is the site of an imagination, deranged, it is the deadly narcissism of Whiteness's desires as bluntly as the point can be made, and infinitely as need be. Watching Derek Chauvin kneel on George Floyd's neck for eight minutes is truly unhinged, and we are watching him enact the same fantasy that his forefathers stood proudly for in photographs when Black bodies were swinging from poplar trees. Video does not tire, and as such on a cellular level, we know America and we know that we will see another Black person die on video again. And that has absolutely nothing to do with Black people.
And so, it is in this weird moment — between the slight beginnings of a White reckoning and the evermore Black activism that has always been this country's moral North Star — that the afterlife of George Floyd begins.
He is a child of Texas, a son of Houston's Third Ward, Cissy Floyd's firstborn, and as the sun set on June 9, 2020, he returned to them. Watching the procession of Floyd's horse drawn recalled Ossie Davis's eulogy for Malcolm X: "and we will know him then for what he was and is — a prince." Indeed, Floyd's homecoming was fit for a king; this has always been the visual thesis of African-American funerary, especially when someone has been stolen from us. The horse-drawn carriage, the gold casket, the choir, the Appian Way procession of the last mile to his grave; George Floyd was given a state funeral by the people, his people.
For it is in the visuals and the iconography of the homecoming — so called by enslaved people because they believed, upon death, their soul would return to Africa — that the person, the human, the humanity reemerges. The last moments of Black life under the duress of unpoliced imaginations, to paraphrase Claudia Rankine, have very little to do with Black life. And if the afterlife is a journey that is filled with abundance, beauty, and absent of all the ignorant, cruel, and dull things that make this physical one at times unbearable, it would make sense that the beginnings of the Black afterlife have absolutely nothing to do with White people. And yet, it is also never not complicated and complex; the Houston Police Department escorted his cortege on its final journey. Make of that what you will.
The visual foundation of Floyd's afterlife incorporates themes of majesty, splendor, and nobility that are a deeply historical call-and-response to Blackness in funerary and the afterlife across time. It recalls the ancient Egyptians, New Orleans's jazz funerals, the funeral pageantry of West African tribes, Geechee and Lowcountry funerals, the work of photographer James Van Der Zee and the promised abundance of the "upper room" in works such as Alma Thomas's painting "Resurrection." Floyd returned home to the very specific African-Creole corridor of East Texas and Western Louisiana is worth considering. Here, his iconography and afterlife begins in one of the most stunning ancestral regions for African-Americans — and one of the most infamously racist. A place from which the most desperate domestic refugees fled and still, to this day, flee up North for a different type of racism. Floyd himself had fled up North, to Minneapolis, like Mamie Till went up to Chicago. Further east, Emmett Till's afterlife had its beginnings in this corridor too in the Mississippi Delta — in the Tallahatchie River, to be exact.
Where is George Floyd? How do we find him? We have no clue how and where he will settle in history, art history, how his last moments will enter a canon of filmed death. What we are looking for, beyond the momentum of canonization and movement, is him. Those intimate, quotidian, and mundane things which begrudgingly and solemnly construct a life and one's work in it. Who will replace his hello to the people who are used to seeing him every day? If he is that person in the neighborhood who takes out the trash for the elderly women who live alone on the block, who will take his place? Who will lead George Floyd's Bible studies or be the gentle giant in the barbershop, on the block, and at the corner store? How do a community and a family replace what is irreplaceable? Reed's photographs began looking for these unanswerable questions.
His images recall the tenderness and difficulty of a watercolor portrait. A watercolor portrait is a small miracle; a painter must work quickly, with sustained velocity and controlled chaos, to bend the fluidity of water and the subject's essence to reveal something luminous, telling, and coherent. Maybe it is the same mastery of application at work here; Reed's camera captures the uncapturable, what it meant to be in the sticky humidity of that Houston evening that smelled like grief, mosquito repellent, candle wax, and cedar wood. For those not there, Reed's work acts as a bridge to translate the mourning, the prayer circles, the enormous and quotidian worries of those there — the traffic afterwards, if the chicken left in the sink had fully thawed by the time they got home, if something calamitous would happen on the way back, what would happen now to George's family, now that he was in the ground and the real shattering, breaking, and healing (maybe) begins. The luminosity of the human experience is here in the artist's offering to George Floyd, a lion in the winter of his years who has captured wars at home and abroad, still working, this time in the looming discontent of Juneteenth, a plague, and the knocking knees of an empire in collapse. Somewhere in there is a radical love, a belief that George is still owed more, that Black people are deserving of more and that they must have it, and they must have it yesterday, today, tomorrow, and forever. Like watercolors, the fervency of this simple truth is hard to capture. It is that love for, and of, and by Black people at the very root of it all which propels the people to the street, prepared to die if it should come down to it. And it is because, like Ossie Davis said of Malcolm, they love us so.
It is, as they say down South, truly something.