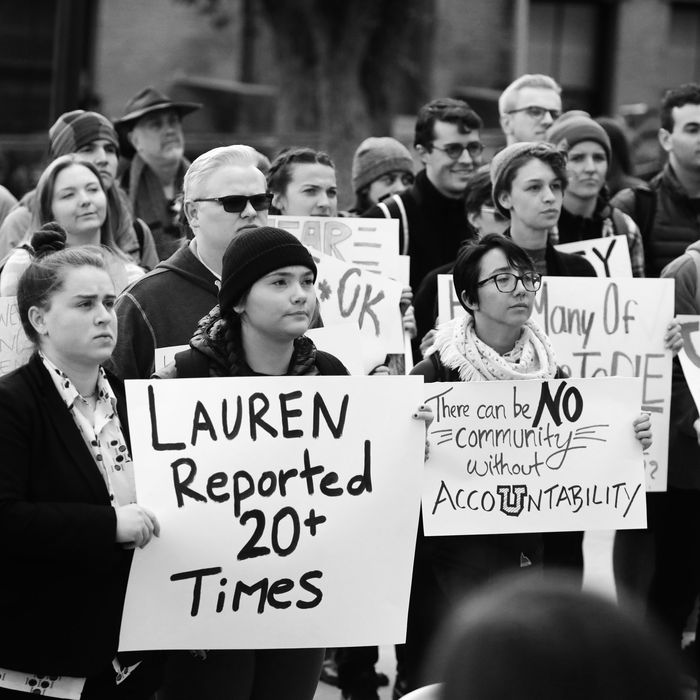 Campus protests marking the one-year anniversary of Lauren McCluskey's death.
Photo: Rick Bowmer/AP/Shutterstock
In October 2018, college student Lauren McCluskey went to the University of Utah campus police to report that she was being blackmailed by an ex-boyfriend. Someone, she said, had accessed nude photographs she'd taken of herself and was threatening to share them if she didn't pay $1,000. She handed over the photos to campus police as evidence; two weeks later, that boyfriend shot her seven times, killing her before killing himself.
In a new lawsuit, McCluskey's parents reiterate allegations they made in a previous filing that university police failed to act on the numerous pleas for help their daughter made over many days. And one officer, Miguel Deras, went so far as to share her nudes with his work buddies, the lawsuit contends. The McCluskeys' attorney, James W. McConkie, told the New York Times that's just one example of how the school treated McCluskey's case with "a certain cavalierness and inappropriateness," an attiude the lawsuit contends had everything to do with her gender.
"There was a culture of misogyny in the police department that the university controls," McConkie told the Times, "and that caused them to take Lauren's complaint less seriously than a man's."
In May, the Salt Lake Tribune reported that McCluskey, 21, sent copies of the explicit photos and the texts extorting her to the University of Utah campus police department. The texts reportedly came from different numbers, but McCluskey suspected that Melvin Rowland was behind them. She had broken up with Rowland on October 9 after about a month of dating, having learned that he lied to her about his name, his age, and his status as a convicted sex offender. On October 13, she turned over the images to campus police.
The university apparently confirmed to the Tribune that Deras, who was working on her case, had the photos sent to his cell phone and showed at least one of them to another officer who wasn't assigned to the case, who said that Deras "bragged about getting to look at them whenever he wanted." Speaking to KSL News, an attorney for Deras subsequently called the paper's report a "deliberate misrepresentation," adding that some of its details were "absolutely untrue."
McCluskey called the Salt Lake City police the same day she reported the blackmail to campus authorities, voicing concern over how long they were taking to address her complaints. She continued to report to both agencies up until Rowland shot her on October 22.
In December 2018, the University of Utah published a report outlining the many missteps it admitted occurred during the course of McCluskey's case, and in 2019, her parents sued the school for $56 million in federal court. That filing argued that the university's failure to take their daughter's claims seriously constituted a violation of her civil rights under Title IX, the 1972 law intended to protect students against sex discrimination in educational institutions that receive federal funding. That suit reportedly stalled in mediation; Monday's lawsuit, filed in a state court, also seeks $56 million in damages.