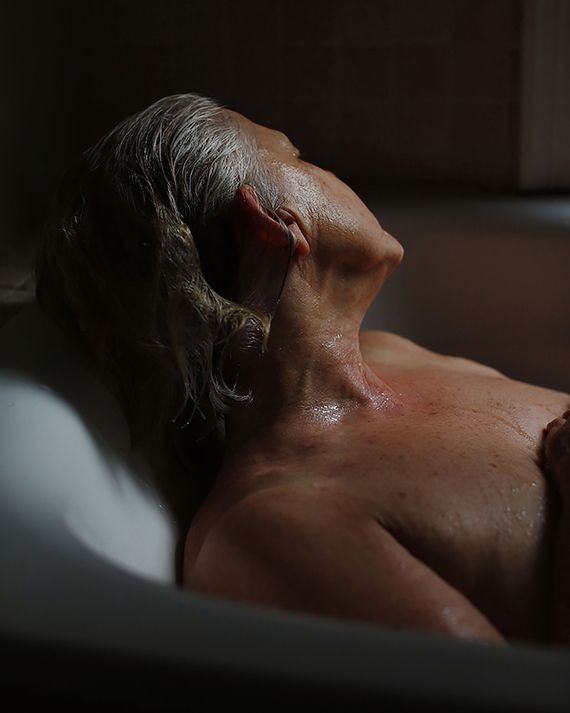 During the COVID-19 pandemic, many photographers have turned to our emptied streets and overfull parks, making both the absence and nerve-racking presence of crowds their subjects. But not Imogen Freeland, a London-based photographer who looked no further than her own self-isolated family for inspiration.
"For me it felt most natural to turn my camera inward and photograph my new normal as I am beginning to know it," Freeland told the Cut. "I'm not sure I would have had the opportunity to photograph my family so intimately had we not been at home together for such an extended period of time."
Freeland has spent the last months quarantining with her aging parents and young son in Cambridge, England, creating an arresting contrast in age and virility in her work. "I am always interested in looking at states of being, including birth, childhood, intimacy, sensuality, physical fragility, aging, and death. I often use my work as a way to explore my own personal experiences and the challenges that arise in my life," she said.
Being home gave her the rare opportunity to capture those people she is constantly around, but whom she didn't take the time to photograph before. "Perhaps if I'm really honest with myself a part of me was putting it off, because I didn't know how to begin. It is a daunting task to capture the essence of someone you love in a photograph," she said.
Freeland said it felt particularly urgent to capture her parents in their older age. "One of the portraits stood out to me and I suddenly found myself feeling completely overwhelmed by it. I instantly burst into tears," she said of a photograph of her mother. "The glimmer in her eye is familiarly thoughtful. You can see the scar across her cheek from a melanoma she had removed a few years ago. All at once, I can see her vulnerability and her strength. She has raised four children, has eight grandchildren, and it is as if you can see the story of her lifetime written in her wrinkles. I am reminded that one day I might lose her." Freeland also explained why it felt important to capture her mother nude. "Health awareness brings a lot of focus into our bodies, and I was becoming more aware of her growing fragility. Yet her feminine figure feels powerful to me, perhaps because it is her very body that gave life to mine."
In the end, Freeland said the photos have been a unique blessing in a trying moment, teaching her more about herself as a mother, and about the benefits of simplicity.
"I think that the experience of quarantine has forced people to reevaluate what is most important in our lives, and for most of us, that is the people that we love."
Scroll below to see images from At Home.