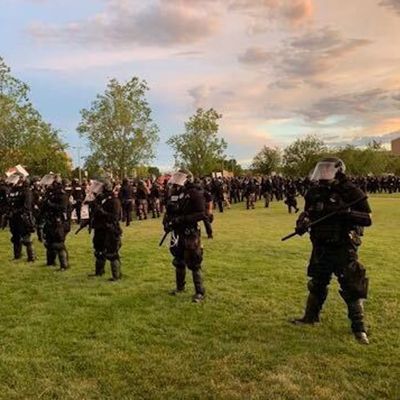 Protesters close to the police line at a peaceful rally and march convened in memory of Elijah McClain on June 27.
Photo: Carlos Espino
On Saturday, activists in Aurora, Colorado, convened for a peaceful rally and march to demand justice for Elijah McClain, a 23-year-old Black man who died after a brutal arrest by local police last August. The event included a violin vigil, a nod to the fact that McClain was an accomplished violinist who was known for spending his lunch breaks putting on concerts for the cats and dogs at a community animal shelter. Footage from the event shows a group of quiet participants, most of them socially distanced, holding signs and observing as a few violinists perform at dusk — and then the arrival of a group of officers in riot gear, charging into the crowd. According to attendees, the police went on to deploy pepper spray and use physical force.
Images shared on social media show lines of officers in helmets, bulletproof vests, and gas masks marching onto a lawn outside the Aurora Municipal Center on Saturday evening, aggressively dispersing people. Attendees say police used, or threatened to use, tear gas — a chemical weapon — on protesters. A spokesperson for the APD denied this allegation on Sunday, telling the Cut: "Tear gas was not used yesterday. There was pepper spray deployed but tear gas was not used."
Saturday's events began with a rally and march organized by Denver's Party for Socialism and Liberation, scheduled to begin at 1 p.m. in the park between the APD headquarters and the Aurora Municipal Center. That would be followed by a student-led rally and another march, which took off from the adjacent Municipal Center sometime after 5 p.m. Violinists — including six-time Grammy nominee Ashanti Floyd, from Georgia, and Lee England Jr., of New York City — planned a vigil in to conclude the day's actions later that evening, in Aurora's City Center Park.
According to those in attendance, the event started out peacefully, though many noticed a strong police presence. At around 8:30 p.m. — about a half hour into the vigil — officers in full riot gear began closing in on the gathering. Police "quickly started moving in on just all protesters, getting them to move away and step back," Carlos Espino, who was at the event, told the Cut. He saw a "smoke plume in the air," which he believed was tear gas. "We could smell it from where we were, which was several hundred yards away." Other protesters speculated that the haze may have come from smoke bombs.
Blake Jackson, another attendee, recalled the police assuming an L shape to surround vigil participants, many of whom had simply been sitting on the lawn and listening to music, and some of whom had their kids in tow. "They were intimidating and pushing up against us," Jackson said, until the crowd had been corralled into a parking lot at the edge of the grass.
"It was a really surreal scene," Jackson recalled. "You looked to the left to see all of us standing there with our hands up and the violinists continuing to play, and you look to your right and see hundreds of cops in riot gear."
The violinists played in the parking lot for maybe another hour, he added, moving to the park across the street, where they "conducted a proper vigil for Elijah."
On Twitter, the Aurora Police Department attributed its aggressive response to the fact that protesters were attempting to "cross the fence at the PD entrance," where a separate group had been demonstrating throughout the afternoon. A police spokesperson reiterated this claim to the Cut, saying the entire event was labeled an unlawful assembly "because there was a small group of people who were arming themselves with rocks and sticks, who were ignoring multiple orders to step back from the fence who were starting to damage property … They threatened the safety of all the people that were there." But meanwhile, participants say the atmosphere at the vigil was indisputably peaceful, people calmly exercising their right to assemble, and neither Jackson nor Espino recalls seeing anyone throwing rocks or bottles.
"There were children there, there were families there, we were there to honor and have a vigil for Elijah. I feel like [police] just abused their power," Espino said. "Why were they depriving all those people who were there to mourn? Why would they break that up?"