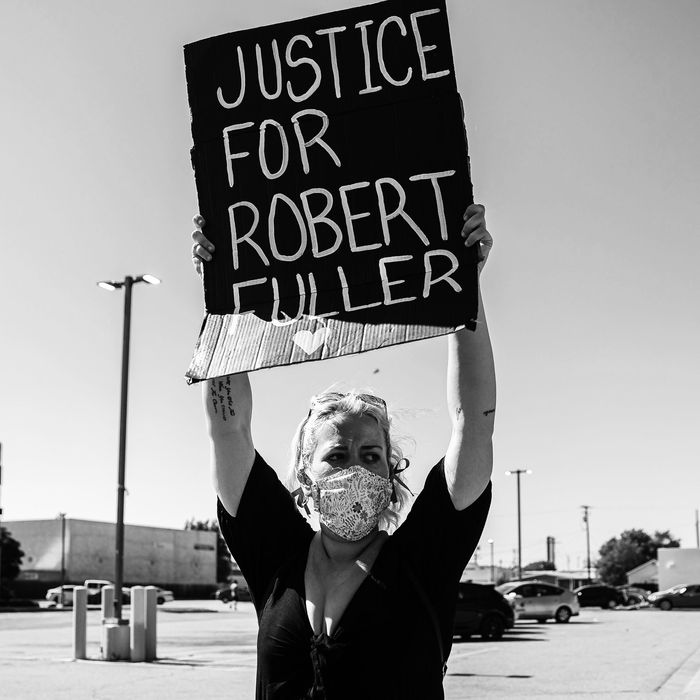 Photo: Ariana Drehsler/AFP via Getty Images
Last week, a 24-year-old Black man named Robert Fuller was found dead hanging from a tree in Palmdale, California. While the county medical examiner–coroner's office ruled Fuller's death a suicide, his family demanded that his death be investigated, saying that Fuller — who had attended a Black Lives Matter protest just days before he died — had not appeared suicidal before his death. While the Department of Justice and the FBI have since heeded calls from family and activists and launched an investigation into Fuller's death, the family has now suffered yet another loss: Yesterday, Fuller's half-brother died during a shoot-out with Los Angeles sheriff's deputies, a family attorney said.
"This afternoon I had to notify the sisters of Robert Fuller that their half-brother Terron Jammal Boone was killed by Los Angeles County sheriff's deputies in Kern County," Jamon Hicks said in a statement.
Around 4:30 p.m. in Rosamond on Wednesday, deputies began searching for a man who was wanted for kidnapping, spousal assault, and assault with a deadly weapon, CBS News reports. During the investigation, authorities spotted a man who they believed was the suspect — whom Hicks later identified as Boone — in a car with a woman and 7-year-old girl. Lieutenant Robert Westphal said that after following the car for some time, deputies attempted to do a traffic stop, and the man shot at authorities after opening his car door. (The woman was driving the car.) "A deputy-involved shooting occurred" and the man died at the scene, Westphal told reporters. The woman in the car — who authorities say was not the victim of the alleged assault and has not been publicly identified — was taken to the hospital after suffering a non-life-threatening gunshot wound to the chest. The child, who is believed to be the woman's daughter, was unharmed.
The woman's brother told reporters, "We're angry. We're handling it the best way we know how, and right now, it's in God's hands. And I'm just glad and grateful that my sister is alive and that my niece is alive." Per Hicks's statement, Fuller's family and legal team have no further comment on the incident at this time, and "respectfully ask that their privacy be respected."