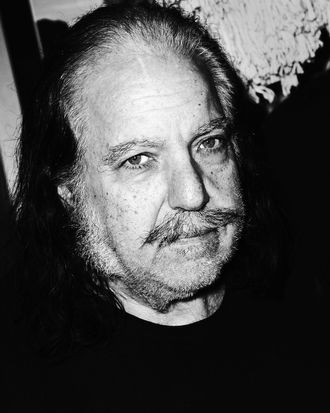 Ron Jeremy.
Photo: Albert L. Ortega/Getty Images
Ron Jeremy, a former porn actor and one of the adult-film industry's most recognizable faces, has been arrested and charged with raping three women and sexually assaulting a fourth. Los Angeles County District Attorney Jackie Lacey announced Tuesday that Jeremy — full name Ron Jeremy Hyatt — faces three counts of forcible rape, three counts of forcible penetration by a foreign object, one count of forcible oral copulation, and one count of sexual battery for separate incidents dating back to 2014.
Rumors about Jeremy's predatory behavior on set, at expos, and in social settings have long circulated within the adult-film industry, running the gamut from groping women — journalists, fans, and his colleagues — at conventions, to indecent exposure, to unwanted sexual contact and penetration. When Rolling Stone published an investigation into his conduct in late 2017, Jeremy unilaterally denied the claims.
"These allegations are pure lies or buyer's remorse," he said at the time. "I have never and would never rape anyone. All serious allegations have been investigated by police and dismissed by judges, as have most of the accusations of 'groping.' I have never been charged nor spent one day in court for any of this."
Prosecutors, however, believe that the 67-year-old forced himself on at least four women within the last six years. Jeremy allegedly raped a 25-year-old woman at a West Hollywood home in May 2014. Additionally, he allegedly assaulted two women, ages 33 and 46, at different times in 2017, at the same West Hollywood bar where he allegedly raped a 30-year-old in July 2019. One of the 2017 allegations involved "an act of sexual penetration … when [Jeremy's] victim was prevented from resisting by an intoxicating and anesthetic substance, and a controlled substance," while the other reportedly involved a woman's "unlawful restraint" while Jeremy and an unnamed accomplice "willfully and unlawfully touched an intimate part" of her body.
Prosecutors have recommended that Jeremy's bail be set at $6.6 million. If convicted, he faces a maximum sentence of 90 years to life in state prison. Lacey established a task force in 2017 to investigate claims of sexual abuse in Hollywood, and also brought rape charges against actor Danny Masterson last week.