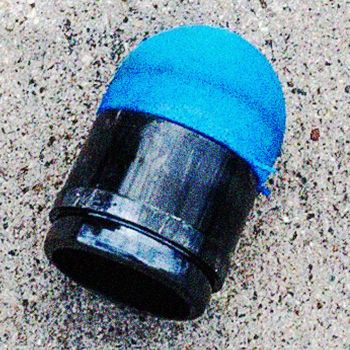 Photo: Kerem Yucel/AFP via Getty Images
New York Is Committed to Covering This Essential Moment
We've removed our paywall from this and other stories about police brutality and systemic racism. Consider becoming a subscriber to support our journalists.
When a police officer fired a rubber bullet into photojournalist Andre Mercharles's right thigh as he was covering a recent police-brutality protest in Minneapolis, he thought he had been shot with an actual bullet. "It felt like something sharp entered my body really fast," he told the Cut. The next day, while he was covering another protest, he was shot again, this time in the butt. "It's like the officers were thinking, These people are not humans; they're animals," he said. "And we're just going to be trigger-happy and keep shooting."
Amid the ongoing protests demanding justice in the wake of George Floyd's death, police across the country have deployed a number of violent tactics to quell otherwise peaceful demonstrations, including shooting rubber bullets at protesters. While rubber bullets are considered a safer alternative to actual bullets, they're not harmless. They can be the size of your palm; they're not actually made of rubber; and despite their categorization as a "nonlethal" weapon, in some instances, they can result in death.
Here's what to know about the police's use of rubber bullets.
They're not actually rubber.
"Rubber bullets," as Fast Company points out, is a bit of a misnomer. In actuality, they often feature a metal core or components with a thin polymer coating, and some are made entirely of hardened foam or plastic. While it's unclear how often police deploy them — per NBC News, police are not required to document when they use rubber bullets — they're considered a standard crowd-control weapon, intended to be shot at a person's lower extremities or the ground. They're also significantly larger than the average bullet.
Rubber bullets originated in Northern Ireland during the Troubles.
The use of rubber bullets dates back to the Troubles, a decades-long period of violent conflict in Northern Ireland. According to The Guardian, the British Army introduced rubber bullets in 1970, and categorized them as a nonlethal weapon. According to documents uncovered in the National Archives, though, the Ministry of Defense knew that rubber bullets could cause serious harm and even death. By the end of the Troubles, 17 people, including eight children between the ages of 10 and 15, had died after being hit with rubber bullets.
Police across the country are firing rubber bullets to disperse peaceful protesters.
Over the past week, police departments across the country have fired rubber bullets into crowds of peaceful protesters, causing extensive injuries. In California, a 59-year-old woman was hospitalized in an intensive-care unit and later entered a coma after she was shot between the eyes with either a rubber bullet or a beanbag round, which is also categorized as a nonlethal weapon. A freelance photographer who was covering a protest in Minneapolis is now permanently blind in one eye after being shot with a rubber bullet.
In the Washington Post, a head and neck surgeon described her experience treating a man who was shot with a rubber bullet while peacefully protesting outside of the White House. "I have treated many facial trauma patients, including gunshot wound victims," Lilun Li of George Washington University Hospital writes. "Even I was surprised at the extent of my patient's injury sustained from a supposedly 'benign' rubber bullet. I spent hours cleaning his wound, extracting numerous pieces of plastic and metal that were embedded in his lip and chin and removing tissue that was no longer viable because of the injury."
According to the Trace, the Minneapolis Police Department's use-of-force policy strongly advises against pointing 40 mm launchers — which are used to deploy rubber bullets, beanbag rounds, and sponge rounds — above a person's lower extremities. The policy also acknowledges that the projectiles can cause "grievous" injuries, and in some cases, death. Rubber bullets should be used only to control "an extremely dangerous crowd," Brian Higgins, a former police chief, told Kaiser Health News.
But over the past week, countless images of people who appear to have suffered direct rubber-bullet wounds, sometimes to the face, have circulated on social media. (Warning: Some of the images are graphic.)
Some lawmakers are discussing legislation surrounding the use of rubber bullets.
According to KTLA-5, a group of California lawmakers has signaled their intention to introduce legislation to set standards regarding the use of rubber bullets. Currently, no further details are available.