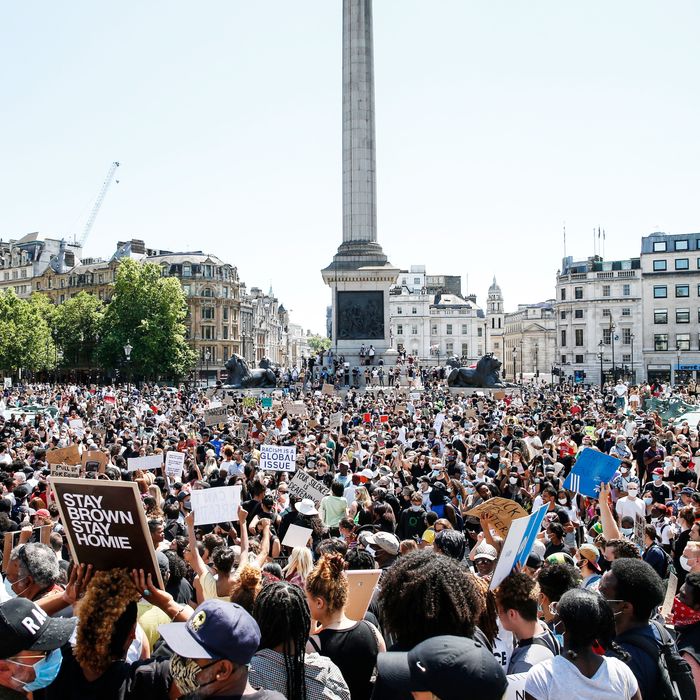 Photo: Hollie Adams/Getty Images
Protests against police brutality began last week in Minneapolis — where a 46-year-old black man named George Floyd was killed after white police officer Derek Chauvin kneeled on his neck despite repeated cries from his victim and onlookers to stop his attack — and have since radiated across the country. On Friday, Chauvin was charged with murder in the third degree, and this weekend, thousands protested to demand justice for Floyd in cities across the country, including New York City, Chicago, and Boston. Some 4,000 people were arrested in connection with these actions.
These protests are now a global phenomenon, too. Over the weekend, people in Italy, the U.K., Canada, and Syria demonstrated in solidarity with protesters in the United States, demanding justice for the victims of police killings and an end to racist law enforcement. Here's what some of those protests looked like.
London
The Washington Post reports that hundreds of demonstrators rallied at Trafalgar Square and outside the U.S. Embassy in London on Sunday, shouting "no justice, no peace."
London's Metropolitan Police said they arrested five people outside the embassy, two for alleged assault on an officer and three for "breaches of COVID legislation."
Berlin
Protesters in Berlin gathered on Saturday and Sunday in solidarity with Americans demonstrating against police brutality. On Saturday, 2,200 people held their protest outside the U.S. Embassy in Berlin. The Washington Post reports that on Sunday, some 1,500 people marched a mile through the city, wielding signs that read "Injustice anywhere is a threat to justice everywhere" and "Being black is not a crime." A graffiti artist drew a mural of Floyd's face on one the remaining panels of the Berlin Wall.
Toronto
Thousands of protesters gathered in Toronto on Saturday to condemn police killings in America as well as the death of Regis Korchinski-Paquet, a black woman who fell from her balcony apartment while police were in her Toronto home (they'd been called there to respond to a domestic dispute).
Idlib, Syria
The New York Times reports that in the northwestern Syrian province of Idlib, which has been besieged by the Syrian government for several months, two artists memorialized Floyd with a mural on a ruin wall.
Dublin
IrishCentral news reported that two demonstrations took place on Sunday in front of the U.S. Embassy in Dublin, attended by about 150 people. A Black Lives Matter solidarity protest was held in Dublin in Monday.
Milan
Protesters rallied outside the U.S. Consulate in Milan on Thursday to protest the killing of George Floyd.