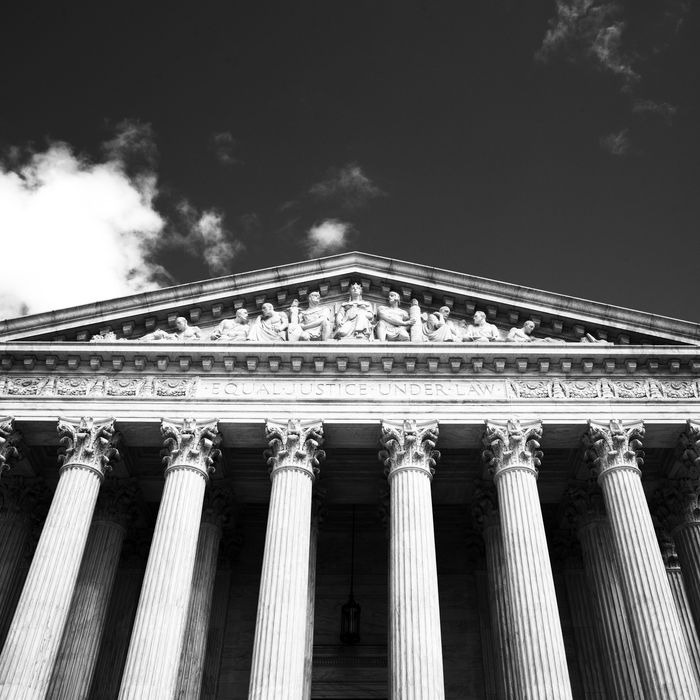 Photo: Robert Alexander/Getty Images
The Supreme Court is actually the source of some good news this morning: In a landmark victory for civil-rights advocates, the court has officially ruled that a federal civil-rights law protects gay and transgender workers from workplace discrimination. It is now illegal in the United States for an employer to fire someone because of their sexual orientation or gender identity.
The justices ruled in a 6-3 vote to extend the scope of Title VII of the Civil Rights Act — which makes it unlawful to discriminate on the basis of sex, race, national origin, and religion — to include sexual orientation. Chief Justice John Roberts and Neil Gorsuch authored the majority's opinion which confirmed that "an employer who fires an individual merely for being gay or transgender violates Title VII." Clarence Thomas, Samuel Alito, and Brett Kavanaugh dissented.
The decision inspired waves of emotion among activists, who noted that the history-making landmark ruling will reverberate through lower courts, affecting a multitude of other lawsuits and potential lawsuits involving discrimination based on gender identity or sex. That potentially includes a rule, just finalized by the Trump administration, that would remove nondiscrimination protections for LGBTQ people when it comes to health care and health insurance. Writer Raquel Willis wrote of the decision, "At my first job, I was stealth out of survival. I wasn't out as trans because I was afraid of being fired. Today's #SCOTUS ruling will encourage so many more folks to move beyond that fear."
Community members also mourned those who had not lived long enough to see the victory. The Court's ruling applied to a set of cases: a pair of lawsuits filed by two gay men who say they were fired for their sexual orientation, and a suit filed by Aimee Stephens, a transgender woman, who says she was fired in 2013 after she announced in a letter to her colleagues that she would be transitioning. Two of these plaintiffs died before the justices handed down their decision. One, a skydiving instructor named Donald Zarda, died in 2014. And Stephens, who was the first transgender person to bring a civil-rights case before the Supreme Court, died in May. In a video published by the ACLU before Stephens died, she thanked supporters who had gathered on the courthouse steps, chanting her name. "The more I've seen the support, it gives me the strength to get up another day," she said. "To go on fighting another day and give that same hope to all the rest."
There are also those elders of the liberation movement, whose names never appeared in a Supreme Court ruling, whom advocates also remembered while celebrating today's news. On Twitter, ACLU lawyer Chase Strangio dedicated the victory "to Aimee to Lorena to Flawless to Marsha to Sylvia," naming Stephens among LGBTQ community leaders who have passed: Lorena Borjas, Flawless Sabrina, Marsha P. Johnson, and Sylvia Rivera. "We fight for you and never give up."