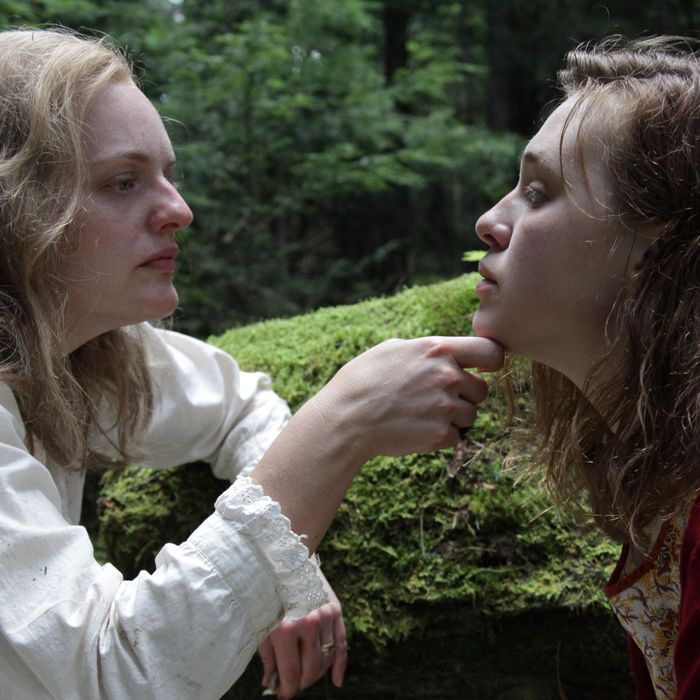 You might still remember the first time you read The Lottery. I certainly do. It tells the story of a fictional American town's annual tradition of stoning a member of its community. It's less than 4,000 words, but so brutal and disturbing that it stays with you. It's one of the hundreds of short stories Shirley Jackson wrote in her lifetime, but it's still her most famous work, overshadowing her novels and memoirs.
And yet The Lottery is only a footnote in Shirley, a film loosely based on the writer's life, which is available now on Hulu. Directed by Josephine Decker and starring Elisabeth Moss as Jackson, Shirley is an imagined version of what the later years of the writer's life in Vermont may have looked like (she died at 48 in 1965). It's not an accurate biopic, but it's not trying to be. Shirley is concerned with the dark fantasy of Jackson's creative process, inviting you to witness its most feverish moments.
Moss as Jackson is surly and often drunk; she's the film's brilliant jerk, a role she excels in. She suffers from anxiety and spells of crippling agoraphobia, which was true of the real Jackson. Her writing happens in fits and starts, when the inspiration hits, and it finally does so with the arrival of a young woman: Rose (Odessa Young), who comes as a houseguest with her husband, Fred (Logan Lerman). Rose is featured in Shirley's fantasies, becoming the face of the heroine in a story she's writing (one that resembles Jackson's 1951 novel, Hangsaman.)
The young couple stays with Jackson and her husband, Stanley Edgar Hyman, played by Michael Stuhlbarg. Stanley is a charismatic creep, a professor and literary critic, who quickly shunts the pregnant Rose into a housekeeping role. But Rose is fascinated by Shirley, and, after suffering through her rages and insults, wins her over. Their relationship takes on a dangerous, sometimes erotic edge. As Shirley works on a book, she begins to stabilize; Rose, meanwhile, starts to fray.
Barbed violin music punctures Shirley, and it often departs into billowy phantasmagoria, all of which makes it feel more art film than thriller. Although, if it is a thriller, the threat is wifely domesticity: Rose is forced to quit school to be a homemaker, which marks the beginning of her undoing; Shirley seems to tolerate her husband's infidelities, but her anger is palpable beneath her eerie smiles.
At one point, Rose says that reading The Lottery made her feel "thrillingly horrible," which, with its simmering menace, is precisely the aftertaste of this film. And while you might come away from it feeling more than a little uncomfortable yourself, Shirley makes that feeling well worth it.