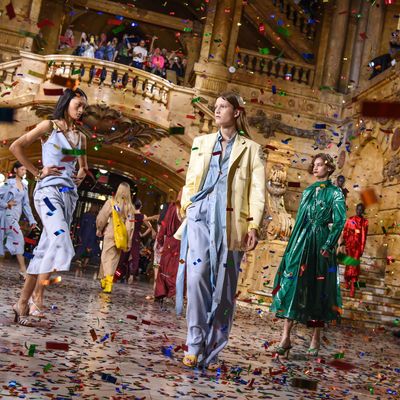 Photo: Stephen Lovekin/WWD/Shutterstock
Sies Marjan, the American luxury label founded by designer Sander Lak just five years ago, is ceasing operations due to the impact of the COVID-19 pandemic. "As a young independent company, we were significantly impacted by COVID-19. With a heavy heart, we have made the very difficult decision to close our business," Lak said in a statement to WWD. Already, the Sies Marjan Instagram has been taken down.
The brand's future looked promising even before its debut at New York Fashion Week in February 2016. Howard and Nancy Marks — American investors with an estimated net worth of $2 billion — provided funding. Then Lak successfully seduced the fashion crowd, finding a way to balance joyful gaudiness and quiet refinement in his liquid-y dresses and separates in a rainbow of hues. He not only received acclaim from the press and won the CFDA Swarovski Award for emerging talent in 2018, but his clothes were sought out by cool New York women like Jenna Wortham and Kelela, who wore them as a badge of nonchalant confidence.
Lak knew the cool-girl market well: After graduating from Central Saint Martins and working for Marc Jacobs, Phillip Lim, and Balmain, he served as creative director at Dries Van Noten for five years. He moved to New York in 2015 and named his new company Sies Marjan after a combination of his parents' names.
But although Sies Marjan was well on its way to becoming a staple in the luxury American fashion market, it couldn't escape the pandemic's effect on businesses worldwide. Some brands have redirected resources to supporting health workers on the front lines with PPE, but others have been simply trying to stay afloat in a world of halted production, closed retailers, widespread job loss, and skittish consumers.
"What we have worked on has been a dream come true," Lak told WWD. "Thank you to everyone who has given their time and talent to Sies Marjan over the years. We have built a singular brand whose legacy is not just in the clothes and collections, but within each person who contributed along the way. We greatly appreciate and thank our industry partners, clients, and amazing team for your support and love over these past five years."