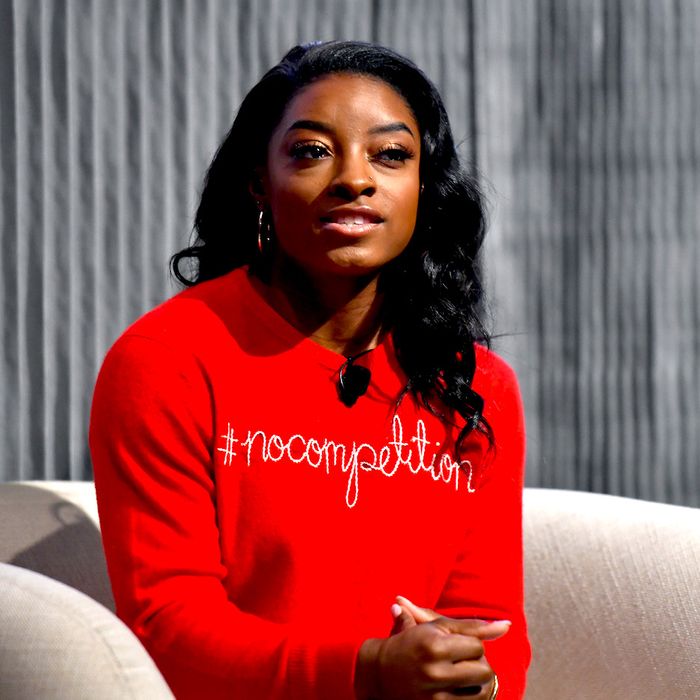 Simone Biles.
Photo: Craig Barritt/Getty Images for SK-II
Simone Biles is one of more than 140 plaintiffs suing USA Gymnastics and other organizations allegedly complicit in covering up Larry Nassar's serial sexual abuse. Court documents filed on Monday list Biles among those seeking testimony from Olympic officials in the civil case, the first time her name has been shared publicly, according to ESPN. Other plaintiffs include fellow Olympians Madison Kocian, Kyla Ross, Aly Raisman, McKayla Maroney, and Jordan Wieber, all of whom say Nassar molested them under the guise of medical treatment.
Nassar, it bears noting, had been sentenced to over 230 years in prison by 2018, after pleading guilty to criminal sexual conduct and child pornography charges. The civil suit in question deals with the institutions that, the plaintiffs say, willfully ignored Nassar's misconduct: USA Gymnastics, where Nassar served as the national team doctor until 2015, and the United States Olympic and Paralympic Committee.
A number of gymnasts, and Raisman in particular, have long argued that USAG knew, or should have known, that their doctor was leveraging his powerful position to exploit often-underage girls. Emails from a USAG attorney in 2015 highlight apparent efforts to keep Nassar's "therapy techniques" quiet. And in 2018, an investigation by a law firm the USOPC hired found that former USAG CEO Steve Penny told Alan Ashley, the committee's former chief of sport performance, and its former CEO — Scott Blackmun — about Nassar's behavior in 2015, but neither party did anything to stop him or to protect the gymnasts. And when Nassar left his position with Team USA, no one told Michigan State why — allowing the doctor to keep preying on girls and young women in his capacity as osteopathic surgeon, according to the plaintiffs.
Earlier this year, the plaintiffs rejected a $215 million settlement from the now-bankrupt USAG, which would've required them to leave the USOPC out of current and future proceedings. According to ESPN, the victims now want testimony from USOPC chair Susanne Lyons, Blackmun, and Ashley.
Biles previously criticized the proposed settlement, saying on Twitter that she "still want[s] answers from the USAG and USOPC," and "wish[ed] they BOTH wanted an independent investigation as much as the survivors & I do." Thanks to Steve Penny, Biles was not made aware of the FBI's Nassar investigation while it was happening, according to the Wall Street Journal. Nonetheless, in January 2018, she shared a lengthy statement on Twitter identifying herself as "one of the many survivors that was sexually abused by Larry Nassar." She is currently training for the 2021 Tokyo Olympics and, as ESPN points out, remains "Team USA's best hope for gold."