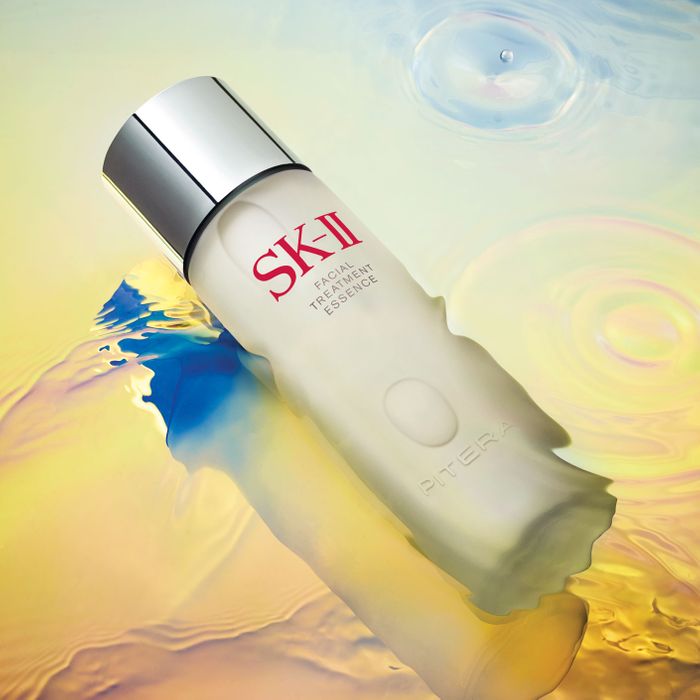 To say that SK-II's Pitera Essence enjoys a cult following is quite the understatement. The brand famously sells a bottle every two seconds. For many beauty die-hards, it's their ultimate, desert-island must-have. In skincare forums, it's referred to as a "grail" — the term spoken in hushed tones and reserved for the most coveted products. Reviewers credit it with imparting an impossible-seeming list of visible skin benefits: brightness, softness, anti-aging, even skin tone and texture, reduced appearance of pores, that ever-elusive "glow."
But if you've never tried it, you might be wondering why all the hype over what…well, basically looks like a bottle of water. A pricey bottle at that — the 2.5 ounce size goes for just under 100 dollars. Others might wonder what an essence even is.
To get to the bottom of things, we spoke with Suda Sudarsana, SK-II's foremost research and development expert on this iconic essence, and the brand's secret ingredient Pitera.
Shop SK-II's First Experience Kit.
First things first: What's an essence?
Essences are watery skin treatments that are patted onto the face after cleansing and toning, and designed to deliver nutrients to the skin.
Like many things in beauty, we have Asian traditions to thank for the entire category of "essences." References to "beauty waters" made from rice bran, algae, and other natural ingredients have been found in Japanese manuals from the early 1800s, and the first commercially-available essence arrived on the market in Japan in 1897. Essences remain a critical component of Asian skincare routines, and Western consumers are beginning to pay attention, too.
So, what's Pitera Essence?
Arguably the most famous of the essences, this is the signature product by Japanese beauty brand SK-II. It was first introduced in 1980, and it's still their international bestseller. It also boasts a shockingly short ingredient list. It contains a very small amount of water and preservative, and more than 90% Pitera — a proprietary natural bio ingredient derived from yeast fermentation and made up of more than 50 micronutrients, including vitamins, minerals, organic acids, and amino acids.
Sudarsana says the short list is very intentional, in keeping with Japanese ideals of beauty and minimalism: "Our design philosophy is, every ingredient should have a critical role to play. Unlike most other beauty products, Pitera Essence comes out of the fermentation tanks, straight into the bottle — there are no steps in between."
That dedication to purity is why, as Sudarsana says, "when you open the bottle, it has the smell of fermentation. It would be the easiest thing for a scientist to change that — make it fruity, citrus, or floral. But we believe Pitera Essence shouldn't include anything other than what is required by the skin." (And this longtime user would like to assure you that the scent is a rather light and not unpleasant funk, which fades as the product is absorbed into skin — you will not walk around smelling of leavened bread.)
Okay, why is Pitera so special?
Over many years of study, researchers have discovered a wide range of benefits. Among them, Sudarsana says, is that Pitera fights the appearance of uneven skin and dark spots. In addition, it provides anti-oxidant effects by scavenging the surface free radicals that contribute to the appearance of skin aging. Pitera also reduces the oily look of skin and makes pores visibly smaller.
From Sudarsana's enthusiasm, it's clear the list of benefits goes on. "Pitera is what we call a happy frustration. R&D people love to change things, make them better! But we haven't changed Pitera in nearly 40 years, and it's not because we haven't tried," he says. "It's fascinating as a scientist, we're still discovering the beauty of this ingredient."
How did they discover this fermented magic? 
Sometime in the 1970s, SK-II scientists observed that the hands of sake brewers — a highly-skilled job largely staffed by older people — appeared smooth and supple, and looked decades younger than their age. Realizing that the brewers' hands were immersed in fermented sake "mash" for hours a day, the scientists postulated: Was there something in the fermentation keeping skin looking younger?
Of course, this short version belies the truth: "The sake brewery was not the beginning and end of this story," Sudarsana says. "It took many years of careful research and development to bring it to market." Even the yeast strain used in Pitera Essence was calibrated to the finest degree; scientists studied more than 350 species of yeasts, each with millions of yeast strains, before settling on the one now used.
Where do essences fit into my skincare routine?
First, let's clear up a common misconception. Despite their watery consistency, essences are not toners: toners contain alcohol and are intended to remove excess dirt, oil, and makeup from skin (like another cleansing step). They're also not serums, which Sudarsana defines as "a concentrated dose of ingredients designed to target a specific skin problem." Essences are something more all-encompassing: They provide a range of benefits that help your skin look and feel its best, targeting multiple concerns at once.
Pitera Essence should be used right after cleansing and toning. Most people pour a few shakes into their hand, and pat it directly into skin, lest a cotton pad soak up the precious liquid. You can follow it up with your standard skincare routine, but many users report that its benefits allow them to replace other steps like serums and even moisturizers (don't skip your SPF, though). You should see noticeably smoother and softer skin within the first few days of use, with visible improvements in skin tone, texture, radiance, and evenness continuing over time.
So, what's next for Pitera Essence?
Honestly, don't expect big changes. In an industry that thrives on newness, from reformulations to repackagings, this is the rare product that's essentially unchanged after almost 40 years.
As Sudarsana and fellow scientists continue to uncover the benefits of Pitera, they see little need to mess with near-perfection: "We found an amazing similarity between Pitera, and the substance we all have in our skin: Natural Moisturizing Factors," he says. "Human skin is a remarkable piece of technology. It's about 20 microns thick, and it protects us from heat, cold, chemicals — everything harmful in the universe. I tell people, we will change Pitera when they change the formula of skin — which could happen! You never know."
Try SK-II PITERA™ Essence today in the First Experience Kit.
This advertising content was produced in collaboration between Vox Creative and our sponsor, without involvement from Vox Media editorial staff.