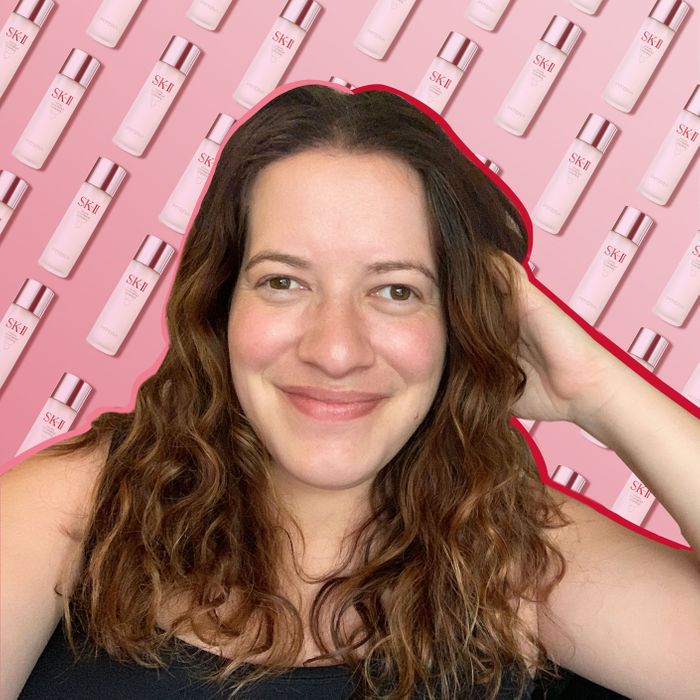 Photo illustration: Julia D'Orazio/The Cut
Photo: Courtesy of the talent
Many skincare products are well-loved — but not many products inspire the same level of obsession as SK-II's Pitera Essence. The skin treatment, which is derived from the fermentation of yeast, has been credited with improving skin tone and texture, making skin feel plump and hydrated, and of course, imparting that all-important glow.
But while the essence enjoys worldwide popularity (the brand sells a bottle every two seconds), it still has something of a "best-kept beauty secret" feel. Maybe it's because the product itself is so unassuming — it's watery in texture, with a very short list of ingredients — that so many people seem to find Pitera Essence by word of mouth. Like many people who work in fashion, this writer was first introduced to it when a beauty director literally pressed a bottle into my hands and said, "No really — just try it."
If I was a little skeptical at first, it didn't take long for me to change my mind. Within a week, my skin felt softer. Within two weeks, my skin looked brighter. Within three weeks, I went to use my heavy-duty exfoliating brush (my usual method of keeping my skin glowy and my pores a reasonable size) and realized I didn't need it. Since then it's become a staple of my routine, replacing the various acids and serums that used to crowd my vanity, and I've eagerly evangelized Pitera Essence to friends, family, and anyone else willing to sit still while I sing the praises of miracle yeast water.
In partnership with SK-II, we decided to initiate a new member into the club: Marcy Bosco, a managing editor at Vox Creative who's also an expectant mom. Bosco was less than thrilled with her old skincare routine, and started out a little skeptical that Pitera Essence was worth the hype. After testing it for just three weeks, a new essence evangelist was born. Read on for her experience.
What was your skincare like before SK-II?
I honestly felt behind the curve on the whole skincare thing — apparently I missed those days in college and my twenties when everyone else was learning. Recently, I'd been getting into a groove in my skincare regimen. I have combination skin, so I was introducing BHAs to address my pores and blackheads, using a retinol and night cream. But when I got pregnant it derailed things, because you start reading about the dangers of BHAs and retinols. So I ordered an entirely new clean regimen, which was okay, but I was still getting way more blackheads and oil than usual. Without the retinol, I felt my skin was getting duller by the day. I was not loving the way I looked on Zoom!
What was your experience with the Pitera First Experience Kit?
I've been using it for three weeks, and it really has made such a huge difference in a short amount of time. Every day after washing my face, I apply the toner. Before this, I'd been using a really basic toner for years — I never thought toner was something I should invest in, but this changed my mind. It gives me that tingly feeling, and actually feels like it's cleaning my pores, but it's not drying, it actually balances out my skin. I can see a very clear difference in my pores looking smaller, and my overall skin texture feeling smoother with SK-II.
You mentioned you were concerned with that!
Well before this, my husband said to me, "Oh look, you're getting freckles in quarantine," and I had to correct him that those were actually blackheads. Although he meant it as a compliment, it was not! Since introducing SK-II, he comments almost every day how I am glowing. Sometimes I think, "Is he just saying it to be nice?" But I really do see a big difference. I finally feel like I'm getting that pregnancy glow that everyone talks about, but was so elusive to me.
I can really see it too. Your skin looks even-toned and there's a luminousness to it. So the toner cleared up your skin, and what's your experience been with the Pitera Essence?
That essence, man, it is pure gold. After cleansing and toning, I pat in the essence, and it's changed my skin: it feels smoother, softer, getting that glow. It's been so great for hydration, I don't need a thick moisturizer during the day anymore. Sometimes I literally end my skincare after the essence. It's given me the right balance: not overly oily, and not dry like I usually get. It's just made my skin look so even-toned, and it's balanced out my combo skin in a way I've never been able to achieve before.
Were you skeptical about the products at first? Because I was that person who used acids, serums, peels, heavy-duty exfoliators. So when I first switched to SK-II, which is way fewer steps, and ingredients that are more gentle and natural — I thought, "yeah right!"
I definitely had some skepticism. There's so much hype in beauty, so I always think, "What does this actually do for my skin?" I'd heard great things about Pitera Essence, but I didn't fully get the value of it. I thought, "Hm, it's not as thick as my serums, it looks like my toner, but it's not. Is this real or a marketing ploy?" But since trying it, there is definitely something to it.
I think we're trained to believe that skincare needs to be harsh to be effective, maybe it's an American thing. When I interviewed SK-II's research scientist, he pointed out that traditionally, the Asian beauty philosophy is "how can I get maximum results from the simplest, safest ingredients?"
That's really it. This is a much gentler skincare regimen than what I'm used to. We grew up in the days of pore strips and exfoliating brushes — it's our tendency to want to blast our pores rather than let your skin heal. That's the most revolutionary part. You're using this essence that feels like water, it's kind of interesting smelling, at first it's a little weird. Then you realize, "Wow, my skin is so soft." You feel like you just got out of the pool, with that dew still on your face. There's something restorative about the essence — like you're resetting, and letting your skin breathe for once. I realized, "Oh, I can see why people really like this."
It's funny, even on this call I see you touching your skin when you talk about it — I do that too, because it feels soft and sort of bouncy. It's cool to feel the difference.
You know I have never been a selfie person, but since starting SK-II, I've taken far more selfies than I ever would normally. I took some last week before an 8 a.m. OB appointment because I got out the shower and thought, "Wow, I actually look refreshed considering how tired I am." I never thought I'd look this good in my bathroom at seven in the morning!
Can I just say that I'm so glad, and I knew you'd love it? It's one of those things that's hard to explain and you just have to try it. Any last thoughts on what this has been like for you?
Just that I think about how different my life is going to look in a few short months with the baby, and I feel confident that this more restorative skincare routine is something I'll take with me into the next step of my life. It's given me a sense of normalcy and routine, and I like using the mask that comes with the kit [which contains a concentrated Pitera treatment] for when I'm feeling extra indulgent, and I think I'll need that feeling more than ever. I'm not usually a person who spends a ton of time on my appearance, so it's been great to realize that taking care of myself is a good thing and can be really healing — that just a few simple steps in my skincare have given me a little boost of confidence that I needed.
So, I have to ask— have you recommended it to anyone yet?
Oh, I've already told all my mom friends! We like to share our skin care, so I had to tell them. It's great to have this routine that's very easy, but also a little indulgent in a time where we all need to feel a little more self-love. You can't keep that to yourself.
Try SK-II PITERA™ Essence today in the First Experience Kit.
This advertising content was produced in collaboration between Vox Creative and our sponsor, without involvement from Vox Media editorial staff.